Yesterday, I had the pleasure of being a guest on Relevant Radio for the St. Valentine's Day taping of A Closer Look with Sheila Liaugminas. I was joined by three other Patheos bloggers: Elizabeth Scalia (The Anchoress), Betty Duffy, and Mark Shea (Catholic and Enjoying It!).
We had a pretty wide ranging conversation, and you can listen to the hour-long program here, but I'll summarized two topics I covered below.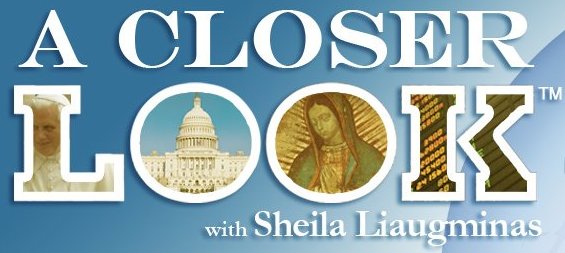 We opened by talking about the namesake of the day. Saint Valentine is usually absent from Valentine's Day (he's not even on the Church calendar — yesterday was the feast of Saints Cyril and Methodius). According to his hagiographies, St. Valentine was arrested and executed for providing aid and comfort to Christians, and some of that aid took the form of offering marriages according to the Christian rite.
For me, this suggested a connection to Saint Tarcisius, who was martyred while trying to carry the Eucharist to Christians in prison. Both St. Valentine and St. Tarcisius died trying to bring one of the sacraments of the church to it's people. Marriage, like Communion, is food for us — it's a positive support for us, not just a communal recognition of affection. It's a nice counterpoint to some of the blandness of Valentine's Day to think about why marriage is a gift that someone would risk their life to bring you.
— — —
And, of course, how can any conversation about Catholicism happen without a Pope Francis connection these days? Yesterday, in St. Peter's Square, Pope Francis greeted 10,000 engaged couples, and offered them pastoral counsel. I was particularly struck by this remark:
Francis emphasized that living together is "an art, a patient, beautiful and fascinating journey … which can be summarised in three words: please, thank you and sorry."
This comment echoed what I knew of the Jesuit examen. As described in Fr. Timothy Gallagher's highly recommended The Examen Prayer: Ignatian Wisdom for Our Lives Today, the daily examination of your life has five basic steps:
Gratitude – review the blessings in your life and offer thanks to God
Petition – usually a specific request for God to give you his light as you make the examen
Review – go through the last day, thinking about when you helped to be a channel of God's peace and when you blocked Him from working in you
Forgiveness – ask for mercy and healing for the ways you fell short
Renewal – looking forward to tomorrow, see how you can build on the good and mend the bad
Francis's advice for building a relationship between spouses seems kin to the Ignatian guide to developing a relationship between the individual and God. We can strengthen our pleases, thank yous, and sorries, by translating them back and forth between these two kinds of striving for unity. After all, the vocation to marriage is meant to aid the one, universal vocation: to sainthood.
This is the ninth and final day of our Novena to St. Dymphna. You can find the prayers here and a little background on why we're praying it here.