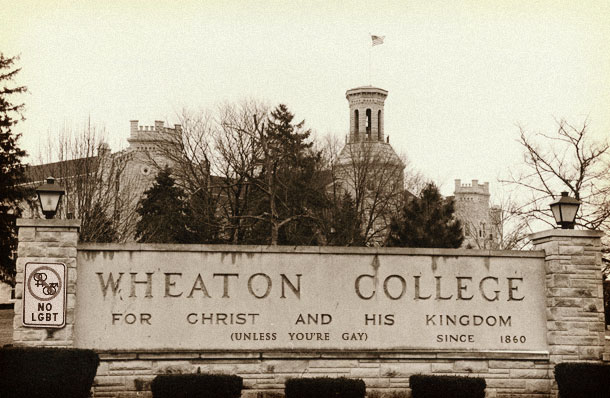 Wheaton College is the flagship institution of evangelical Christian higher education. Consistently ranked as one of the best colleges in the United States, Wheaton prides itself as being "a rigorous academic community that takes seriously the life of the mind."
But Wheaton also holds the ignominious distinction of being regularly ranked near the top of the list of the most LGBT unfriendly schools — a ranking confirmed by the troubling letter entitled "Being Gay at Wheaton: A Summary of my 9 months out of the closet" that went viral when we published it in February of this year. (See Something needs to change here.)
Wheaton's antipathy towards homosexuality is embodied in their Community Covenant, which states:
followers of Jesus Christ will … uphold chastity among the unmarried and the sanctity of marriage between a man and woman.
and goes on to say:
Scripture condemns … sexual immorality, such as … homosexual behavior and all other sexual relations outside the bounds of marriage between a man and woman.
Despite these proscriptions, there are LGBT students at Wheaton College, and Markie Hancock's new documentary film Queers in the Kingdom casts a much needed light on the stories of Wheaton's LGBT alumni. These men and women courageously bare their souls for the camera, describing their struggles with faith, identity, exclusion, and fear. Their stories are often bleak, but are also full of hope. Each person made it through the challenges that evangelical Christianity and Wheaton College threw at them, and each offers hope to current LGBT students at Christian colleges.
"Queers in the Kingdom" intercuts these personal accounts with an overview of the history of Wheaton College and of American evangelicalism. Scholars such as Yale's Kathryn Lofton, Washington University's Darren Dochuk, University of Pennsylvania's Anthea Butler, and Dartmouth University's Randall Balmer concisely convey the broad cultural and religious movements that led to the development of modern evangelicalism and its often contentious relationship with the larger culture.
The film culminates by following the founding of OneWheaton, an LGBT advocacy group comprised of Wheaton alumni. OneWheaton is an active and growing community that offers support to current LGBT students at Wheaton and provides a sense of unity and community for Wheaton's LGBT alumni. OneWheaton and similar groups at other Christian colleges (see, for instance, They're here; they're queer; they've plenty to fear: LGBT students form secret club at conservative Christian university) represent a new and decisive step forward in the relationship between evangelicals and LGBT people.
Queers in the Kingdom portrays Wheaton as a bastion of fundamentalism, an institution of unchanging dogmatism intent on maintaining a rigid separation from the broader culture. While in some respects this is true, beneath the façade of doctrinal unity regarding homosexuality (and myriad other contentious issues) I also know (being a former student there) that Wheaton students and faculty reflect considerably more diversity of opinion than the school's administrative officials would like to acknowledge.
Unfortunately, the voices of current Wheaton students and faculty were noticeably — but understandably — absent from the film: speaking out against the Community Covenant risks expulsion for students and loss of a job for faculty. Until these voices are allowed to speak openly and honestly — until Wheaton matures to the point of truly recognizing the theological, cultural, racial, and sexual diversity on their campus—it will continue to fail to "take seriously the life of the mind," and will continue to marginalize and exclude a vibrant and beautiful part of God's Kingdom. (For an insightful perspective on these challenges of freedom, diversity, and leadership facing Wheaton, see Andrew Chignell's 2010 article "Whither Wheaton.")
Wheaton College envisions itself as a city on a hill proudly proclaiming the message of "Christ and His Kingdom." But Wheaton's city is enclosed by walls that cast dark shadows across the lives of too many. Queers in the Kingdom shines the light of faith, hope and love inside those walls, showing how groups like OneWheaton are continuing the brave and often thankless work of bringing true salt and light to the tightly guarded enclaves of Christian higher education. It is only a matter of time before that light and that love effect true and lasting change. Please join me in praying that time comes sooner rather than later.
Queers in the Kingdom trailer:

Upcoming screenings of Queers in the Kingdom include:
Sep. 20: Chicago LGBT International Film Festival, Chicago, IL
Sep. 25: Whitworth University, Spokane, WA
Sep. 27: ITVFest, Dover, VT
Oct. 1: GLAAD and Union Theological Seminary Special Event, New York, NY
Oct. 4: OneWheaton Homecoming, Glen Ellyn, IL
Oct. 11: Kansas International Film Festival, Overland Park, KS
Nov. 15: St. Louis International Film Festival, St. Louise, MO
Queers in the Kingdom is also available for purchase from Hancock Productions.
---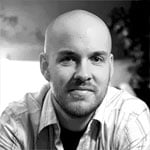 Dan Wilkinson
Dan is a writer, graphic designer and IT specialist. He lives in Montana, is married and has two cats. He blogs at CoolingTwilight.com.