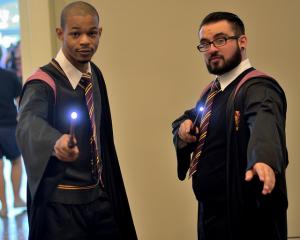 Eye of Newt, Let's all get tipsy, Turn this water into Hennessy ! – inspiration from #BlackHogwarts
Despite it painful lack of Black characters, there are several Black folks, myself included, who are fans of the Harry Potter films. People of color only have 5 minutes and 40 seconds of talk time, out of a combined 1,207 minutes of film in the series – according to the Every Single Word website. What has sprung up recently in response to this is a thing of (Black) beauty.
#BlackTwitter for the past year or so has been creating a space for people of color to create an alternate dialogue. First there were #Blerds dominating the Twitterverse, and now we have #BlackHogwarts . As reported on by Seventeen Magazine " Recently, Black Twitter hopped on the Hogwarts express and took the long, winding journey to the wizarding world – and thus, Black Hogwarts was born.People are now tweeting iconic Harry Potter scenes, but with black characters…. "
The #BlackHogwarts tweets provide a voice and arena for those who have been silenced. The cast of characters is ready made. Snoop Dogg is Professor Sprout,and then there is The Fresh Prince of Hogwarts. The song would go a little something like this –
" I went up to my bed about seven or eight
'Yo Ron, I'm too tired, I'll play chess wit u lata'
No way a fresh kid would eva meet Voldemort
So I'll just enjoy being Prince of Hogwarts"
Much of the re-imagining has come in the form of brilliantly funny memes. There are the genius ones like the invisibility Tims –
Invisibility Timbs instead of the Cloak. #BlackHogwarts pic.twitter.com/olkhHMa59N

— TJ Sanders (@TubaTeej) January 12, 2018
There are really meaningful ones like this –
Right before the quidditch match begins. #blackhogwarts pic.twitter.com/Y5PsOeOWTH

— Brian Wasson (@Learnaftreading) January 12, 2018
The use of Morgan Freeman as Dumbledor has still got me smiling.
When Harry thought he died in deathly hallows and he saw Dumbledore #BlackHogwarts pic.twitter.com/IApr5z7gMj

— Menace ♊ Society (@scuba718) January 12, 2018
What are your favorite #BlackHogwarts moments ? send them to me here or on twitter @LilithDorsey . As always if you have enjoyed what you read here please remember to lift your wands and share, share, share !