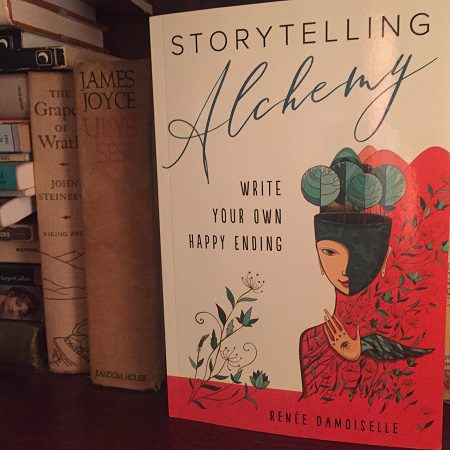 We all have our own stories to tell, and Renee Damoiselle's new book Storytelling Alchemy helps us write our own happy ending. In my endorsement for the book I write " our brains process information through stories, but what are conscious mind often forgets is that we can create the stories. Renee Damoiselle's Storytelling Alchemy reminds us of that and helps us make these tales magically work for us." The book is delightfully full of tools, tales, and tricks to turn our magick into reality.
In the beginning of the book we are presented with an explanation of Panpsychism. For those who are unaware of this term, it basically means that all things are conscious. Damoiselle writes about this consciousness in " humans and other animals all the way down to plants and crystals and the earth itself." This is very similar to the concept in African Traditional Religions of Ashe. Ashe is a divine life force, a cosmic energy that is present in all things.
This book contains many fascinating concepts, one of which is the notion of hypersigils. This term was first coined by Grant Morrison, writer and chaos magician. These are sigils which travel into, and through, the fourth dimension of time. Damoiselle explains how our own stories can be used as hypersigils helping to manifest a desired reality. This helpful tool can be used to attain your magickal wishes in many ways. It's not often a book comes along with so many useful tools and theoretical ideas, and I think that Storytelling Alchemy is a worthwhile book for any magickal person's library.
The author's statement tells us that "Renée Damoiselle is a Worldly Wise Crone Witch with personal ties to warrior deities. Her "raised eyebrow" style of Truth-Telling enables her clients to face the realities of their challenges and triumphs with confidence and humor (each when necessary). Renée offers divination and coaching combining Cartomancy, Reiki, Skrying, Mediumship and a healthy dose of good old common sense. She also offers many workshops and talks and facilitates retreats focused on empowering people and liberating souls." She can be contacted by email at DiviningDamoiselle@gmail.com
This weekend I'm excited to join Renee for her Storytelling Alchemy Retreat, an event I hope she continues moving forward.
As always if you have enjoyed what you read here please remember to like, comment and share !