For my wedding I'm not looking for the usual. I don't want bouquets or boutonnieres. What flowers do Hindu weddings have?
1) Jai Mala garlands (also called Var mala)
When a Hindu bride and groom come together, they usually exchange flower garlands that are like giant leis.
This blog has a tutorial on how you can make your own strands of carnations: VeccoStudio.com (They recommend 20 carnations per foot of garland)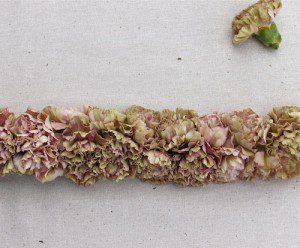 If creating anything yourself with flowers, Martha Stewart recommends getting the blossoms from GrowersBox.com
You can also get a cloth version for jai mala garlands or for mandap decoration at my Etsy shop: American Hindu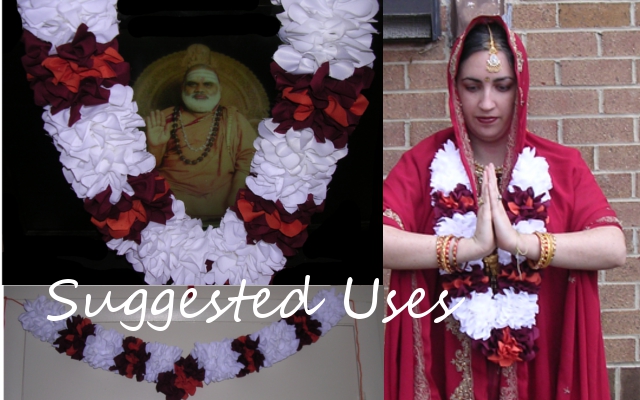 2) Mandap decoration
Like Jews, Hindus get married under a canopy, which is usually heavily decorated with flowers.
Martha Stewart's wedding website has an example of a spectacular mandap made entirely from white carnations!  It says it took 1,000 carnation blossoms to make this canopy.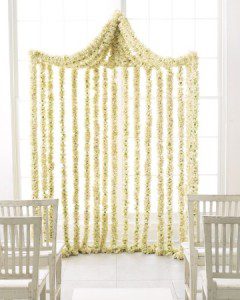 3) Petals
At the end of a Hindu ceremony, the guests throw flower petals (or also buds and blossoms) at the newlyweds. We're going to have baskets of petals available for when we recess back down the aisle.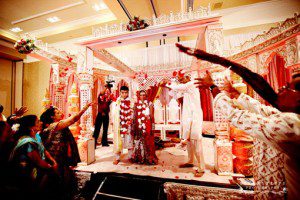 4) Flowers for Hair
It is traditional in South Indian weddings for bride's to wear jasmine blossoms in their hair, often in very thick strands (We do the same thing when dancing BharatNatyam and I also wore a simple chain of jasmine in my hair when we visited the temple in Sringeri).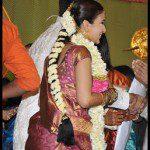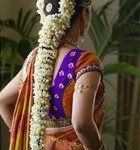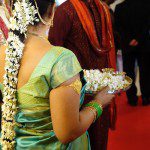 In North India these same chains of jasmine might be used to cover the groom's face.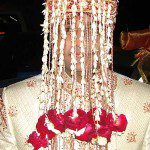 Here are a couple of pictures of people making these strings of flowers! (Just scroll down past the ad)
5) I wanted small garlands to decorate memorial photos with.
What we ended up finding were mini garlands meant for baby showers.
 ***
I have been so blessed to have the flowers taken care of for me by my best friend, Sarah. She's busy as can be with her own life (including a six month old baby!), but she asked me last week what I still needed to do and I told her that I had no idea what to do about the flowers. I was going to make all the garlands myself, but I didn't know how or when and time was definitely running out.
Sarah did some research and found all the resources I'm sharing today. She also found websites where we could order exactly the flowers we needed for a Hindu wedding specifically…
***
AHHHHHHHHHH. FOUR DAYS AWAY! I have found that the most stressful part is worrying about how everyone is getting where they need to be. All the different flights and when they arrive and how to make sure people can get from their hotel to the site.
Still To Do
-Put together a playlist on my ipod for lunch and for after lunch dancing  <—–Mostly Done
-Figure out how to rent speakers and microphone <—–Done (Thanks, Brad!)
-Flowers (I'm not hiring a florist, but planning to make strings of carnations myself…at some point) <—-Done (Thanks, Sarah!)
-Finish favor baggies (I'm monogramming them with a sharpie, one of my only DIY projects)
-Make programs <—Rough draft done, need to be printed
-Buy lattice and put together a mandap <—- Got a backyard tent type thing instead

-Buy quilt squares and pen for "guest book" <—–Done
-Get marriage lisence <—–Done
-Put together digital slideshow of pictures of us <—–Done
-Print out and frame pictures for the memorial table <—Ordered prints, prints arrived, bought frames
-Get Uncle Bob a list of events for the reception he is MCing