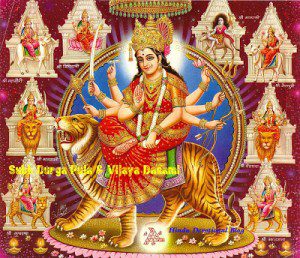 October 5th begins nine days of celebrating the Hindu Goddesses as forms of Shakti, the divine feminine energy.
Durga (Day 1-3)
Durga is a warrior Goddess. She rides a lion or a tiger and she wears bright red. On each day she is also honored in one of her different forms: Kumari, Parvati and Kali. They represent the three different types of femininity: child, young woman, and adult woman.
Lakshmi (Day 4-6)
Lakshmi (Laxmi) is the Goddess of wealth and prosperity. She rides an owl and dresses in gold.
Saraswati (Day 7-9)
The Goddess of wisdom, Saraswati dresses in pure white and rides a white swan.
On the tenth day is a holiday called Dussehra.
Stories
In some regions Navratri is considered to be the period of time when Rama spent nine days praying to the Goddess Durga in her nine different forms in order to get the strength to defeat Ravana and save Sita. Dussehra is then celebrated as the day that Rama killed Ravana.
In some regions Navratri is a celebration of the Goddess Durga defeating a buffalo demon named Mahishasura, whom she fought for nine days and killed on Dussehra. In fact, the legend of this story says that Durga was created by the combined power of all the Gods, including the trinity, because they could not defeat Mahishasura.
How To Celebrate
Install a Ma Durga murti in your home and do pujas to it, singing bhajans and offering sweets and bangles or clothes.
Some people plant barley seeds on the first day of the puja and distribute the shoots at the end to everyone who attended.
On the final day nine young girls are honored as forms of the Goddess. Their feet are washed and they are given new clothes.
Folk dances like Garba and Dandiya Rass are performed
For Dussehra effigys of Ravana are burned
In some regions, a golu display is created. Learn more on how to create it here at the Hindu-Blog.
This is also the time to create "village" displays and tableaux!
For some, different colors are associated with each day and it's appropriate to wear the right color each day. Check out all the proper colors here: http://www.bharatmoms.com/blogs/124364/posts/194476-what-colour-dress-to-wear-on-navratridussehra-festivals
(There are actually two navratris each year; one in the fall and one in the spring. This one is the Sharadeya Navratri)
Bhajans
Jaya Aadya Shakti
Jaya Aadya Shakti
Ma Jaya Aadya Shakti
Akhand Brhamand dipavya
panave pragatya ma
Om Jayo Jayo Ma Jagdambe
Dwitiya Mehsarup Shivshakti janu
ma shivshakti janu
brahma ganapti gaye
brahma ganapti gaye
hardayi har ma
Om Jayo Jayo Ma Jagdambe
Trutiya tran sarup tribhuvan ma betha
ma tribhuvan ma betha
daya thaki karveli
daya thaki karveli
utarvenima
Om Jayo Jayo Ma Jagdambe
Chouthe chatura malaxmi ma
sachrachal vyapya
ma sachrachal vyapya
char bhuja cho disha
char bhuja cho disha
pragtya dakshin ma
Om Jayo Jayo Ma Jagdambe
Panchame panchrushi panchami gunpadma
ma panchami gunpadma
panchtatv tya soshiye
panchtatv tya soshiye
panchetatvo ma
Om Jayo Jayo Ma Jagdambe
Shashthi tu narayani mahishasur maryo
ma mahishasur maryo
narnari na rupe
narnari na rupe
vyapaya saghale ma
Om Jayo Jayo Ma Jagdambe
Saptami sapt patal sandhya savitri
ma sandhya savitri
gau ganga gayatri
gau ganga gayatri
gauri geeta ma
Om Jayo Jayo Ma Jagdambe
Ashthmi ashtha bhujao ayi ananda
ma ayi ananda
sunivar munivar janamya
sunivar munivar janamya
dev daityoma
Om Jayo Jayo Ma Jagdambe
Navmi navkul nag seve navadurga
ma seve navadurga
navratri na pujan
shivratri na archan
kidha har brahma
Om Jayo Jayo Ma Jagdambe
Dashmi dash avtaar jay vijyalaxmi
ma jay vijyalaxmi
rame ravan marya
rame ravan marya
ravan maryo ma
Om Jayo Jayo Ma Jagdambe
Ekadashi agiyar tatyanikama
ma tatyanikama
kaldurga kalika
kaldurga kalika
shama ne vama
Om Jayo Jayo Ma Jagdambe
Barase kala rup bahuchar amba ma
ma bahuchar amba ma
asur bhairav souie
kal bhairav soiye
tara chhe tuj ma
Om Jayo Jayo Ma Jagdambe
Terase tulja rup tu tarunimata
ma tu tarunimata
brahma vishnu sadashiv
brahma vishnu sadashiv
gun tara gata
Om Jayo Jayo Ma Jagdambe
Shivbhakti ni aarati je koi gaye
ma je koi gaye
bhane shivannad swami
bhane shivannad swami
sukh sampati pashe
har kaileshe jashe
ma amba dukh harashe
Om Jayo Jayo Ma Jagdambe
Garba
Last year I was able to attend a wonderful Garba with my friend's family. I'm not sure we'll be able to do it this year, unfortunately. Dancing is one of my favorite things in the world!
Ladies, if you're going to a Garba, be sure to wear the Gujarati-style sari with the pallu across the front (a lot of different colors and mirror work are common on Garba-style saris)…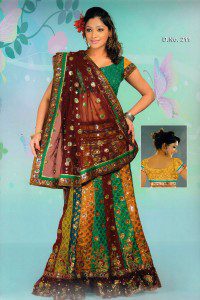 More info at Festivals.ILoveIndia.com
Today at the premium blog, a discussion of verses 4-7 of the Bhagavad Gita