In the middle of the holiest time of the Hindu year, with nearly non-stop holidays, it's strange to shift gears and remember that here in America, Halloween will leap right into the middle of the holiday season.
I'm not really sure what to do with Halloween in my life. It's been years, of course, since I "trick or treated" (and I tended to dislike the trick or treating, being shy and self-conscious about knocking on stranger's doors and demanding things from them), and I don't have children yet. As an adult, I do usually get dressed up in a costume and go to a party that my friends host every year. It's a nice tradition. Fun to see everyone and fun to dress differently from normal (I nearly always go as a character from a book or TV show).
But then Diwali comes up at nearly (and sometimes exactly) the same time. Two such different events. One about light and newness and the other about death and fear.
Vineet Chander is far better able than I to explain the mix of feelings for a Hindu American around Halloween in her post Trick or Treat? Not Quite Sure.
Her experience is different from mine, since her parents are immigrants from India…
"'What kind of depressing holiday is this supposed to be, anyway?' my Mom would ask, disapproval in her voice as she suspiciously surveyed the plastic skeletons and cardboard tombstones now decorating our neighbors' lawns. 'A waste of time,' my father would mutter even as he begrudgingly bought bags of cheap candy to hand out to trick-or-treaters. (Some of their more orthodox Hindu friends had even stronger objections to the holiday. 'All this meditating on death and gore, and openly celebrating ghosts and goblins! It's ashubh, inauspicious.')"
Not that Hindus don't meditate upon death in our own way. Creation and destruction paired together. Kali's intensity in forcing us to see what is frightening. But to give power to ghosts and demons does seem like rather a poor idea (As one saying goes: "where the eye goes, the mind goes; where the mind goes, the heart goes.")
Chandar explores costume issues, discussing first how her parents realized they could easily dress her up in Indian clothes and call that a costume and then how dressing as Hindu Gods and Goddesses could be problematic (despite several Hindu holidays where children are dressed up as Krishna or Rama).
"Does it denigrate Hinduism to have a portrayal of Lord Krishna soliciting candy door-to-door alongside Spiderman or Harry Potter? Are we putting divinity in the same character as fictional superheroes or, worse yet, freaks and creatures that only get to come out into the light of day once a year? And what does that communicate about Hinduism among other faiths?"
She includes a discussion of Heidi Klum's choice to dress as Kali a while back.
You should definitely go and read her whole article. It brings up so many important issues.
***
There aren't easy answers on how to integrate Halloween in your life as an American Hindu. Different people have different thoughts about it. Apni Soch suggests that Hindus can use this opportunity to display Ramayana decorations and invite conversation about Hindu lore.
The only thing I'm certain of is that "Indian princess" costumes sold mass market and labeled as "sexy" are a problem. A sari is a modest form of dress appropriate to wear at temple, so this description billing it as "sexy" is really disturbingly wrong.
Orange Sari India Costume – India Costume – Adult Costumes – This lovely and sexy adult Orange Sari includes the Sari and Top.
It seems like the only place right now where Halloween and Hinduism are intersecting is racism.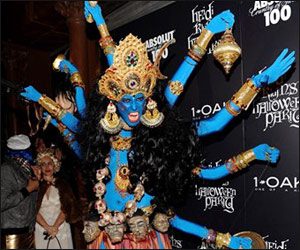 Well, at least she also did a Biblical costume a couple years before. No. Actually, that doesn't make this any better. (Even sadder, the person who compiled her costumes for this article doesn't know what her Kali costume is. Sigh.)