I still have babies on the brain as we continue to try to get pregnant.
I'm researching and learning about Hindu traditions surrounding pregnancy and children so I'll be prepared and ready when the time comes!
Different cultures have very different traditions around baby showers. When my best friend was pregnant last year I wanted to throw her a shower because I felt that it was my duty as her closest female friend. But just as we started to think about planning it, her mother objected. They are Jewish and in Jewish culture it is considered bad luck to buy baby things or celebrate the baby before it arrives. Some Hindus, particularly Bengalis feel the same way. Others are fine with gifts before the arrival. An American Desi mom tries to decide Shaad or Shower in this article.
Different regions have different names for the baby shower:
Godh Bharai…..North region

Shaad…..Bengal

Seemandham…..Kerala

Valaikappu…..South region

Dohale Jevan…. Maharashtra
Godh Bharai
Hindus wait until the seventh month of pregnancy to throw a godh bharai, as the pregnancy is considered safe at that point.
The day starts with a Ganesh Puja. When the expectant mother enters the room on her way to the puja space,  a silk cloth with betel nut and one rupee coin is placed under her feet and this continues until she arrives. Her or her husband's sister then gathers up the items.
After the puja, the expectant mother sits on a small four-legged stool and a red dot is put on her forehead (and sometimes on her hands as well). For protection a yellow thread is tied on the expectant mother's wrist by her sister-in-law and she is offered sweet curd to eat.
Traditionally a women-only event, men might attend in modern celebrations. A henna artist might come in to do henna on the hands of the expectant mother and her guests.
Friends and family "fill the lap" of the expectant mother with gifts, fruits, and auspicious items like a coconut painted with a red swastika, betal nuts, silver coins, and moong. They also give blessings and well wishes to welcome the new baby into the family.
"The ladies who participate in event from the side of mother of expectant lady have to represent five rounded plates to the expectant mother. Three rounded plates contain three different delicious sweets. Fourth rounded plate contains beautiful outfits and ornaments.  Fifth rounded plate contains coconut, betel nuts and silver coins." –http://www.parentingnation.in/Pregnancy/indian-baby-shower-ceremony—godh-bharai-rasam_129
There may be games and songs.
Good gift choices: baby clothing, jewelry, money in an auspicious amount (such as $21, $51, or $101), flowers, and sweets
Pictures from a Godh Bharai: http://www.indianweddingphotography.com.au/godh-bharai-indian-baby-shower.html
Shaad
The shaad differs in that it is NOT good to bring gifts for the baby. This one is more similar to the Jewish view of pregnancy. There is concern about attracting the "evil eye" or "tempting fate" as Americans might call it. However, it is a time to fulfill the expectant mother's desires with her favorite foods and bringing good wishes.
Pictures from a Shaad: http://jacksonchakraborty.blogspot.com/2011/05/blog-post.html
Seemandham
In modern times this ritual might only be done for the first-born of a family, though it used to be done for every pregnancy. It is performed during the 7th, or 9th month of pregnancy.
My understanding is that this is more of the ritual and the same families may also do the Valai Kaapu.
According to Wikipedia, the Seemandham involves chanting particular mantras for an hour and a half to help the development of the baby's brain. The expectant mother then bathes in cold holy water.
Valai Kaapu
In the third trimester, the expectant mother's family may host a Valaikaapu get-together. It is meant to bless the mother and protect her against the evil eye and other dangers that she is particularly susceptible to at this time. She may dress in a black sari to avoid the evil eye.
The celebration involves putting red and green glass bangles on the mother. There are also songs and gifts.
"The pregnant woman visits temple and prays for healthy child and smooth delivery. It is ordained that she should visit at least four temples, including her ancestral temple before the delivery of child."
Pictures and more details here: http://www.hearty-india.com/2012/04/valaikaapu-or-srimantham-ceremony-to.html
http://www.whenisdate.com/101/valaikappu/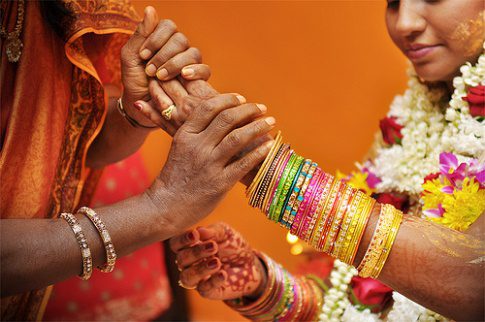 Dohale Jevan
Pictures here: http://www.flickr.com/photos/paragsm/sets/72157623620735833/
***
See the subscription blog for a post on Samskara Ritual number two: Pumsvan, performed in the third month of pregnancy.