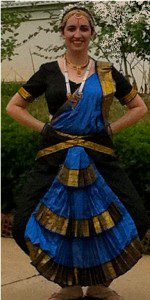 I've always felt a bit self-conscious at my dance classes.
Bharatnatyam, a classical South Indian dance, is often taught to young girls (occasionally boys as well). It's a lot like ballet is in mainstream American culture. Little girls, and sometimes little boys, learn it. They start to drift away as teenagers and only a few keep up with it to teach or become professional dancers.
I started learning Bharatnatyam when I was 23.
From that time on, I've always been in classes with little girls much, much younger than me. At first I was in classes with four- and five-year-olds. By now I'm in class with ten-year-olds. Some of them are starting to catch up with me in terms of height, but in general I tower above them.
I really, really, really stand out. There I am, standing several feet above my classmates and the only non-Indian in the school (There used to be a Bengali, but she left and now I'm the only non-South-Indian in the school). The other people my age are all parents of children in the classes.
I thought people must really think I'm strange. They probably find me ridiculous. But recently I've been realizing that the parents of the other students actually respect me.
My husband came to the class one week and watched. He told me later that the other people watching were thrilled to see him and quick to identify him as belonging to me. He said they seemed proud of me.
I've got to find a way to actually start talking to the parents. I think I feel left out because I'm not approachable or doing the approaching. I think they actually would probably be open to getting to know me. I struggle socially, so it's really scary to think about initiating conversations, but I really do need to start. I'm sure they are as stumped as I am on how to open up a conversation!
A few weeks ago, one of the mothers stopped me on my way out the door and asked where I got all my salwar suits from (she's only seen a fraction of the ones that I have. I wear plain cotton ones to class. The head of the school always sends out emails requesting that girls wear bindis and salwar suits to class, but it's pretty hit or miss.)
I told her that a lot are from the Internet.
"Ah," she said, her face clearing. "That's what I thought. Even we don't have so many."
I felt stung by that "we."
This is the very heart of my struggle: that no matter how Hindu I am, it will always be "you" and "we."