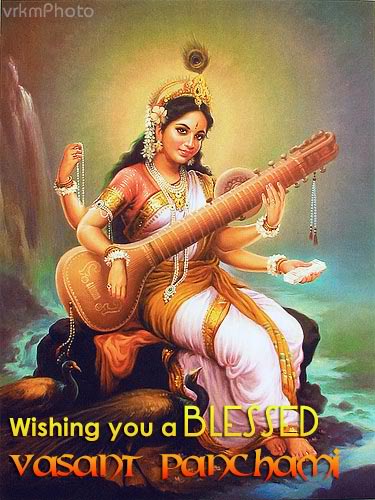 Vasant Panchami, sometimes also called Basant Panchami, is a festival that welcomes the spring and it is also Saraswati's birthday, so it is a time to celebrate learning and study plus an auspicious time to begin any academic pursuit. This year it falls on February 4th. The name means the fifth day of Spring.
Long ago this festival was more focused on Kamadeva, the Hindu cupid. It still has a sense of love and is kind of like a Valentine's day.
Ways to Celebrate
*Place books near your Saraswati murti and do not read or touch books during this day, since Ma Saraswati is busy blessing them
*Dress Saraswati in yellow or in white
*Use yellow flowers on your altar.
*Wear yellow yourself
* Perform Saraswati puja. Some believe that it should be performed during a very particular astrological moment, when Panchami Tithi is prevailing. I don't know how that is calculated and figured out! Others believe it can be performed at any time during this day.
Saraswati Puja
You will need a Ma Saraswati murti or at least a picture of her

You Will Need:

Image or idol of Goddess Saraswati
A white or yellow cloth (vastram)
Flowers – lotus, lilies or jasmine.
Mango leaves or other decorations
Turmeric
Kumkum
Uncooked rice mixed with turmeric (akshata)
Fruits
Books or tools to be blessed

1) Decorate the Goddess image with flowers, garlands, and cover with the white or yellow cloth (if you are using a picture, place the cloth on a tray near the image)

2) Pray to Sri Ganesha first with a quick and simple prayer

3) Light a lamp

4) Offer flowers, light incense, and chant mantras to the Goddess

Om Saraswati Mahabhagey, Vidye Kamala Lochaney |
Viswarupey Vishalakshmi, Vidyam Dehi Namohastutey ||
Jaya Jaya Devi, Charachara Sharey, Kuchayuga Shobhita, Mukta Haarey |
Vina Ranjita, Pustaka Hastey, Bhagavati Bharati Devi Namohastutey ||

5) Put the books, tools, or other objects out before the idol

6) Sprinkle some flowers on the objects and you can apply a small dot of turmeric and kumkum, but it does stain

7) Offer flowers and akshata to the deity

8) Offer any food that you have for prasadam (fruits, etc.)

9) Meditate or chant for a few moments.

-Modified from http://www.hindu-blog.com/2008/09/how-to-do-or-perform-saraswati-puja.html

Vasant Puja Traditions

The idol is in white, symbolizing purity. The sari of the Deity is white or yellow dyed in the natural dye made from "Shiuli" flowers.
The place where Saraswati is seated is all decorated with fresh flowers and rangoli and the design of a fish is considered auspicious.
A flat low stool made of wood is covered with yellow cloth and the idol is placed on it, facing towards the east.
The face of the idol remains covered till the priest begins chanting of mantras at   the commencement of puja.
A green coconut is placed in an earthen pot with a red checked cotton cloth called "Gamocha".
Besides the actual puja flowers there are also the most significant flower called Palash that is used in the ceremony.
Students place their books and pen in front of the goddess to seek blessings on this auspicious day.
The offerings made to the goddess consist of fruits- most significant are berries from the wild plum tree. Other fruits include tapioca. Sweets must include puffed rice, jaggery and yogurt.
Family members bathe early and dress in yellow attire before assembling in front of the Goddess.
The earthen pot is tied with a string which is untied on the next day by the priest before visarjan or the immersion ceremony.
A havan is done by the priest using special wood, ghee, joss sticks and incense. A diya or lamp is lit beside the prasad.
Aarti is performed by the priest twice in day, in the morning and then again in the evening.
Nobody touches books on that day as it is believed that the goddess is blessing the books.

– See more at: http://www.festivalsofindia.in/vasantpanchami/Puja.aspx

It is auspicious to offer honey to Saraswati, as it represents the purity of learning and the sweetness of perfect knowledge.
Food
Yellow food and sweets are made, such as kesar halwa and saffron rice.
From Gujjuweb.com
Main Ingredients :
Sugar (Cheeni) , Saffron (Kesar) , Flour (Atta), Clarified Butter (Ghee)
Ingredients :
1 cup Sugar
1 1/2 cup Water
1 tsp Cardamom powder
Saffron colour or saffron threads
2 cups Plain Flour
1 1/2 cups Ghee.
Nuts for decorating
Method :
1. Bring water and sugar to boil. Remove from heat, add essence, colour. Mix well and set aside.
2. Roast the flour over medium heat for 10 mins. (till you get aroma). Add ghee and fry for further 5-7 mins till golden brown.
3. Slowly add the sugar syrup to the flour mixture. Quickly and constantly keep stirring till it forms a smooth paste.
4. Grease a plate. Pour the paste to the plate. Decorate with nuts of your choice.
5. Cover the thali and set it in the refigerator for atleast 1/2 an hour.
6. Cut into desired shape and serve
From Manjula's Kitchen, one of my favorite recipe sites…
Serves 4 to 6.
Ingredients:
1 cup basmati or long grain rice
2 tablespoons ghee or butter
1 3/4 cup water
2 tablespoons milk
1/2 cup sugar
1″ piece of cinnamon stick (dalchini)
1/4 teaspoon of saffron threads (kaser)
4 whole cloves (laung)
1/2 teaspoon coarsely crushed cardamom seeds (ilachi)
Pinch of salt
3 tablespoons sliced or crushed pistachios and almonds (pista, badam)
1 tablespoon raisins (kishmish)
Method:
Dry roast the almonds, pistachios and raisins in a pan on medium heat until the raisins puff and the nuts slightly change color. Set aside.
Put the rice, water, cinnamom stick, and salt in a sauce pan over medium high heat.
When the rice comes to boil, reduce the heat to low and cover.
Let the rice cook for about 15 minutes, or until the water has evaporated.
While  rice is cooking, in a separate saucepan combine milk, butter, sugar, saffron, cloves and cardamom and bring to boil on medium heat, stir until the sugar has dissolved. Remove from the heat and set aside.
Add the nuts mixture and sugar syrup over the rice. Fold gently into the rice with a spoon gently to avoid mashing the rice.
Put the cover back over the rice and turn the heat on to very low. Let the rice simmer for 3 to 4 minutes. Turn the heat off a
Traditions
In some places there is a tradition of ancestor worship called Pitri Tarpan, which is offering water and prayers of peace to the departed.
This is a day when children can begin to learn the alphabet. They might be initiated into it by tracing the first letter into a shallow pan of uncooked rice.
In some areas it is called Kite Day and the sky is filled with kites.
Yellow is an important color because it represents prosperity and fully grown crops
Pitri Tarpan How To
"Bodhayan has mentioned that Tarpan should be performed at the riverside. While performing Tarpan at the riverside, one should stand in the river so that the water level touches the belly button or one should perform tarpan by sitting on the banks of the river.
Tarpan for God and Sages should be performed by facing East and that for deceased ancestors souls it should be performed by facing South.As per science, tarpan for God should be performed after doing Savya, that for Sages should be performed after doing Nivit and for deceased ancestors souls after doing Apasavya.
A dried grass twig (darbha) is necessary for performing tarpan. Tarpan for God is performed from the tip of the darbha, tarpan for Sages should be performed by folding the darbha in the middle, and tarpan for deceased ancestors souls should be performed from the tip and root of the two darbhas.Offering of water (tarpan) to deities should be done using the finger tips, while offering of water to Sages should be done from the base of the little finger and the third finger and that to the deceased ancestors souls should be done through the mid of the thumb and the first finger of the hand.
Tarpan should be performed taking one handful (anjali) of water for each deity, two handful of water for Sages and three handful of water for deceased ancestors souls. In case of matrutrayi (mother-grandmother and great grandmother) three handful of water should be used and for other females ancestors souls one handful of water should be used for tarpan.
Pitru tarpan: Offering of water to deceased ancestors souls (pitar) is called as Pitru tarpan. A Jivatpitruk is not allowed to perform Pitrutarpan [Note: I don't know what this is]. Apart from expectation of Pinda and offering of food to priests (Brahmins) from its descendants, the deceased ancestors souls also expect offering of water (udak) from them.
By performing tarpan, the deceased ancestors souls not only get satisfied and leave us, but they also bestow long life, radiance, superior intellect (brahmavarchaswa), wealth, success and foodstuff (ability to digest the food consumed) on the host performing the tarpan and satisfies him too."
From:  inquisitive, 18 Aug '09 01:46 am http://qna.rediff.com/questions-and-answers/what-is-the-method-of-performing-tarpan-and-pitru-tarpan/15365804/answers
Gift Ideas
Bouquets or garlands of yellow flowers.
Fruit and nut baskets or sweets hampers
What Comes Next
There are 40 days between Vasant Panchami and Holi. That time is spent preparing for Holi. For example, branches and twigs and logs might be gathered and slowly added to a pile during the wait, to be burned as a bonfire on Holi (celebrating the destruction of the demon Holika).
There is, however, another holiday in between: Shiva's night, which this year is February 28th.