So last week I started to talk about ayurveda and what it is. I wanted to see how one would get started using ayurvedic principles in one's life, but the trouble is that there are a whole lot of practices that are claimed to be ayurvedic in origin and it's hard to determine the authenticity of a lot of these claims. The Internet is awash with diet suggestions that say they are ayurvedic, but it seems to me that things in the west claiming to be ayurvedic are different from those things in the east claiming to be ayurvedic. Western websites focus on particular diets and yoga moves. Eastern websites recommend combinations of herbs to be ingested. I feel like one should be very careful messing around with powerful ancient medicines!
That means unless I can find an ayurvedic practitioner to actually consult on these things about, I'm stuck. I haven't had any luck so far getting in touch with someone, but I'll keep trying! If you know anyone, put me in touch!
In other news, I FINALLY had my Holi celebration.
It's a little hard to celebrate the coming of spring when it's snowing. The local temple had to postpone their event three times, but at last this past weekend we had a sunny day and Holi could go forward.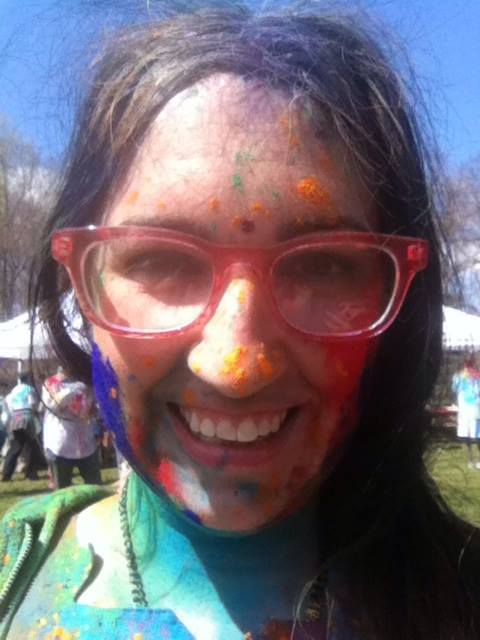 Because of all the postponing, Brad was not able to come. Of the over 50 friends we invited on Facebook, it ended up being just me and one girlfriend. That was too bad. It's always more fun with a group of people. After all, it can be a teensy bit awkward to be throwing color at strangers.
It seriously wiped me out. I got home and slept for the entire afternoon. I also am feeling a little under the weather today, as they say. I got some color thrown into my mouth and now my throat is a little sore and my energy is still low.
Luckily, next week is a vacation for me. The husband and I are finally going on a honeymoon!
I'll get some posts ready to go, though, so you won't miss me while I'm gone 🙂