I enjoyed this movie more than I expected to. It's pretty amazing that the kid was played by Amitabh Bachchan. I never would have guessed. I kept trying to see him under the makeup but I really couldn't. Kind of clever to have the son played by the father of the actor who plays the father in the movie. Wow that was complicated.
Strangely I think my favorite part was in the very beginning before we even meet Auro. I loved the school fair and all the projects. Bandaids between India and Pakistan on a map made me tear up. And I agreed with Amol about the all white globe, even though Auro later said it was just a fluke.
Amol is the kind of politician you wish they all were. But this movie illustrates part of the issue that I have with politics, which is that you can't easily tell who the "good guys" are. Despite how noble Amol is, his enemy is still able to make people believe that he is corrupt. How do we ever know who is above board and who is lying? I've never seen a politician in real life pull off a stunt like Amol did. (What a freaky few weeks of TV this must have been for people!)
I thought Abhishek Bachchan did a great job and so did Vidya Balan as Auro's mom (also named Vidya). Vidya was also in Kahaani from a couple weeks back (And again played a character named Vidya!). I'd love to see more of her movies. She is not only gorgeous, but has the kind of face that you don't want to ever look away from! So much expression. I could stare at her all day. Sorry, that's creepy.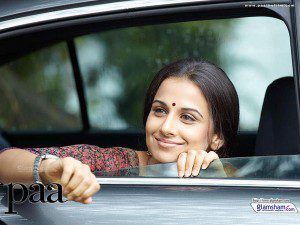 I didn't connect with the character of Auro himself. But he is a 12 year old boy and I didn't connect with 12 year old boys even when I was 12 myself.
Other thoughts as I watched:
The opening with the reading of the names is so strange. I wonder why they did that. It certainly doesn't draw you into the story.
They really gloss over the having unprotected sex outside of marriage. I guess in London anything goes!
Imagine living in a place where your doctor wears a bindi. Makes me ache a little to live where I wouldn't be a religious minority.
Notice while Vidya is pregnant she and her mom are sitting beside each other and they're doing a yogic breathing technique called pranayama.
I feel uncomfortable about Vidya pressuring a couple to have children. I know there is a perception that 33 is old to be trying to get pregnant and certainly one doesn't want to run out of time if they really want kids, but from the studies I've seen, women are usually still fertile into their early forties. The difficulty that I'm having has nothing to do with age at all and a lot of times when women have trouble in their late 30s age gets blamed but is not necessarily the real culprit. I don't think it's appropriate for a doctor to pressure people to have children and tell them it's fine, it's all worth it even if you aren't ready. It may have worked that way for you but you don't know that this family won't feel resentful of their child and regret having it!
Maybe I'm cynical, but I would have expected Auro to be teased and ostracized more. I got made fun of in school for how I dressed even. And I saw a boy get so ridiculed for his weight that he dropped out and went to a different school.
My other favorite scene is near the very end: doing the wedding circles around the hospital bed
I love Vidya's hair. So gorgeous.
The little girl in Auro's school is so cute and she has the most beautiful voice! (Oh God! I just went to look up what else she's been in, hoping to hear that lovely voice again and found out she died in a plane crash in 2012!)
***
For next week I have another one that was suggested to me: Udaan.
I think it might be available on Youtube and is on Amazon Rent
.