A big change is coming up in my life!
When we arrived at Sringeri (location of my guru, His Holiness Sri Bharati Tirtha) some of the people who were helping coordinate our stay called me Ambaa. It must have been my new friend Sundar who told them about my Hindu name. In real life only one or two people call me that.
I've debated internally for years about my name and whether I should officially change it. After all, it is pretty standard practice when converting to any religion to take on a name that matches it. But I've always before concluded no. [This post has a good summery of my fears about changing my name: How To Become a Hindu (Chapter Eight)]
It has always stayed in the back of my mind though. Recently one of my friends at bhajan group (I've been a regular there for two years now!) found out about my Hindu name and he thought it would be great for me to go by that as it would be easier for everyone to remember and pronounce, etc.
And during our stay in Sringeri being called by my Hindu name felt great. It felt right.
Then there was the moment when we went up for our first darshan with the guru ("seeing" the guru) and my dad and I went up together and were introduced. My name was given as Ambaa and His Holiness lit up. He smiled with such delight that I thought in that moment "that is all the answer I need."
Because of all the steps involved and also because I had a ten year Indian visa in my maiden name, I have not yet changed to my married name. Now I plan to start that process and change my first name officially as well. I don't expect people to switch to calling me Ambaa, but it will be good to have it on my official documents and ID. And if I start using Ambaa on my personal FB or my email, etc. you will know why from this post!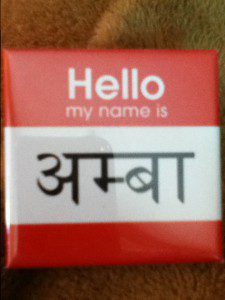 Edited to Add: I didn't realize that I didn't make it clear where the name Ambaa comes from for me. It was something I was called in Sanskrit class when I was 11. A little more about it here: http://www.patheos.com/blogs/whitehindu/2013/02/who-is-ambaa/