I wrote a long time ago about smart phone apps that can support your spirituality but a lot has changed since then so I thought it was time to do it again!
Last night I searched for Hindu apps and downloaded a bunch to try. Here is what I found…
Wallpapers
It started with Shiva Wallpapers by Peaksel (It says 99 cents on Amazon but I'm pretty sure it was free when I went through Google Play Store). As the reviews say there are a lot of ads in this app. They are quite invasive. But it doesn't matter too much because once you pick your wallpaper image you don't have to go back in and see them. The ads don't show up on your homescreen or anything like that. The quality of the images wasn't terrific but the variety was nice.
Then I discovered "living" wallpapers where there are moving elements. I downloaded SHIVA Shivling Live Wallpaper by Hobbypoint.in (again, free at Play Store) and that's what I have on my phone now. It's beautiful. There's an image that spans the three homescreens of the phone and there are gently falling flowers and other things. The only weird part is that it doesn't quite go all the way to the bottom of my phone so there's a tiny gap where the falling pictures get weird looking. But that's super minor and I love this app.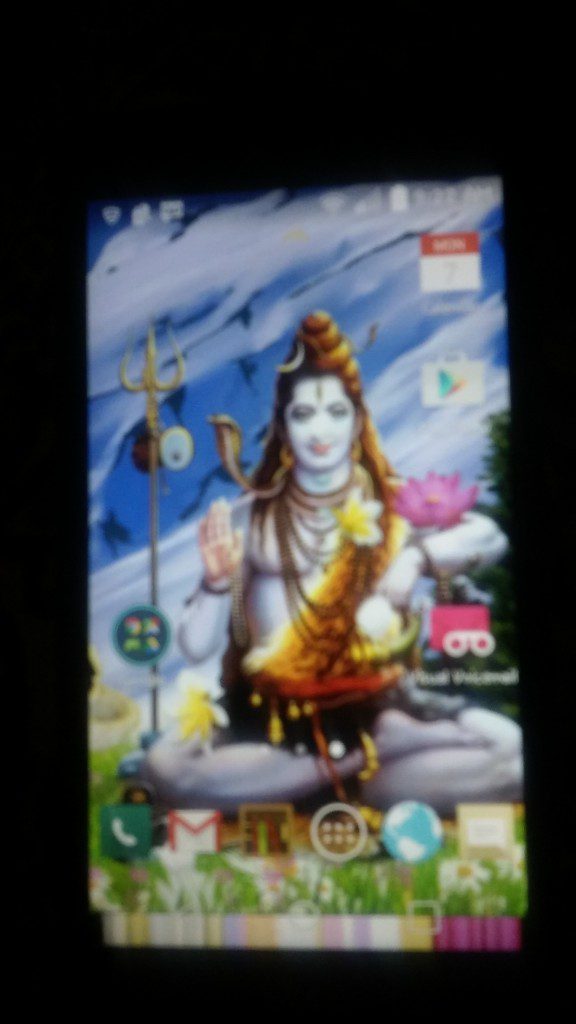 Virtual Japa Mala
Next I looked at some Mala apps. It's kind of a neat idea but it felt too removed from the real japa mala experience to me to be doing it on a phone screen. Still I like the concept. Both apps I downloaded show images of real mala beads moving when you touch the screen and they count for you. Mala by Pranav Davda has a timer and I'm not sure what that means exactly. Whether it times how long you meditate or reminds you to meditate. I'd love for it to be a little alarm that goes off through the day to remind you to pray. The other one I downloaded is Rudraksh Japa Mala by Sanketik Technologies, which is a little slicker but still had the problem for me of not capturing the real essence of using a japa mala.
Puja
I started with Hindu Aarti by D Rising Stars. I liked that it specified a God for each day of the week and you just click the day of the week. But after that it was too simple. It's just an image of a God with some music.
The real winner in this category was PUJA: Virtual Temple for Gods by PANAGOLA. I thought that doing a virtual puja wouldn't feel real enough just like the japa mala, but actually looking at the image of Shiva while I touched different icons to bathe him, toss flowers, light incense, ring a bell, etc. gave me close to the same feelings of peace and joy as when I do a real puja. Definitely something nice to have for when I'm out of the house. It's even better than my travel altars!
Sadly I still can't try PoojaMyself because I have an Android phone not an iPhone.
Gita
I haven't tried a variety in this category yet. Shrimad Bhagavad Gita in Hindi by Prateek Arora Naraincom is pretty nice. It does have an English option and for each verse you can see the Sanskrit and the translation. However the font is kind of big and goofy, which make sit hard for me to enjoy reading. I will probably look for another one.
Bhajan
My favorite app of all is Bhajans – Devotional Songs by Keyideas Infotech Private Limited. It gives you samples of tons of bhajans divided into category by God and you can download whichever ones you like and put them into a playlist (potentially multiple playlists if you have a pay version, I think). There's also a calendar on the home screen with important Hindu dates in it. The songs are gorgeous and I felt so uplifted last night as I listened to them. I highly recommend this one. The only thing I would love to see added is lyrics for following along with the songs.