For years I have admired and wanted a home puja mandir. They are like tiny temples for your home and many are intricate and lovely. The only trouble is they are extremely expensive whether you buy here in the U.S. or ship here from India. So I've long admired them from afar.
I was impressed to discover recently that people are making their own home puja mandir.
This woman did an IKEA hack and turned a dresser into a home puja mandir:
That little corner where God resides….
And she has a gallery of photos that people have submitted of their mandirs following her directions: https://theexperimentalbakerhomemaker.wordpress.com/readers-gallery/
These three built a simple frame from thin wood and decorated with molding pieces:
This woman modified cabinets with decoration:
https://www.pinterest.com/pin/489062840765927829/
And most unique and affordable of all, I was blown away by this home puja mandir created from a cardboard box!
Then I found a few more made from cardboard boxes in various ways:
http://www.instructables.com/id/Cardboard-temple-at-home/
http://outofboxcreations.blogspot.ca/2015/11/puja-mandap.html
I'm going to be working on making a small table for a friend and once I've got that basic woodworking project completed I think I'm going to try to make one of the wooden home puja mandir. In the meantime, the cardboard box version is something I could do right away.
So I gathered supplies from around the house and I created this in about an hour: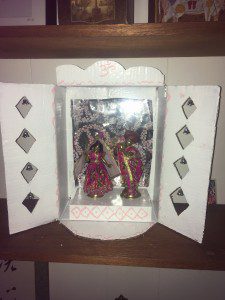 Here is a video that I made of me creating this (it is speeded up to about a minute and a half):
Afterwards I added another great detail. The shelf it is on is dark, so I cut a circle at the top and laid over it this little rechargeable light (that I already had to use for feeding in the middle of the night). It looks so nice lit up! I'm going to add more jewels and garlands to the background too.