I used to take dance classes with a girl named Kakoli. I hadn't seen her in probably about seven years, but when she suddenly posted on Facebook about an interfaith/inter-community workshop, I had to be there! Right up my alley plus I saw in pictures from previous workshops that there were hijab-wearing Muslims there so I saw an opportunity to connect with some religious Muslims on a personal level.
It turned out that the program is run by Kakoli's foundation: Shramani Institute. Like, my friend founded this! (And how freakin impressive is Kakoli's bio?!)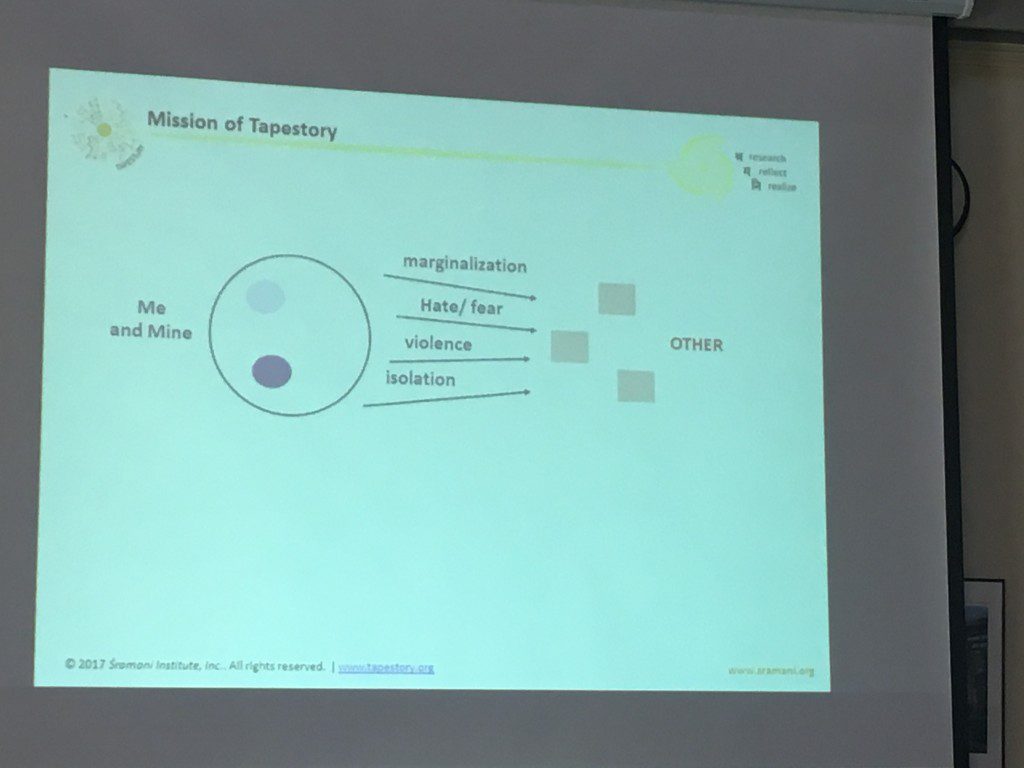 The Tapestory events are not necessarily interfaith focused, but any kind of diverse communities.
To my husband's comment "Isn't every interfaith workshop full of Christians?" This one had a couple Christians, a couple Sikhs, a couple Hindus, a couple Muslims, and one whose religion I never found out! It was actually remarkably well balanced. As I had hoped, I had a good conversation with two hijabi women that helped to (at least temporarily) quell some of my fears. I want this to be a first step towards making friends with some Muslim women.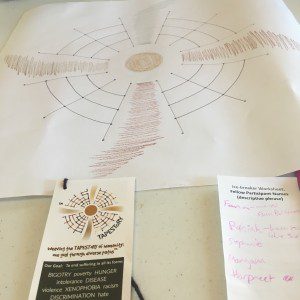 I had a nice conversation with the other Hindu participant, Dileep Thatte. He has actually written a book to distill and explain Hinduism for the second and third generations growing up here in the west. He very kindly gave me a copy so I'm going to be reading that and doing a review.
We did activities and shared stories. During one exercise I was really struck by my own white privilege. We were telling personal stories about times when someone else imposes their belief system on you. Now, sure, I get conversion attempts but not that often in person, honestly. I pass for Christian even with my bindi (after all, many people in the west don't know what it is or what it signifies).
All the other participants had had terribly cruel and racist things done and said to them. I was shocked. I mean, I know that stuff happens, but how common it must be if this small group of people near home all had these experiences. I was also impressed with how much grace and kindness they responded with. Without even realizing that they were having a beautiful response, just thinking it was normal.
Like one of the Sikh women wears a small turban (I forget now what she said it was called). She said that her response when she is harassed about it is to think about her own behavior. She thinks about how she can put out a kinder energy. The Muslim woman in my group agreed. It was so sad to me that when someone else is being cruel, their thought is to look at themselves and how they can be better.
My favorite tidbit of the day was when one of the Muslim women said that a smile is an act of charity. I love that!
—-
Thank you to my wonderful Patreon supporters, who make it possible for me to stay home to raise my son…