I wager that Hindus may have the most festivals or holidays of any religion in the world. There are some big ones that most people have heard of by now. Diwali is the one that I think most westerners can identify. Some with Indian friends may know Holi, Navratri, Ram Navami, Ganesh Chaturthi, Krishna Janmashtami or Pongol.
But did you know that there are actually many more Hindu festivals?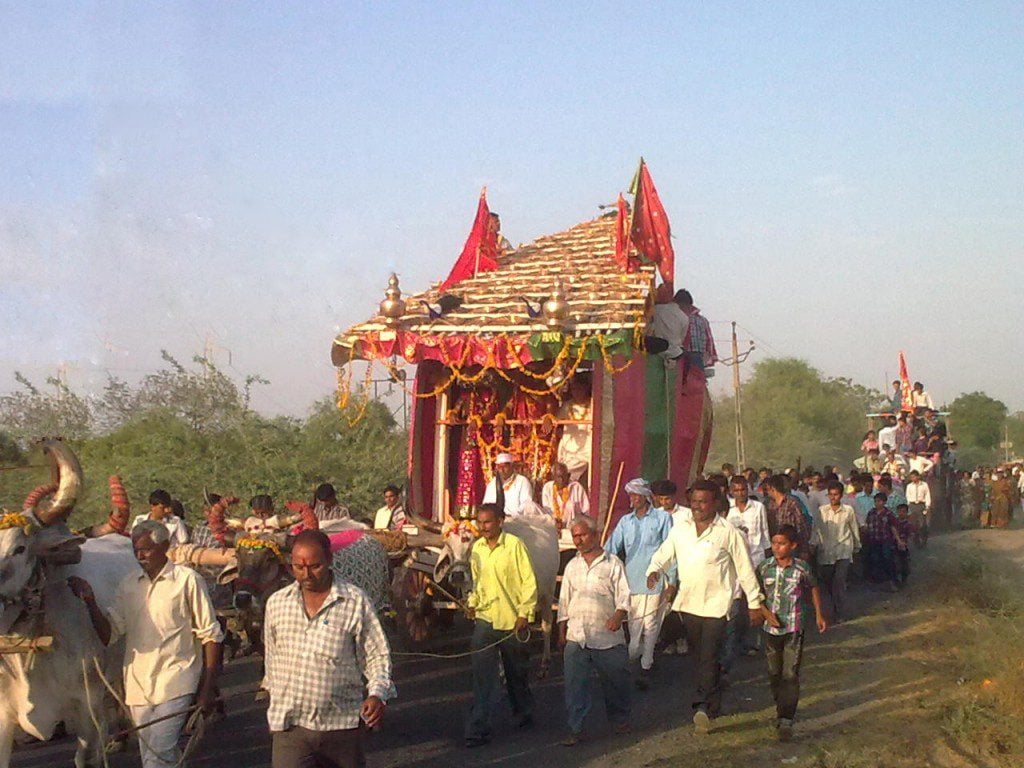 By Hitesh vip – Own work, CC BY-SA 3.0, Link
If you put together all the regions in which Hindus live you could probably get something to celebrate on every day of the year. God is in everyday life and so every day is special. So many of us don't even realize that we are spending our lives with God.
The season of major Hindu festivals begins in August but here are some of the lesser known Hindu festivals coming up in June and July! (I usually say "Hindu holidays" and I was asked to say "festival" instead. I think this is an issue of England English v.s. American English. In England "Holiday" implies vacation, time off, relaxing. Festival has a more religious connotation, apparently. Here in America I see "Holiday" as meaning religious and "festival" as meaning something folksy. Anyway, I will probably keep saying Hindu Holidays but for this post it is Hindu festivals!)
The dates can differ by region and do differ each year as they are based on a lunar calendar. To help give you some idea of what you're looking at here: vrat is a fast, jayanti is usually commemorating either a victory or the appearance of a God or Goddess, navami is a birthday. Also scroll down for the link to where you can get more details about each one of these Hindu festivals.
Hindu Festivals June 2017
01 Masik Durgashtami, Dhumavati Jayanti
02 Mahesh Navami
03 Ganga Dussehra
04 Gayatri Jayanti, Nirjala Ekadashi
05 Ramalakshmana Dwadashi
06 Pradosh Vrat
07 Vaikasi Visakam
08 Vat Purnima Vrat, Purnima Upavas
09 Jyeshtha Purnima, Kabirdas Jayanti
10 Ashadha Begins *North
12 Sankashti Chaturthi
14 Mithuna Sankranti
16 Kalashtami
20 Yogini Ekadashi, Longest Day of Year
21 Pradosh Vrat
22 Masik Shivaratri, Rohini Vrat
23 Ashadha Amavasya, Darsha Amavasya, Jamat Ul-Vida
24 Gupta Navratri Begins
25 Chandra Darshan, Jagannath Rathyatra
26 Vinayaka Chaturthi, Eid al-Fitr, Ramadan
28 Skanda Sashti
30 Ashtahnika Vidhan Begins
Hindu Festivals July 2017
01 Masik Durgashtami
04 Devshayani Ekadashi, Gauri Vrat Begins *Gujarat, Vasudeva Dwadashi
05 Pradosh Vrat, Jayaparvati Vrat Begins
07 Chaumasi Chaudas
08 Kokila Vrat *Gujarat, Vyasa Puja, Ashadha Purnima, Guru Purnima, Gauri Vrat Ends *Gujarat, Purnima Upavas, Ashtahnika Vidhan Ends
09 Sawan Begins *North
10 Shravan Somwar Vrat *North
11 Jayaparvati Vrat Ends, Mangala Gauri Vrat *North
12 Sankashti Chaturthi
16 Kalashtami, Karka Sankranti
17 Shravan Somwar Vrat *North
18 Mangala Gauri Vrat *North, Masik Karthigai
19 Kamika Ekadashi
20 Pradosh Vrat, Rohini Vrat
21 Sawan Shivaratri
22 Shravana Amavasya, Darsha Amavasya, Hariyali Amavasya, Aadi Amavasai
24 Chandra Darshan, Shravan Somwar Vrat
25 Hariyali Teej, Mangala Gauri Vrat
26 Vinayaka Chaturthi, Andal Jayanthi
27 Nag Panchami, Skanda Sashti
28 Kalki Jayanti
29 Tulsidas Jayanti
30 Masik Durgashtami
31 Shravan Somwar Vrat
You can learn many more details about all of these Hindu festivals at: http://www.drikpanchang.com/calendars/hindu/hinducalendar.html?year=2017
On the Youtube Channel this week is Garrick Ravi's first birthday and his mundan headshaving.
—-
Thank you to my wonderful Patreon supporters…
Brian Hanechak
Amit Agarwal
(views expressed here are mine alone and do not reflect opinions of my supporters. Links within the text may be affiliate links, meaning that if you purchase something I get a small commission for recommending it. I only recommend things I truly believe in)