I am inclined to want to see the actual transcripts of this exchange between HHS Secretary Kathleen Sebelius and Representative Trey Gowdy (R–SC) at a hearing this past Thursday. It's not that I don't "believe" CNA in its coverage, but, I guess I just need to verify its completeness and accuracy for myself.
Why? Because it is staggering to comprehend that the vast and discretionary powers conferred upon "the secretary" by the Affordable Care Act are to be wielded by a woman displaying so little familiarity with or curiosity about the Constitution of her country. Does she seem a little cavalier about insuring that her decisions conform to it?

"I'm not a lawyer, and I don't pretend to understand the nuances of the constitutional balancing tests," Sebelius told Representative Trey Gowdy (R–SC) during an April 26 hearing.

In her responses to subsequent questions, the secretary admitted she was unaware of Supreme Court cases stretching back several decades, in which religious believers' rights against government intrusion were upheld by the court.

Gowdy had asked Sebelius to explain the legal basis for what the secretary called an "appropriate balance between respecting religious freedom and increasing access to important preventive services."

"There are only three 'balancing' tests that I am aware of, when it comes to matters of constitutional significance," Gowdy told Sebelius. The HHS secretary was questioned about the contraception rule during a House Education and Workforce Committee hearing on her department's 2013 budget.

Gowdy cited the "rational basis" test – which involves the legitimacy of a state's interest in legislation – as well as the criteria of "intermediate scrutiny" and "strict scrutiny," which judges apply in order to gauge a law's relevance to fundamental state concerns.

When Sebelius responded that she did not understand the "nuances" of these tests, she was pressed by Gowdy to explain why she regarded the contraception mandate as constitutionally valid. [. . .]

"We can talk about the politics all we want to. I want to talk about the law," he told Sebelius. "I want to talk about balancing religious liberty with whatever else you think it's appropriate to balance it with – because you used the word 'balance.'"

"Which of those three tests is the appropriate test to use when considering religious liberty?"

"I am not going to wade into constitutional law," Sebelius responded. "We are implementing the (health care reform) law that was passed by the Congress, signed by the president, which directed our department to develop a package of preventive health services for women."

Sebelius said she agreed with the statement that government could not "force certain religious beliefs on its citizens." When asked why this could not happen, she cited "the separation of church and state," a phrase not found in the U.S. Constitution.

"It's the Constitution," Gowdy replied, citing the First Amendment which guarantees the "free exercise of religion."
Read the rest here. Or just watch. Seems CNA missed nothing.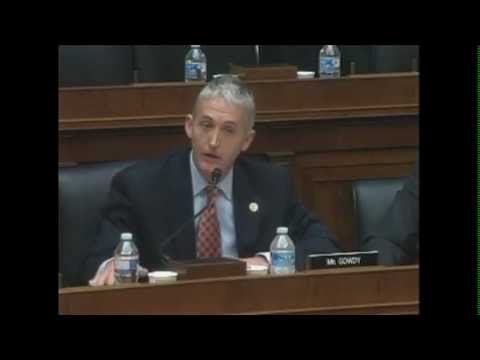 Truly, one need not be a constitutional scholar to understand that Obamacare's HHS Mandate treads with both feet on the first amendment. Our "constitutional scholar" president probably knew as much from the start — it is inconceivable to think he did not — and should have instructed his secretary to "find some more nuance and balance" as regards religious freedom, before the mandate was publicly released. That he didn't is actually cause for some concern. It suggests that he allowed advisors and cabinet members to lead him about until he okayed something he knew was not constitutionally sound.
That, of course, flies directly in the face of his presidential oath of office.
UPDATE: From Diane in the comments, more video and more links here
UPDATE II: Completely unrelated, but what the what?
Related:
Obama weighed religious politics before decisions
The Rule of Sebelius
Healthcare Czar (pdf)