I didn't have a hope chest for my wedding. Honestly, it's not really a tradition that people are practicing anymore. I always liked the idea of it, but there is no way I would have been able to hold off on opening it up and pulling out those goodies in the thirteen years I've been waiting to get married! I've lived on my own and started my household a long time ago.
A Baby Hope Chest is a project I started a couple years ago when I wasn't ready to have a baby, but desperately wanted one. To help myself be patient, I started gathering things (which, actually, a character in Eat Pray Love does also). I got a long plastic box and started putting things away for the future.
It started out with books, toys, games, and not very practical items but then I started gathering real supplies too.
Hindu Themed Kids Stuff
From gnaana.com I have these things
From Krishna.com, I have some coloring books and a mini puja set (which I'm not sure they have anymore!)
From Indiaclub.com I have some kid's DVDs in Hindi, including nursery rhymes, a dubbed version of Harry Potter, and educational videos about going to a temple and festivals.
Other Toys
From a Kickstarter campaign I got this. I don't know if I'll have a daughter, but if not my friend already has a baby girl, so she'll benefit! It's a toy designed to get girls interested in engineering. There's a book and a pegboard to do experiments with.
Practical Items I Have
Right now six-month old Moksha is the baby!
This is a Baby K'tan wrap for babywearing
A pacifier with thermometer built in. Easy way to take a baby's temperature!
Some baby boy onsies. Boy ones were more "gender neutral."
A co-sleeper (designed for travel. It folds up and has a handle!)
A pillow for around the mom's waist. It supports a breastfeeding baby. My friend has one that she uses all the time.
Another baby carrier. This one more for older babies and for outdoors walking the dog, etc.
(I got all of these at a local consignment sale. It is absolutely amazing. It's the Columbia Moms of Multiples that does it and the prices are unbeatable. I paid about $75 for all of these things).
Things I Made
***
My parents brought my box of things that I saved form my own childhood, basically all dolls and books. I figure I'll get hand-me-down clothes from my cousins and if not, I'll be shopping Goodwill for that.
I think I just need a starter pack of cloth diapers and a car seat and I'll be ready to go! Except for stuff that I just want cause it's cool 😉
Things I Want to Get
Here are the diapers I've got my eye on.
 A nasal aspirator. Gross but I've heard great things about it. It helps you clear your kid's mucus

A diaper sprayer for cloth diapers when the kids are a little older.
Krishna.com is full of kid's stuff: games, toys, books, dolls and all Hindu-themed. I want everything they've got!
Gnaana.com has this lovely alphabet poster I want: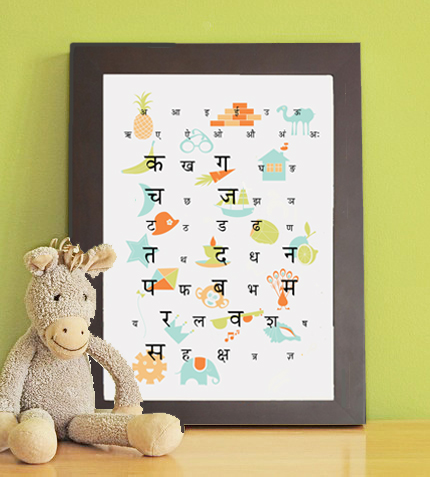 And I want science stuff like a microscope, chemistry set, human body model.
Things I Want to Make
My Ravelry queue is full of more baby things I want to make! Sweaters, toys, a DNA molecule made of yarn!
* Felt boards. I loved these as a kid. A base of plain felt with figures cut out of different colors of felt to create scenes. I had a really simple one and I created vast stories with them.
* I have blank board books for "create your own." I'm thinking of making something like the Gnaana.com "bindi baby" books.
* There's a bunch of Pinterest activities and things to make for Christian kids and I'm brainstorming ways to redo the projects with a Hindu basis.
* Quiet books are also made out of felt and have little activities and colors and things on each page. I'm going to make a few of those.
***
Sure, I'm not even pregnant yet, but this project is definitely doing its job in giving me something to focus on while I wait to get pregnant. The more I pack away into my baby hope chest, the more ready and confident I feel.
You can probably tell from this list some things about how I plan to raise kids. Brad and I are both definitely interested in the "attachment parenting" thing. Co-sleeping, constant baby-wearing, and exclusive breastfeeding. It fits in perfectly with both of our instincts about caring for babies.
Apparently it is also called the "continuum concept" as we heard about in this interesting UK show about six families raising babies in three different methods. The 1970s one was us ALL OVER. (The show was interesting to watch, but hardly as scientific as they tried to make it out to be. If you don't define the parameters of "success" or "best" before you start then you have no idea when you've achieved it. Each family was aiming for something different. I'd be very curious to see a follow up on all the kids some years later, though).
We went to a wedding this weekend and got to see a friend's seven-month old baby. We both left with such baby fever. We are SO ready! 🙂