Reigion is not enough. We need a relationship with Jesus. We need real hope, especially during difficult times of suffering which tests our faith to see if it is genuine. Adrian has written extensively over the years to ask what is a christian?, what is an evangelical?, and what should church be like? There are many articles on the subject of the gospel and the church. Adrian's second book is designed to help you understand and explain what it means to be a Christian.
Adrian Warnock (4) Gospel Q&A from CountiesUK on Vimeo.
Hope Reborn — USA or UK (ships worldwide)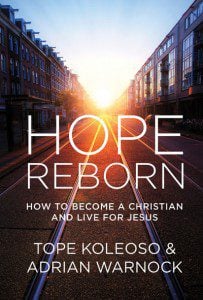 We are all either looking for, or glad to have found, hope. Hope brings zest to life. Hope gives strength to face situations that seem overwhelming. Hope helps people leave behind a negative past and capture the purpose for which they were made. Hope renews, it revitalizes, it remakes; it can even make people feel reborn.
This book is all about finding the hope which matters above everything else. Millions before you, over thousands of years, have walked this path and found meaning and purpose to life. A life with purpose is a life with vision, and a life with vision has hope. Real hope is found not in a place, or a plan, but in a person: Jesus Christ the Son of the Living God.
The gospel offers us an eternal hope. Many today simply do not understand it because we have been guilty of assuming too much. This short book is designed to help five different types of people.
If you are new to Christianity, it focuses on the central message of the Bible, and includes a practical step-by-step guide on how to become a Christian.
If you have already explored the faith, our goal in writing is to help you be sure that you are a Christian, and to have a certain hope that you will live forever with Jesus.
If you once had a faith in Jesus, but have drifted away from following Him, these pages will help you find your way back to God. He has already taken a step towards you, and is waiting for you to take a step towards him.
Or perhaps you have gone to church all your life. Maybe you have always assumed you are a Christian. But many who appear to be Christians will one day hear Jesus say, "I never knew you; depart from me!" (Matthew 7:23). If you think you are already a Christian, you must carefully consider whether or not this really is true (see 2 Corinthians 13:5). This book will help all of us, authors included, with that process.
If you are confident that you are a Christian, we hope that these pages will help you to be able to explain what you believe more clearly to others.
We have prayed for you, that Jesus himself will meet with you as you read this book.
You can get copies of Hope Reborn at a reduced rate and have them shipped anywhere in the world. Why not buy a few copies and share hope with your friends and family?
Will you offer the gift of hope to someone you know?
---
FREE CHAPTERS
---
Buy Now — USA or UK
Don't make the mistake of thinking this book is for the new Christian only. You will find your love for the gospel growing afresh as you read its pages.
—Jack Hayford, Founding Pastor, The Church On The Way, Los Angeles, California
There has long been a need for a short, simple, accessible and biblically faithful book explaining the essence of what it means to be a Christian, how to become a Christian, and how to start living as Christian. Hope Reborn meets this need wonderfully.
—John Stevens, National Director, Fellowship of Independent Evangelical Churches, Market Harborough, Leicestershire
This book will be of great help to anyone who wants to become a Christian. If you have been part of a church for many years Hope Rebornwill also help you to bring the gospel back to the center, and to become more confident in explaining it to others.
—Rice Broocks, Author, 'God's Not Dead – Evidence for God in an Age of Uncertainty'
An amazing book which will help you follow our amazing saviour.
— R. T. Kendall, Previous minister of Westminster Chapel, London
This book will help new comers to the faith discover where hope is born and it will help seasoned believers to remember how not to lose it.
—Frank Viola, Author of God?s Favorite Place on Earth and Jesus Now, Florida
Once, Jesus was teaching and he told people "my burden is light." In other words, he didn't come to weigh us down and make life harder. It seems like there are always people ready to make Christianity complicated and difficult, and that's why I love this book: it captures the simplicity that Jesus originally offered. You need to read this book!
—Greg Surratt, Founding pastor of Seacoast Church, Mt. Pleasant, South Carolina
This is an excellent book: simple yet profound, brief yet thorough. Written in a style that is readable and easy to relate to, it covers the critical issues needed for a person to get off to a strong start in their Christian life. I trust and pray that it will be a great resource to many churches and a great blessing to many individuals. May many lives be transformed as a result!
— David Smith, Senior Pastor, KingsGate Community Church, Peterborough, England
If you are a Christian, this book will help you know and share your faith. And, if you're not, it's a great guide to understand what it means to be a follower of Jesus. I commend them and Hope Reborn to you.

— Ed Stetzer, Billy Graham Chair, Wheaton College, Wheaton, Illinois
People are often saved through a fragment of truth. What comes next is vital. Here is instruction not only to establish Christians in their new identity but also to provide a path to effective Christian living.
—Terry Virgo, Founder of Newfrontiers and well-known Bible Teacher, London
At last! An engagingly written, theologically vibrant little book that you can give to seekers, to new converts, and to struggling believers. The authors depict a righteous Savior who can be touched and who really cares, and they lay out practical steps every child of God can take to grow strong in the faith.
—Michael L. Brown, Author, theologian, apologist, and radio host lineoffireradio.com
Where is that straightforward, plain English, theologically sound, assume-nothing little book that you can give to an unbelieving friend, read with the seeker, share with the new believer, work through with the backslider? A book that carefully and pastorally delivers the gospel, framed from the outset as a real encounter with the living, saving, discipling Jesus. A book that clearly and practically explains the breadth of repenting, Christ-following faith from conversion through the steady heavenward walk of willing obedience. Hope Reborn is just such a book. Not only is it exciting that the church has this superb new resource – Tope and Adrian have warmed my heart anew with the wonders of the gospel.
—Colin Buchanan, Christian Children's Recording artist and author, Sydney, Australia
I predict this is going to be a very significant resource for the global church.
—Bob Roberts Jr, Founder and Pastor, Northwood Church, Keller, Texas.
Hope. The realest, deepest, truest Hope. If you need some Hope – and, honestly, who doesn't? – I humbly, earnestly recommend these pages to you as real water.
—Ann Voskamp, Author of the New York Times Bestsellers, One Thousand Gifts & The Greatest Gift