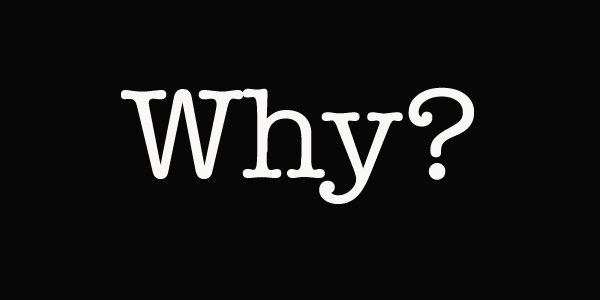 A few weeks ago now, I posted a surprising answer to the "Why me?" question. In that article I essentially make the point that one reason God allows suffering in our lives is so that we will be able to help others. But there are clearly other reasons, and we will never fully understand. One of the important reasons for us to grasp is expressed by Paul in what some have claimed is the finest chapter in the whole Bible, Romans 8:
Behind every bad thing that happens to us, God is at work, turning it around for our good
And we know that for those who love God all things work together for good, for those who are called according to his purpose.
(Romans 8:28).
These words are incredibly hard for us to hear when we are in the middle of a real crisis, such as for example that caused by a mental illness. This is why we must learn their truth even when everything is going well so that we are prepared. For one thing is for sure: suffering is coming, however much we may want to pretend it isn't.  Jesus promised us as much when he said "in this world you will have trouble."  But he also promised us that he has overcome the world, meaning that the world does not hold any surprises for him.
What are some of the ways that suffering helps us. What is God doing in us when he allows suffering to come against us?
Suffering produces patience in us
Count it all joy, my brothers, when you meet trials of various kinds, 3 for you know that the testing of your faith produces steadfastness. And let steadfastness have its full effect, that you may be perfect and complete, lacking in nothing.
(Jas 1:2–4).
It is impossible to endure unless you have something to endure through.  Christians who have responded well to the white heat of the crucible of suffering come out the other side mature.  It is this maturity that helps them to help others.
But there is more still to it than this.
Suffering allows us to demonstrate the power and life of God in this world
But we have this treasure in jars of clay, to show that the surpassing power belongs to God and not to us. We are afflicted in every way, but not crushed; perplexed, but not driven to despair; persecuted, but not forsaken; struck down, but not destroyed; always carrying in the body the death of Jesus, so that the life of Jesus may also be manifested in our bodies. (2 Corinthians 4:7-10).
I'm sure you have met the kind of Christian who greets every difficulty in life with a grin that has been wallpaper pasted onto their face. You know the kind who when asked how they are says "God is being good to me" with what looks like a false smile on their face even when you know their world is falling apart. This is not the lifestyle that Paul advocates here. Paul experienced real emotions that were sufficiently dark that I suspect a psychiatrist would have offered him medication. He was afflicted, perplexed, persecuted, struck down. There was in Paul an emotional complexity, however. He stubbornly refused to allow hope to be driven away. This is crucial, and it is why Christians do grieve, but in a different way to those who have no hope.
This ability to hold onto God even in the midst of great sorrow is why Christians can and do get depressed, but the mature Christian will even in the middle of his darkest times have at least a glimmer of hope that remains ablaze.  That small glimmer of hope needs to be nurtured by those around us at times.  Jesus does not quench that faintly burning spark and nor should we with well-meaning but foolish comments.
In the middle of suffering the supernatural power of God is revealed in us, broken vessels, and people ask "What is it that is so different about you?" But Suffering also has eternal benefits for us:
Suffering is connected directly to our eternal glorified state
 So we do not lose heart. Though our outer self is wasting away, our inner self is being renewed day by day.  For this light momentary affliction is preparing for us an eternal weight of glory beyond all comparison,  as we look not to the things that are seen but to the things that are unseen. For the things that are seen are transient, but the things that are unseen are eternal.

(2 Corinthians 4:16–18).
We are in mysterious territory now. But it does seem that even as we feel the pain of death at work in our bodies and indeed minds, God is somehow directly turning that pain into joy that we will feel for eternity.  I don't want to speculate too much about this, but it seems to me that there may be a connection to the discussion we see in Job 1.  Satan cannot grasp why God's people would see him as worthy of worship unless he "does stuff" for them.  We see that Job resolutely continues praise God and serve him even when things do not go well for him at all.    Do we fall into the same trap that Job was accused of by Satan?  Do we secretly believe that we have done some kind of deal with God and that because we are "good Christians" he somehow "owes" us a good life with no suffering?  If so, when suffering comes we will surely not demonstrate the worth of our faith, and of it's object to others.  May God cause us to demonstrate his value at the hard times in our lives.
Suffering teaches us to trust in the God who delights in delivering us
None of what we have said in this post in any way negates the fact that God wants us to have a strong hope in him, and to believe that even in this life he will do us good, and act on our behalf.  Real faith requires us to trust his sovereignty but also dare to believe that God will act. Having considered all that we have in this post, it is surely no wonder that at a very hard time in his own life, Paul could confidently speak of his certainty that God would save him out of his troubles:
We were so utterly burdened beyond our strength that we despaired of life itself. Indeed, we felt that we had received the sentence of death. But that was to make us rely not on ourselves but on God who raises the dead. He delivered us from such a deadly peril, and he will deliver us. On him we have set our hope that he will deliver us again

(2 Corinthians 1:8–10)