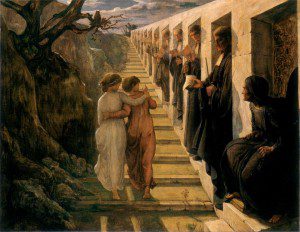 In an earlier series of columns on "The Mysticism of Devotion," we explored the devotional moods of Child, Friend, Strength, Champion, Hound, Servant, Spouse and Parent in relation to the love of the goddess Brighid. Now we will explore the cultivation of these devotional moods through visualization. The important point in each of these visualizations is emotional content. You want to center yourself in one particular emotional attitude and develop it as far as possible. The visualizations are only means to that end.
Child – Imagine yourself as a helpless little infant, cradled in the arms of the goddess Brighid. The goddess is shining with a wonderful light as She gazes down into your face with limitless and unconditional love. Alternatives: Imagine yourself as Ruadan, the slain son of Brighid and Bres. Brighid mourns your death with keening and shrieking. Imagine yourself as Brian, one of the three sons of Brighid and Tuireann. You are in exile from your beloved mother for the crime of slaying Lugh's father. With your brothers Iuchar and Iucharba, you roam from land to land trying to fulfill the impossible conditions of the blood-price demanded by Lugh.
Friend – Imagine yourself as a close personal friend of Brighid. You walk hand-in-hand with Her along a beach or through the forest, sharing the hopes and fears of your life with Her as She listens with gentle compassion. Alternative: Imagine yourself as Darlughdacha, personal companion of St. Brigid of Kildare. Darlugdacha was said to be so close to St. Brigid that the two women slept in one bed, and Darlughdacha succeeded Brigid as the abbess of Kildare.
Strength – Imagine that with every breath you take, the power of the goddess Brighid fills you with greater and greater strength and power. Alternative: imagine yourself as Venutius, ancient king of the Brigantes tribe, whose power and right to rule derive from his relationship with the goddess Brigantia. Imagine yourself as Cartimandua, the queen who ruled the Brigantes, drove out her husband Venutius and allied with the Romans.
Champion – Imagine yourself as a guardian of Brighid's shrine at Kildare, either in Christian or pagan times. Your sacred task in this role is to ensure that the eternal flame at the shrine is not profaned.
Hound – Imagine yourself as Brighid's hound, tending sheep at Her side and protecting them from wolves. Alternative: imagine yourself as a fierce Fianna warrior in ancient Ireland, reiving and raiding to sustain your family and living the life of an outlaw. Brighid welcomes you home and purifies you of guilt with a blessing.
Servant – Imagine yourself as a servant of Brighid's shrine at Kildare, either in Christian or pagan times. Chop wood for the use of the shrine, gather kindling in the forest, draw water from the well and tend the animals.
Spouse – Imagine yourself as a great bard on a quest for lost knowledge, like Senchan Torpeist in the tale of the finding of the Tain. Senchan's wife was named Brighid. Alternative: imagine yourself as Bride's lover Angus in the Scottish folktale, coming to rescue Her from imprisonment by the Cailleach in Ben Nevis during the fierce winter months.
Parent – Imagine yourself cradling the Brideog or infant Brighid in your arms. Take care of Her and tend to Her every need. Alternative: imagine yourself as a mute and seemingly autistic boy who suddenly becomes pregnant with the power of poetry and prophesy as in the bizarre tale of Amairgen son of Ecet Salach.
You can find the columns on the "Mysticism of Devotion" here:
You can find the first six columns on "Private Practices" here:
---
Loop of Brighid is published on alternate Thursdays. Follow it via RSS or e-mail!