This Sunday was the final meeting of Falls Church (Va.) Anglican at its historic location near Washington, D.C. The parish dates from 1732, the church's brick sanctuary from 1767. George Washington and George Mason were among the church's early vestrymen.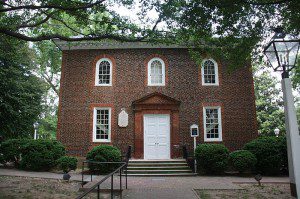 Falls Church's removal from the property resulted from the latest in a series of nationwide court decisions regarding congregations who have broken away from the Episcopal Church USA, often to re-affiliate with the Convocation of Anglicans in North America, a "missionary district" of conservative churches sponsored by the Anglican Church of Nigeria.
Falls Church Anglican and six other Northern Virginia congregations withdrew from the Episcopal Church USA in 2006 because of concerns over theological liberalism, and over the Episcopal Church's ordination of Gene Robinson, a non-celibate homosexual, as a bishop in 2003.
The Episcopal diocese of Virginia sued the departing congregations to maintain control of their church properties and bank accounts. Courts have tended to side with the denomination in these cases, even when (as in the Falls Church case) nearly the whole congregation elects to leave. Recent attendance numbers show Falls Church Anglican averaging about 2500 for Sunday services. The remnant Episcopal congregation (those who refused to leave the Episcopal denomination), which will continue to meet at the Falls Church property, has been averaging about 75 attendees weekly.
By all accounts, the experience of eviction has galvanized Falls Church Anglican's congregation, as indicated in recent reflections written by the church's longtime rector, John Yates, and by church member Cherie Harder, President of the Trinity Forum.
As I wrote last week regarding the United Methodist General Conference, America's mainline denominations are struggling to contend with their fast-dwindling numbers, and with the surging strength of churches in the global South, most notably in sub-Saharan Africa. The Anglican Church of Nigeria, which reports a membership of 18 million, has become a serious challenge to denominational hegemony for the Episcopal Church USA, which reports an ever-shrinking membership of just under 2 million (from a height of 3.4 million in the 1960s). The Episcopal Church USA apparently has a compelling legal case for maintaining control of facilities like the Falls Church property. But who will be there to fill the sanctuaries?