Cleaning out my office this week, I came across Time magazine's February 2005 list of "The 25 Most Influential Evangelicals in America."
Here's the list, in the order of appearance (though Time didn't rank it):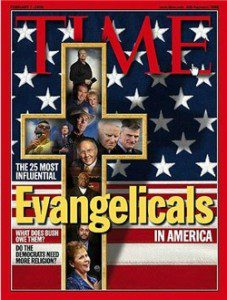 Rick Warren
James Dobson
Howard and Roberta Ahmanson
Dianne Knippers
Michael Gerson
Richard John Neuhaus (a curious choice, I thought then and now)
T.D. Jakes
Billy and Franklin Graham
Joyce Meyer
Rick Santorum (a slightly less curious choice than Neuhaus after the 2012 primaries)
Luis Cortes
Tim and Beverly LaHaye
Charles Colson
Douglas Coe
J.I. Packer
David Barton
Mark Noll
Ralph Winter
Richard Land
Stephen Strang
Ted Haggard
Stuart Epperson
Bill Hybels
Brian McLaren
Jay Sekulow
John Stott (as a transatlantic inspiration)
I found the list interesting in several respects: the inclusion of two Catholics, the inclusion of only one Hispanic; and only two women outside of the two listed as part of a couple. Why wasn't George W. Bush included? The editors chose to exclude some other then-obvious choices, such as Jerry Falwell, Pat Robertson, and Don Wildmon, choosing instead to introduce less familiar names to its readers.
In 2012, we'd have to make several obvious and sad deletions (Stott, Colson, Winter, Knippers, Neuhaus. Others no longer seem as influential, including Dobson, Gerson, and possibly even Billy Graham. Haggard = definitely not.
Some holdovers are certain, such as Warren, Richard Land, T.D. Jakes, and David Barton (we'd rather have John Fea, but he's yet to make the Daily Show), and probably Bill Hybels.
Some new choices would also be obvious: Joel Osteen and Tim Tebow, for starters. Perhaps Mike Huckabee. Rob Bell? There must be other Latinos and at least one Asian American who should make such a list in 2012.
Who else?