I like to eat. My family was in the live-to-eat category while I was growing up. I sometimes worry that had we been there when Jesus fed thousands, there would only have been eleven (or maybe ten) baskets of food left over.
One reason I was a terrible Boy Scout was because camping food was mostly awful. Who really wants to make peach cobbler in a reflecting oven? Actually, I was rather enterprising at locating good food while on camping trips. I once completed a Hiking merit badge by leading a group on an "urban hike" from a local park to a local pizza parlor. I even found a Scout Leader who made pork roast on an electric spit over a camp fire.
I'm not especially choosy about my food, since I like most of it. High cuisine or low cuisine and most ethnic varieties. Having just moved to northern Virginia, I pine for the monthly budget that would permit sampling of the Lebanese, Peruvian, and many other restaurants tucked into little shopping plazas near our home.
Before childrearing reduced our adventurousness, my wife and I even enjoyed cooking. While living in Colorado for a year after graduate school and staying in a furnished rental home, we stumbled upon several years' worth of Cooking Light magazine. [I ingeniously found ways to restore the fat content to many of the recipes – ground beef does taste better than ground turkey].
Those big, glossy pictures made me want to try every entrée and dessert.  We didn't try everything, but we did our best. A few Turner family favorites:  Feta Chicken with Vegetables, Joe's Special (swiss chard for breakfast!), Confetti Burritos (with sweet potato), and Moroccan Salmon. My mother-in-law even baked CL's herb-crusted standing rib roast twice! The latter dish is just about the best-tasting beef I've ever had this side of Texas brisket barbecue. We had plenty of clunkers as well.  Gruyère-stuffed calzones – ugh.
Besides lapses in judgment and skill, there was a major problem with these Cooking Light recipes. They were not easy on the wallet. When you're buying fancy cheeses, meats, and spices to make dinner, those dinners get expensive quickly. For some reason, it's apparently necessary to own every variety of oil and vinegar known to humankind. Truffle oil? I thought truffles were fancy chocolates, not mushrooms. We couldn't afford to really jump on the foodie bandwagon.
I also read Michael Pollan's The Omnivore's Dilemma around the time of my daughter's birth. Pollan didn't really make me rethink my meat consumption (I'm sure I should have), but he did make me alarmed about corn.
[We did get into the baking of cakes a few years ago. I managed a half-decent red velvet cake for my daughter's baptism, thinking it would be appropriately symbolic of the Holy Spirit].
I was thinking about such things when reading David Swartz's splendid Moral Minority (UPenn Press, please bring it out in an affordable paperback for course adoption!), which includes a section on Doris Janzen Longacre and the More-with-Less Cookbook. I loved Swartz's book (full review coming later) for several reasons. It's very well written and engaging, and David introduced me more fully to a cast of characters that usually only appear as sidebars in the history of evangelical conservatism.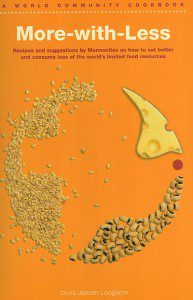 The More-with-Less Cookbook is the antithesis of Cooking Light or other contemporary food magazines. Perhaps it's been updated, but the 1976 edition has no pictures except for a photograph of a (hungry) African child. Longacre writes in the introduction:
Although the book is finished, the holy frustration lives on. Do not approach this book as a set of answers for responsible change. At its best, it tells us that Mennonites – a people who care about the hungry – are on a search. We are looking for ways to live more simply and joyfully, ways that grow out of our tradition but take their shape from living faith and the demands of our hungry world.
The cookbook's discussion of irrational food consumption is just as appropriate – probably more – for 2012 as for 1976: too much protein, too much processed food, too many calories, too much food eaten by Americans while others go hungry. Men and women may not live on bread alone, but they certainly don't need truffle oil. We need more of the Bread of Life, but if you're like me, you could use a bit less of certain earthly things.
Last spring, my every-fifth-year cholesterol test was not that good, but for the last several months, I've placed dietary reform on hold. We've had a busy summer, with lots of travel to family. That's also meant lots of unhealthy food. My new plan is to incorporate the More-with-Less cookbook after Labor Day.
I'm not going to try everything – no cauliflower salad here. But I think I'd like the Coconut-Oatmeal Cereal and the Calico Baked Beans.