Never agree to serve on a hymnal committee. First of all, if your church (like mine) is still using hymnals, that's probably a sign that its membership (like mine) is aging and shrinking. Second, one can be certain that a new hymnal — or any new decision about congregational singing and music — will produce rancor.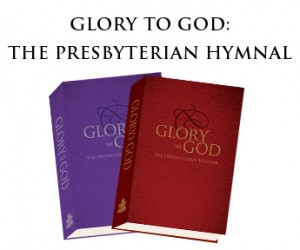 Still, the Presbyterian Church (U.S.A.) is encouraging its congregations to adopt a new hymnal, Glory to God. That fact makes me feel old. I think of the red 1955 Hymnbook as the "old hymnal" and never fully became used to the "new" and "blue" 1990 Presbyterian Hymnal. Later this year, Glory to God (available in two colors!) will ship to many Presbyterian congregations across the country. Predictably, there has been much debate about hymn choices and lyrics.
This week, Timothy George, writing in First Things, publicized the fact that the:
Presbyterian Committee on Congregational Song to exclude from its new hymnal the much-loved song "In Christ Alone" by Keith Getty and Stuart Townend.  The Committee wanted to include this song because it is being sung in many churches, Presbyterian and otherwise, but they could not abide this line from the third stanza: "Till on that cross as Jesus died/the wrath of God was satisfied." For this they wanted to substitute: "…as Jesus died/the love of God was magnified." The authors of the hymn insisted on the original wording, and the Committee voted nine to six that "In Christ Alone" would not be among the eight hundred or so items in their new hymnal.
I am so out of touch that I listened to this beautiful song for the first time this week. It's lovely and profound. If it is as beloved (especially by younger Christians) as reports suggest, its inclusion would have been especially wise.
Writing for National Review Online's multi-author Corner, David French (whose reporting on campus ministries and a host of other legal issues I very much appreciate) excoriates the Presbyterian Church (U.S.A.) for abandoning the doctrine of the substitutionary atonement. David states that "mainline protestantism is increasingly rejecting it in favor of a doctrine that places Jesus not as Savior in the orthodox sense but more as an example of love and nonviolent resistance, Gandhi on divine steroids."
I am sympathetic to both parties in this argument. I think the hymnal committee should have included the hymn as originally written. For starters, no one is going to like the theology implied by every line in every hymn or praise song. Ministers deeply uncomfortable with the term "wrath" could have preached on the subject; after all, there is plenty of wrath in Christian scripture. While it would have required considerable magnanimity on their part, the authors of the hymn could also have authorized the change. Christ's death on the cross both satisfied God's wrath and magnified His love. By itself, "In Christ alone" is a rather controversial affirmation in some mainline quarters! I understand the hesitation to assent to a change in one's written lyrics, but many individuals would still respond to the song's moving portrait of Christ's death and resurrection and our salvation and transformation through his life and death:
There in the ground His body lay,
Light of the world by darkness slain;
Then bursting forth in glorious day,
Up from the grave He rose again!
And as He stands in victory,
Sin's curse has lost its grip on me;
For I am His and He is mine—
Bought with the precious blood of Christ.
In the end, everyone loses these fights.
Sometimes I tend to be a bit curmugeonly about changes to lyrics. I have sometimes sung the now political incorrect versions of modified hymns. I prefer "the eye of sinful man" to "the eye of sinfulness" in "Holy, Holy Holy!" — the first hymn in Glory to God. I find still find some of the selections in the 1990 hymnal a bit baffling. At the same time, I know my own curmugeonliness is uncharitable and mostly unwarranted. Hymns necessarily change over time. As much as we might dislike those changes which seem to trample on our own sacred ground, a quick glance at many hymnals from the early nineteenth century does suggest much necessary adaptation. Even most conservative evangelicals would probably rather have a bit less blood and brimstone in their hymns than one finds in such older collections.
It's very easy to criticize individual choices in the compilation of a hymnal. It's harder to recognize that despite certain decisions, Glory to God contains many ringing affirmation of Christian truths. For instance, one of my very favorite hymns ("Come, Thou Font of Every Blessing") — included in the new hymnal — has this rather poignant reflection on the atonement:
Jesus sought me when a stranger,
wandering from the fold of God;
he, to rescue me from danger,
interposed his precious blood.