World Vision, known best for its child sponsorship programs, has become the largest and most significant evangelical relief and development agency. The organization's Wikipedia page vaguely describes its humanitarian origins. Its official website features a similarly vague history, preferring to tout its culturally appropriate development work. But its story is much more vivid than these very brief narratives suggest. In its early years World Vision operated from a posture of full-throated, flag-waving Christian Americanism. The organization was an authentic creation of the Cold War.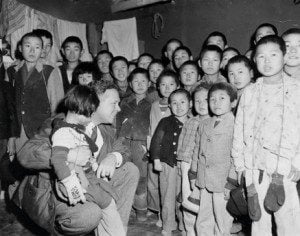 World War II reshaped evangelicalism into a less isolationist posture. The rising neo-evangelical movement, led by the National Association of Evangelicals, Christianity Today, and Billy Graham, nurtured cultural and social ambitions. Encouraged by their own successful contributions to the Allied defeat of Nazism, evangelicals saw a place for themselves in an America they viewed as once belonging to them. Building evangelical institutions to compete with secular institutions, locating Christianity Today just down the street from the White House, and conducting crusades in the heart of liberal cities such as Los Angeles and New York City reflected the bold aspirations of the neo-evangelical movement.
These ambitions took geo-political shape as the Nazi threat gave way to the red tide of Marxism. Communist aggression in Southeast Asia, Europe, Africa, and even the Americas invigorated evangelical interest in global affairs. Anticommunist activism often meshed with missionary activity as evangelicals fanned the world in airplanes that were less expensive and more efficient than nineteenth-century ships. This offense against godless communism, in its evangelistic and political forms, claimed a social dimension to faith. Political and economic systems mattered, even if only to preserve space for conversions. Representative evangelical periodicals—Moody Monthly, the Sunday School Times, and the Pentecostal Evangel—showed considerably more attention to international matters in 1950 than in the preceding decades.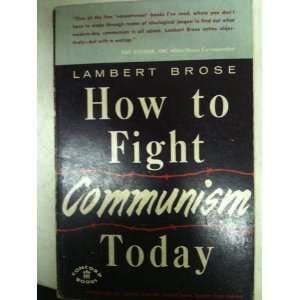 Articles against "Marxist materialism" peppered the early years of the postwar era. In Christianity Today, read by hundreds of thousands of evangelicals, prominent politicians bemoaned Communist expansion and antidemocratic policies. In the 1950s, Walter Judd, a Republican congressman from Nebraska, and FBI Director J. Edgar Hoover lamented the West's failure of nerve in the Suez crisis. These conservative political leaders worried about Marxist threats within Western Europe as France, Britain, and Italy struggled to recover from a devastating war. Evangelical publishers advertised countless books with titles such as Communism: Its Faith and Fallacies (1962), How to Fight Communism Today (1962), and Know Your Enemy: Communism (1961). A popular Vacation Bible School curriculum produced by Scripture Press in Wheaton, Illinois, boasted that it could make "our youth … strong in the Lord and the power of His might." "Our answer to Khrushchev," the ad copy read, "is Patriots for Christ for '62 VBS."
World Vision, established in 1950 both to help Korean orphans and to stem the expansion of communism in Korea, framed the conflict in apocalyptic terms. "Like a deadly red plague spreading out in all directions," founder Bob Pierce wrote, "the massive force of Communism has spread over the globe until today it claims over one third of the world's population." Pierce produced popular films called The Red Plague and The Poison of Communism. In between caring for orphans, building hospitals and supporting American GIs, World Vision staged a huge evangelistic crusade in Seoul. Pierce framed the event dramatically: "With Communist jet bombers poised only twenty seconds from Seoul as these words are written, the Seoul Crusade might well prove to be one of the most strategic evangelistic efforts of our day." For American evangelicals in the immediate postwar era, defeating communism and spreading the gospel were companion efforts. Each utilized a rhetoric of liberty. America would protect the human rights of peoples threatened by the tyranny of Marxism. Then they would be positioned to receive spiritual liberties offered by Christ.
World Vision moved quickly past its Cold War origins. Even before the demise of the Soviet Union in the late 1980s, World Vision had de-Americanized as recipient nations from Europe, Asia, Latin America, and Africa became full partners of World Vision International. The dominance of the U.S. office was replaced by a United Nations-style confederacy. But that's a post for another time.