Nearly two years ago, I wrote about the life of Henrietta Mears, the Sunday School superintendent, developer of curricula, and youth evangelist. "Teacher," as her disciples called her, served at the First Presbyterian Church of Hollywood for several decades, from 1928 until her death in 1963.
Hollywood Presbyterian was a central hub in the booming post-WWII evangelical network in southern California. Especially prior to the mid-1950s divorce of the "new evangelicals" from their more "fundamentalist" brethren, Mears was part of a large and broad coalition. She sent her "boys" to study for the ministry at Princeton Theological Seminary, and she held a doctorate from Bob Jones University. That would have been unimaginable by 1960.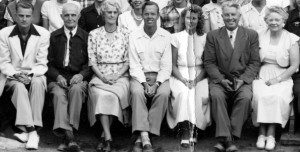 Henrietta Mears began her ministry at Dr. William B. Riley's First Baptist Church in Minneapolis, at one point canvassing the surrounding neighborhoods until she had built up a Sunday school class of over five hundred girls. At Hollywood Presbyterian, she built up the Sunday school program from 450 to 4,000 enrolled children and adults. Her What the Bible Is All About became a guide for many evangelical Bible study leaders, and evangelical churches across many denominations used the curricula she developed (published by Gospel Light). Countless evangelical college students and luminaries alike passed through the College Briefing Conferences she hosted at Forest Home. She reached beyond conservative evangelical circles to invite speakers such as Princeton Seminary President John MacKay and the German pastor and theologian Helmut Thielecke. She also brought to Forest Home strident dispensationalists like Robert Thieme of Berachah Church in Houston and Keswick-style speakers such as Ian Thomas of the Torchbearers. Most famously, Billy Graham resolved his doubts about the authority of the Bible while at the 1949 College Briefing Conference prior to the Los Angeles Crusade that catapulted him into the national limelight.
Henrietta Mears left behind relatively few sources into her ministry and personality, and I've always wanted to learn more about her remarkable life and career. So it was with great pleasure I came across a brief essay about her in Christians You Would Like to Know, a slender 1954 volume by Dorothy C. Haskins, a fellow Hollywood Presbyterian member and prolific evangelical author. [Haskins herself had quite a spiritual journey. According to an advertisement for one of her books in the Los Angeles Times, in quintessentially American fashion she and her mother passed through Christian Science, Unity, Theosophy, Numerology, Astrology, Palmistry, Reincarnation and Spiritualism. After Haskins's mother shot herself, she finally found "peace with God" and Hollywood Presbyterian].
Haskins's essay reminded me of several characteristics of not only Henrietta Mears, but the postwar evangelical moment:
▪ Biblicism. This may seem obvious, but lost in discussions of the divergence of "new evangelicalism" from old-style fundamentalism is the fact that the new evangelicals remained biblicist to the core. Henrietta Mears revamped Sunday school education at Hollywood Presbyterian because she did not like the existing "grasshopper approach to the Bible. The children were not taught that God had a plan from Genesis to Revelation but were taught only stories. As one of the children said, 'Sunday school gets dumber and dumber. The same old stories all the time.'" It occurs to me that the story of Jesus welcoming the children over the disciples' opposition is indeed overused!
▪ Optimism. Certainly American evangelicals were alarmed, even paranoid at times, about various threats to the church and their nation. Communists, union leaders, juvenile delinquents — evangelicals were never at a loss when it came to finding something ominous on the country's horizon. At the same time, they had tremendous faith that God would perform miraculous works through their ministries. It is no accident that Henrietta Mears helped mold Bill Bright, the Campus Crusade for Christ founder with a vision to "change the world." Mears dreamed big. Evangelicals today are more chastened. We read about declining evangelical clout and the growing number of religious "nones." Evangelical celebrities come to town for a night or two, not for six- or eight-week crusades like Billy Graham's. A more realistic, even chastened approach is probably wise, but we could sometimes use a dose of Henrietta Mears-style dogged optimism.
▪ Bridge-building. Perhaps Henrietta Mears has given me a somewhat overly irenic sense of mid-century evangelicalism, but she seemed to get along with nearly everyone who even approached the nebulous borders of the evangelical world. In terms of theology, I understand Mears as rather close to a Keswick-style approach to surrender, holiness, and empowerment for service. In her ministry, however, she cooperated with mainstream-to-liberal Presbyterians, Keswick-oriented speakers, and dispensationalists. She would not invite Pentecostals to Forest Home, but she did invite Oral Roberts's family to her own home and befriended the Oklahoma evangelist. As a "Bapterian," she did not worry overly much about an individual's precise place in the patchwork world of evangelicalism. Like Billy Graham, she could work with anyone dedicated to bringing young people in particular into a deep, abiding relationship in Jesus Christ.