A few months ago, our Thomas Kidd praised Catherine Brekus's just-released Sarah Osborn's World as an especially compelling religious biography.
I recently had the chance to read Sarah Osborn's World along with a class of students at George Mason University.  I came away just as impressed. I recommend it to anyone interested in the historical development of evangelicalism in the United States. Brekus recovers Osborn's role in the mid-eighteenth-century awakenings, makes her voluminous writings accessible to contemporary readers, and uses Osborn to illuminate early evangelicalism's mutually beneficial (in her interpretation) interaction with the American Enlightenment.
"Women's History Is American Religious History," Ann Braude once wrote. As Braude noted, women have long outpaced men in most measures of religiosity, yet historians of religion in America have long paid much more attention to men, in part because men occupied the most visible forms of leadership. It is not surprising that George Whitefield gained enduring fame, whereas Sarah Osborn became mostly forgotten. In significant ways, scholars of American religion (Catherine Brekus perhaps foremost among them) have done much to improve the state of the field by recovering the ways in which women played significant roles in all aspects of the history of religion in the United States.
Reading about Sarah Osborn reminded me of another evangelical leader whose relatively obscurity belies her significance. Quite a few years ago, I learned about Baptist-turned-Presbyterian Sunday School superintendent and youth evangelist Henrietta Mears, the longtime "power behind the throne" at Hollywood Presbyterian Church. I encountered Mears because she had played a formative role in Bill Bright's conversion and decision to devote himself to campus ministry. While doing research on Bill Bright, I interviewed a number of people who had known Henrietta Mears ("Teacher," they called her) at Hollywood Presbyterian. Their stories were fascinating.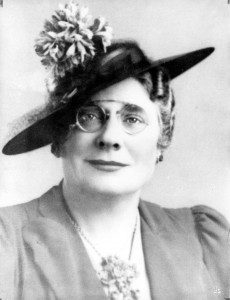 Henrietta Mears was born in North Dakota, grew up in Minneapolis, and spent many years in William B. Riley's First Baptist Church in the latter city. Very little about Mears suggested that she, like Sarah Osborn, would become an important teacher and evangelist. She never married, wore thick glasses because of poor eyesight, and wore somewhat flamboyant clothing (especially wild hats). Evelyn Roberts, wife of the evangelist Oral Roberts, once commented that Mears "looked like a fashion box outside but … knew Jesus inside."
Wherever she went, however, young people flocked to her, and after she moved to Hollywood Presbyterian Church in 1929, she attracted not only the young people of its congregation but a host of men and women from local colleges like UCLA. She tutored many of the mid-to-late twentieth century's most influential Presbyterian evangelicals: Richard Halverson, Donn Moomaw, and Bill Bright, just to name a few. At Hollywood Presbyterian and at the Forest Home retreat center near San Bernardino, she preached a Keswick-style spirituality that stressed complete surrender to Christ and the indwelling power of the Holy Spirit. (It was at Forest Home that Billy Graham resolved his doubts about the Bible before his pivotal 1949 Los Angeles crusade). Mears was a leader in the evangelical Sunday School movement, and her Sunday School curricula (published by Gospel Light Press) reached a wide audience. "Every [Sunday school] lesson," Mears insisted, "should always contain the WAY OF SALVATION."
Mears always served under male authority. She would not preach from Hollywood Presbyterian's pulpit, but she taught both men and women with authority. Just as Sarah Osborn exercised much more power in her Newport, Rhode Island, church than any man (at least until Samuel Hopkins established himself), Henrietta Mears was the most powerful figure at what for a time was the nation's largest Presbyterian church. "All the elders of the church and all the pastors of the church were all men," one woman told me, "and there were something like forty-five men on the session that seemed to be all delighted to eat out of her hand."
It has long occurred to me that there must be countless female leaders like Sarah Osborn and Henrietta Mears whose stories continue to elude historians. I felt I understood early American evangelicalism much better after approaching it through the pen of Sarah Osborn. As historians gradually uncover more hidden stories of female leaders (and congregants), we will continue to gain a richer and more complete understanding of the evangelical past.