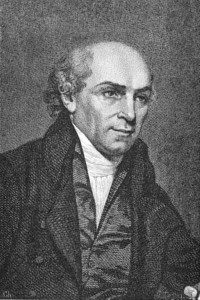 Timelines of evangelical history generally mark 1792 as the birth of the "modern missionary movement." That year, catalyzed by the exhortations of William Carey, one if its members, the Northampton Minister's Association birthed the Particular Baptist Society for the Propagation of the Gospel Amongst the Heathen. Thankfully, it most often went by its shorthand name, the Baptist Missionary Society. The following year (1793), the BMS sent John Thomas, a medical doctor, and William Carey, to India. Although they may not admit it (publicly), most Baptists take proud in the fact that these first modern missionaries were Baptists.
However, this narrative skews the story of modern missions. In reality, another English-speaking Baptist minister left his homeland, travelled across the ocean (albeit not as far), and ministered to "foreigners" ten years before William Carey and John Thomas set sail for India.
Born in colonial Virginia in the middle of the eighteenth century, George Sharp moved several times during the first several decades of his life. By his early twenties, he settled in colonial Georgia where he regularly attended a Baptist church in Burke County. While listening to a visiting preacher one Sunday afternoon, he came under conviction that his efforts to please God were insufficient. Within six months, he was converted, baptized, and joined the church. Soon after, he began ministering to others, teaching and exhorting them.
The local ministerial council quickly recognized his gifts and gave him license to preach. He regularly preached in his home church and on plantations along the Savannah River, both in Georgia and South Carolina. His efforts were effective, and he helped plant many churches in the years leading up to the Revolutionary War. Further, he replicated his own ministry. Many of his converts became ministers themselves, planting and pastoring churches in Georgia, South Carolina, Nova Scotia, and West Africa.

A Tory, Sharp fled Georgia in 1782 . With his family in tow, he settled in Jamaica, an English Colony, but one without a strong Baptist presence. Sharp soon changed that. Beginning in 1783 or 1784, he started preaching to a small group in a private home. By 1791, over 500 people had been converted under his ministry. By 1793, the burgeoning Baptist church had constructed a dissenting chapel in Kingston and planted churches in many other locations across the Island. Sharp appealed to the BMS to send more missionaries to Jamaica, and by the time they arrived in 1814, there were over 8,000 Baptists in Jamaica.
Without a doubt, Sharp was a gifted Baptist preacher and church planter who helped birth churches in colonial Georgia and South Carolina. When he ended up in Kingston through circumstance and choice, he turned his missionary zeal towards the people of Jamaica–a full ten years before Carey arrived in Bengal. He was the first English-speaking overseas missionary of the modern era, but he is not often recognized as such. Also known as George Liele (Lisle), he is most often overlooked in this capacity because he was a black slave from the Southern colonies, not a white Englishman. How would the history of modern missions look different if we shifted focus? I wonder.