If you're trying to get anything done today and you share my loves of music and church history, please, please do not click on this link.

It will take you to one of the most fascinating, time-sucking digital archives on the internet: Hymnary.org. Supported by the Hymn Society, Calvin College's Institute of Christian Worship, and the Christian Classics Ethereal Library, the Hymnary currently indexes over 200,000 texts in nearly 6,000 hymnals, all searchable by text, tune, author, biblical references, topics, denomination, etc.
It once let my annual ambivalence about patriotism in Christian worship lead me down the following rabbit hole of a question: Which patriotic hymns have been most popular? Three blog posts later, I'd reached a few interesting conclusions. Today I'll just summarize a few of them:
1. There's "America," then there's every other patriotic hymn.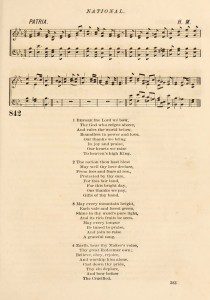 Search for "Nation," and Hymnary will return almost 700 results. Most are long since forgotten, appearing in only a handful of hymnals. For example, "The Bright Flag of America" is limited to two Sunday School songbooks published on the eve of the Civil War. Perhaps the opening quatrain was too hot for the Buchanan era ("The bright flag of America, / How gallantly it waves / Above the freeman's dwelling place, / Above the foeman's grave"). Or someone had the good sense to shelve a hymn whose third verse waved the "bright flag" over a prairie where "wild war-whoops ring by."
Anyway, only seven patriotic songs appear in at least 100 hymnals:
2. In general, patriotic songs aren't all that common in American hymnals
Note that the patriotic hymn that is nearly three times as popular as any other appears in less than 30% of the collection's contents.
Now, Hymnary's index includes three dozen hymnals that predate the first Fourth of July, including one from the 17th century (The Whole Booke of Psalmes, 1640). And not every hymnal is from this country. Some are specialized publications (e.g., focused on Christmas carols or meant for children) or small songbooks rather than full hymnals. And not all have been fully indexed. So there are grains of salt to be taken here.
But consider that "America" — showing up in a thousand more hymnals than #2 on our list — doesn't even crack Hymnary's list of "the 250 hymns published the most frequently in modern hymnals."
3. Popularity ebbs and flows dramatically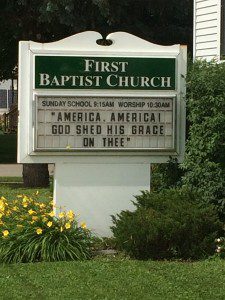 American churchgoers seem to have been singing "My country 'tis of thee" since it first appeared in the 1833 edition of Lowell Mason's The Choir, with "America." And every year since the Civil War, it's been in at least a quarter and up to a half of newly published hymnals.
But other relatively popular national hymns have experienced rather dramatic peaks and valleys. When I first researched this topic, Hymnary had an interactive timeline feature that let users see what percent of hymnals published in any given year included a particular hymn. Those timelines are now static, so I can't update the precise percentages, but a pattern is clear:
Entering the 20th century, it was highly unusual for hymnals to include such songs, with "America" being the exception. Typically,  "The Battle Hymn of the Republic," "America the Beautiful," and "The Star-Spangled Banner" didn't show up in more than one in twenty hymnals published each year.
Their popularity surged in the 1920s. Francis Scott Key's most famous text (remember: not the national anthem until 1931) was in a full quarter of hymnals published in 1927, a year after Julia Ward Howe's hymn cleared the 30% mark. I assume that this phenomenon was sparked by America's entry in World War I and carried along by the postwar resurgence in nativism.
Such songs declined in popularity during both the Second World War and the early years of the Cold War. It's somewhat surprising, given that this was a time when American civil religion reached its apogee (or nadir, depending on your perspective). For example, "Battle Hymn of the Republic" was consistently in only 10% of hymnals published each year of the Eisenhower era, and "The Star-Spangled Banner" was less common than that through the mid-1960s. Tentatively, I'd speculate that the decline is related to mainline denominations participating in the global ecumenical movement. (For example, even "America" isn't among the 118 Christian Hymns compiled in 1963 for the National Council of Churches.)
There was a revival of interest at the time of America's Bicentennial, then again — less predictably — in the Nineties. Odd example: in 1976 Fred Bock's Hymns for the Family of God included two songs that were originally written in the early 1940s and hadn't previously been published in any other hymnal indexed by Hymnary: Don Raye's "This Is My Country" and Helen Steele's "America, Our Heritage." That patriotic surge only tapered off slightly in the Reagan era and was back at 1976-77 levels by the early Nineties, perhaps reflecting the impact of the Gulf War or the "End of History" triumphalism that followed the Cold War.
4. Mormons and Mennonites
At the peak of its popularity, "America" appeared in 1927's Latter-Day Saint Hymns, as it had in Mormon hymnals since 1872's The Mountain Warbler. It's one more example of how the Saints had entered the mainstream after spending their first decades experiencing a tense relationship with their non-Mormon neighbors and the federal government.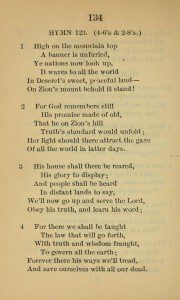 But it's also striking that this country's most popular patriotic hymn — written a year after Joseph Smith founded his first Zion in Kirtland, Ohio — had not been part of the first forty years of LDS hymnody (again, as indexed by Hymnary). As late as 1871, it was not to be found in the 14th edition of the LDS church's Sacred Hymns and Spiritual Songs. Instead, that collection included songs like Joel H. Johnson's "High on the Mountain Top," which expressed love for a different kind of country:
High on the mountain top
A banner is unfurled,
Ye nations now look up,
It waves to all the world
In Deseret's sweet, peaceful land —
On Zion's mount behold it stand!
"High on the Mountain Top" remains a part of the current (1985) LDS hymnal. I'll leave off there, in the hope that John might have something to add.
Likewise, David can perhaps tell us more about patriotism in Anabaptist hymnody. But I do want to note something about two more hymnals published in 1927: the first edition of the Church Hymnal, Mennonite (published by the Mennonite Church) did not include "America," but the Mennonite Hymn Book (from the General Conference Mennonite Church) did. About thirty years later, Harold Bender noted — probably with some pleasure, given his views on the nature of Christian citizenship — that the former had sold 120,000 copies of its thirteen editions, while the latter "never became popular, less than 5,000 copies being sold of the three editions."
When the Mennonite Church and General Conference collaborated on The Mennonite Hymnal in 1969, the editors dispensed with any "Patriotic" or "Nation" section, instead incorporating a "Peace and Nonresistance" subtopic.
Does your church's hymnal include these or other patriotic hymns? Do you sing them around this time of year, or others?