102 years ago today, one of the great crimes in modern history began to unfold in the ancient city of Istanbul. In the middle of that Saturday night, Ottoman police rounded up the leading figures of their capital city's Armenian community. One of those arrested, an influential bishop named Grigoris Balakian, survived to leave behind this account:
From the deep silence of the night until morning, every few hours Armenians were brought to the prison. And so behind these high walls, the jostling and commotion increased as the crowd of prisoners became denser. It was as if all the prominent Armenian public figures—assemblymen, representatives, revolutionaries, editors, teachers, doctors, pharmacists, dentists, merchants, bankers, and others in the capital city—had made an appointment to meet in these dim prison cells. Some even appeared in their nightclothes and slippers. The more those familiar faces kept appearing, the more the chatter abated and our anxiety grew.

Before long everyone looked solemn, our hearts heavy and full of worry about an impending storm. Not one of us understood why we had been arrested, and no one could assess the consequences. As the night's hours slipped by, our distress mounted. Except for a few rare stoics, we were in a state of spiritual anguish, terrified of the unknown and longing for comfort. (Armenian Golgotha, pp. 56-57)
Most of those 250 leaders were executed, the first of up to 1.5 million Armenians to die — many on forced marches to the deserts of Syria. Property was seized; women and children were placed in Turkish families. Taking place in the middle of the First World War, it was the first genocide of the 20th century.
However troubling, none of this is all that controversial among most historians and other scholars of genocide. Within two weeks of the initial arrests, the New York Times was reporting on the "annihilation of the Armenians," warning that the Ottoman government was reprising the vicious pogroms of the 1890s, when as many as a quarter-million Armenians were killed. (Some, Grigoris Balakian remembered in April 1915, thrown into the sea with rocks tied to their legs.) American, Swedish, and other neutral diplomats documented the events, as did courageous Germans willing to defy their own government — the Ottoman Empire's wartime ally. Balakian's memoir is recommended by Turkish historian Taner Akçam in his scathing study of the genocide, The Young Turks' Crime Against Humanity. The translator of Armenian Golgotha, Balakian's great-nephew Peter, had already done much to draw attention to these events with 2003's bestselling The Burning Tigris. It earned him the Raphael Lemkin Book Award — named for the international lawyer who referenced the Armenians in his own attempts to name, define, and outlaw genocide during and after the Holocaust.
The genocide is also getting renewed attention as the backdrop for The Promise, a new historical drama starring Oscar Isaacs and Christian Bale that had its U.S. premiere last Friday. Its writer-director, Terry George, previously received acclaim for Hotel Rwanda, though The Promise has received more mixed reviews.
Yet the Turkish government continues to deny that a genocide took place. (Akçam is one of the Turkish intellectuals who have faced investigation and harassment for their work in countering this claim. He again made news over the weekend, when the New York Times reported on his discovery of long-lost documents from the postwar military tribunals that tried several of the leading perpetrators.) When the Austrian parliament approved a 2015 resolution naming the Armenian genocide, the Turkish government recalled its ambassador from Vienna and warned of "permanent negative effects on Turkey-Austria relations." The pope's centennial condemnation of the genocide also prompted a diplomatic row with Ankara, but Francis insisted that "Concealing or denying evil is like allowing a wound to keep bleeding without bandaging it."
Because of the strategic importance of Turkey to American policy in the Middle East, Pres. Barack Obama marked the centennial by again reneging on a 2008 campaign promise to recognize the slaughter as genocide. I'm not sure we should expect anything different from our current president, who recently caught flak for congratulating Turkish leader Recep Tayyip Erdogan on prevailing in a controversial referendum that expands his already significant powers.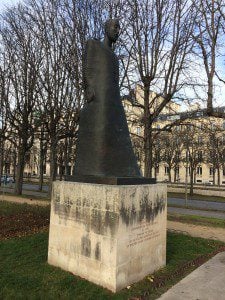 In France, on the other hand, legislators have repeatedly tried to ban denial of the Armenian and other genocides, only to have such laws overturned on free speech grounds by France's Constitutional Council. (Most recently in a late January decision.) To this day, France has a large Armenian population, mostly descended from the tens of thousands of refugees who escaped the genocide and earlier pogroms. When I take students to Europe to study World War I, we visit the Armenian cathedral in the rue Jean Goujon, where people gathered week after week during the war, hoping against hope that they would find that their loved ones had somehow escaped and made it to France.
The United States also took in Armenian refugees, including the grandmother of my pastor and friend, Mark Pattie. In our forthcoming book from InterVarsity Press, Mark shares her story in a chapter on the power of hope. With his permission, I'll close this post by repeating some of what he wrote:
My grandmother started her journey through that terrible time with six children: two died before her very eyes, two were taken from her and she never saw again, and two finally made it with her to the United States. The agony of the challenges she and others faced is almost beyond description. The choice of whether to let her children go with Turkish soldiers who promised to feed them when she had nothing to offer them herself. The question raised by a woman struggling to cross a river with grandmother's son in one arm and a blanket in the other. Ridiculous to anyone in retrospect and to my grandmother at the time, the woman asked in all sincerity which she one she should drop and leave behind.

Grandma finally made her way to the United States with only two remaining children — only to watch one die soon afterward. Far too many horrific, heart-wrenching stories arose from the experience, but for the most part, she stuck to telling those that offered glimpses of good along the way. She shared stories of good and kind Turkish neighbors who helped her at the beginning of her journey. She spoke of the Turkish soldier, a Muslim, who showed her their shared humanity, calling her "Mama" as he led her like an angel sent from God to reconnect with her children when they'd become separated in the city of Aleppo. She spoke of Christian missionaries who helped her and her surviving children finally make it to the United States. She told of the letter those missionaries had written, one she was never able to read and never saw again, that she handed to the immigration officers as they were turning her away at the U.S. border, a letter that somehow convinced the officers to let her and her children in.

All of these stories served as testimonies to me of the light that can be seen shining amidst the darkness. More than that, they have served as words of encouragement to me as I seek to be the kind of person who serves others, like those who offered support to my family members, especially when it is most difficult and even dangerous to do so. Most of all, her stories and her life have been a testimony to me of what it means to keep venturing forward with hope in Christ come what may.
An earlier version of this post appeared at The Pietist Schoolman in April 2015. Thanks to Tal for letting me publish on this anniversary Monday; his next post will appear tomorrow.