If your church is anything like mine, it's currently hosting hundreds of children for Vacation Bible School (VBS): a week-long program of Bible stories, worship, missions projects, crafts, and games. And if you're anything like me, you're both volunteering for VBS and wondering just when this model of Christian education became a staple of the church year.
In 2015 Michael Altman noted the lack of a good history of VBS. Now, I'm not the historian to write that book, but I did have some time last week to dig a bit. 
Researching an @anxious_bench post, I learned that early 20th c. VBS programs were 6-7 weeks long… and I suddenly felt so very weary.

— Chris Gehrz (@cgehrz) June 15, 2017
In his 1964 history of Christian education, Wheaton education professor C.B. Eavey traced the idea back to Boston just after the Civil War, but it's generally agreed that the first VBS antecedent to be held as a summer church-run activity took place starting in 1877 in Montreal, Canada. Then in 1898 Eliza Hawes, the children's ministry director at New York City's Baptist Church of the Epiphany, organized an "Everyday Bible School." Originally held at a rented beer hall, attendance plummeted in 1900 when Epiphany's pastor insisted on relocating to the church itself. The program moved back near the beer hall the following year, Hawes' last at the church, when she ran seven separate schools.
But it was another Baptist from the same city who is most frequently credited with founding the "vacation church school" as we would recognize it: Robert G. Boville, executive secretary of the New York City Baptist Board of Missions. "He had a concern," write James E. Reed and Ronnie Prevost, "similar to that of [18th century Sunday School founder Robert] Raikes in Gloucester [England], that children of New York be given religious instruction during their idle summers to keep them out of trouble and develop patterns for productive and upright adult living." Or as Eavey put it: "The vacation church school was started to gather idle children into unused churches where unoccupied teachers might keep them busy in a wholesome way in a wholesome environment."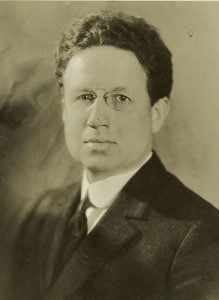 When he started his experiment in 1901, Boville staffed five summer schools with idle university students. The most famous of these first VBS volunteers was Harry Emerson Fosdick, who got the job via a college frat brother. (I'm trying to imagine the man who preached "Shall the Fundamentalists Win?" wearing a bright green shirt and leading a bunch of eight-year olds in a Yancy singalong…) In his 1956 autobiography, Fosdick recalled being honored as a "pioneer" of VBS. But he "was thankful that no one [at the ceremony] could visualize what went on that first summer. The experience probably taught me more than it did the children; I am sure that it did not do them the harm it did me." Newly engaged to his future wife and preparing to start his studies at Union Theological Seminary, Fosdick remembered himself being "over-stimulated, keyed-up, kindled by the marvel of a successful love, the excitement of the city, and the almost unbelievable fruition of my hopes for a chance at a great university."
Still, he remembered working "hard that summer, dealing as best I could with the boys and girls off the streets." Likewise, Hawes had aimed her Bible school at immigrant children on New York's East Side. That Progressive Era concern for the effects of urbanization and immigration was central to the early history of VBS. In its second year, with Boville's program of "unsectarian" Bible lessons doubled in size, the New-York Tribune reported in cringeworthy detail on the ethnic diversity of the 1,500 students:
Among the pupils have been almond eyed youngsters from the Chinese quarter, dusky skinned girls and boys from the Abyssinian Church, in Waverly Place, and little Italians from the lower part of the city.
The program soon spread to Philadelphia and Chicago, and Boville established a national committee in 1907. The Presbyterian Church's Home Mission Board adopted the VBS concept in 1910, with the Northern Baptists doing likewise five years later. Other denominations followed suit, and by 1922 there were 5,000 such schools. Writing his history of religious education the following year, Arlo Ayres Brown reported that vacation church schools in eastern North America tended to last five weeks and include a mix of Bible lessons (aided by cutting-edge teaching technology like the stereopticon), worship, music, open-air games, "expressional activities" like sewing, weaving, basketry, and hammock-making, and talks on patriotism and hygiene. (The patriotic element went back as far as the Montreal precursor, according to Eavey.)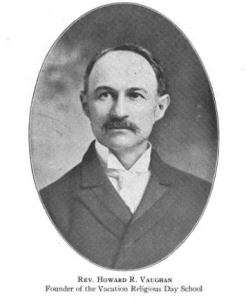 Meanwhile, Midwestern churches had been conducting their own VBS experiments, apparently independent of Hawes and Boville. Four years before Hawes' beer hall school, the wife of a Methodist pastor named D.G. Miles started an interdenominational summer Bible school in Hopedale, Illinois. Each child paid one dollar to register, and the American Bible Society provided Scriptures to those who didn't already own a copy. Then Brown reported that Bible schools in the West followed a shorter, more narrowly Bible-focused curriculum pioneered in 1900 (a year before Boville) by Howard R. Vaughan, a Congregationalist pastor in Elk Mound, Wisconsin.
Vaughan's approach inspired a 1920 teacher's manual published by Abingdon Press, The Vacation Religious Day School (fully digitized in Google Books, if you're interested). While editor Norman Richardson saw a need to supplement Sunday school instruction, he insisted that the
responsibility for this week-day religious instruction cannot rest upon the public school boards… In view of the constitutional provision for the separation of church and state and of the guarantee of religious freedom to all, week-day religious instruction must be conducted, necessarily, upon a voluntary basis and without the use of public funds.
But Vaughan himself hired public school teachers (and Miles had hosted her program in the local public school), and the manual itself was written by a University of Wisconsin-trained high school teacher named Hazel Straight Stafford. A ten-year veteran of Vaughan's program, Stafford emphasized that "the ground principles of the religious day school… were based wholly on practical applications of educational psychology." (For example, Richardson insisted that the school could "make use of the prevailing play spirit without in any way invalidating the educational efficiency of the work.") The developmental curriculum mirrored the grade structure of public schools. For example, here's Stafford's recommended daily program for seventh graders, which included a famous African American's autobiography: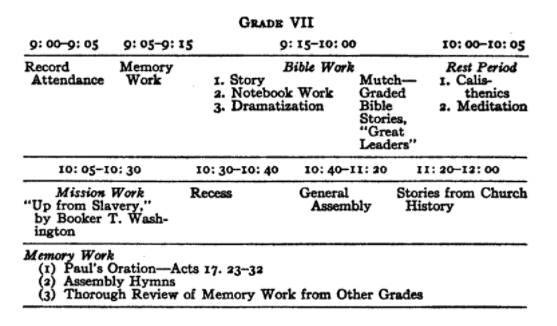 VBS continued to grow in the following decades. Half a century after the initial efforts, there were over 60,000 such schools teaching upwards of 5 million students (courtesy of half a million tired volunteers). But on the fiftieth anniversary of Boville's church school, The Christian Century noted that some members of the National Council of Churches' education board were dismayed that programs that once ran as long as seven weeks were now down to two. A year later, the same publication editorialized that, while undeniably popular, VBS programs had uncertain educational value: "A good many [such schools] leave the impression of being primarily a sort of supervised recreation center to which mothers anxious to get rid of their youngsters can send them while morning household tasks are being cleared away." (No, there is nothing new under the sun.)
Despite its mainline origins, more conservative Protestants also embraced the concept. In February 1960, for example, Charles F. Treadway (editor of VBS materials for the Southern Baptist Sunday School Board) told readers of Christianity Today that the benefits of vacation Bible school went far beyond increasing biblical literacy. In Treadway's mind, such programs served to jumpstart everything from church planting to missions ("No doubt, many of the missionaries had the fires of missionary passion kindled in a Vacation Bible School"). Of course, evangelism was most important of all: "By this means entrance may be gained into the homes and hearts of the people of the community… No greater value is afforded by a Vacation Bible School than that of winning boys and girls to Christ."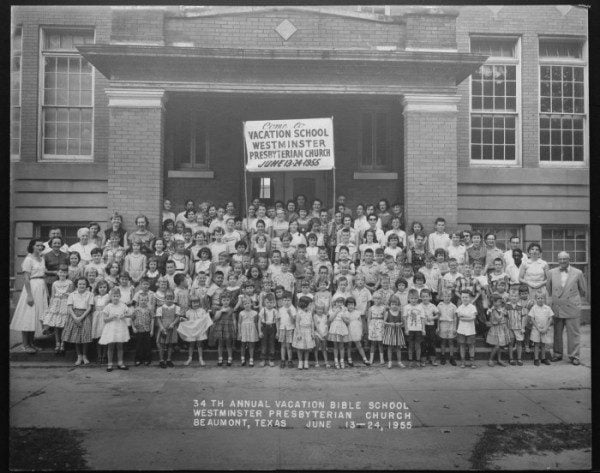 My twice-summerly participation in VBS (once at my home church, once at my grandparents') certainly played a key role in my own spiritual development, and others of my generation. Writing in 1999, Time magazine columnist Amy Dickinson recalled her childhood summers at a local church:
Kids would gather in the musty sanctuary for songs featuring hand gestures that seemed, for our brand of Methodism, dangerously dose to dancing. We played Bible tag, memorized the books of the Old Testament and drank gallons of KoolAid out of waxy paper cups. Our teachers entertained us so well that we scarcely noticed that with every Popsiclestick ark they helped us build, they were molding our little souls.
Dickinson thought that VBS was making a comeback "after years of dormancy," but the trend was actually headed in the other direction. A 2013 Barna study found that about one in three American churches don't offer vacation Bible schools, up from nearly one in five in 1997.
That doesn't mean VBS is on the verge of disappearing. But if your church is struggling to find the necessary dollars and volunteer-hours, keep in mind that VBS is one of those traditions in American Christianity that is well-established, but not as old as you might think.