UPDATE: Since writing this post, I learned of D. Brenton Simons's Witches, Rakes, and Rogues: True Stories of Scam, Scandal, Murder, and Mayhem in Boston, 1630-1775, which contains a chapter about Rebecca Rawson and Thomas Rumsey. My suspicions about the story (and thus, the below-mentioned caption) turned out to be entirely wrong. I correct myself in this post.
There's a charming set of paintings on the seventh floor of the New England Historical and Genealogical Society Library in Boston. It's a rather dreamy setting for a historian, just a few doors down from the rectory Trinity Church built for Philips Brooks in 1880. Hard not to hum "O Little Town of Bethlehem" even when passing in August.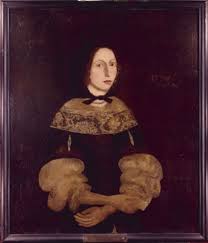 The paintings are the work of the artist known simply but not artfully as the "Freake painter," who created portraits of a number of Bostonians in the 1670s, including members of the Freake family. Among his other subjects were colonial secretary Edward Rawson and his daughter, Rebecca Rawson. (See this, for an example of his — presumably it was a man — other work).
If one reads the NEHGS's information about Rebecca Rawson, the story becomes rather less charming.
Famously fictionalized in John Greenleaf Whitter's Leaves from Margaret Smith's Journal, Rebecca Rawson's life became a tragedy.
I cannot trace the story any earlier than to Joshua Coffin's A Sketch of the History of Newbury, published a few years before Whitter popularized it. Coffin draws on two sources, the first a "testimony" from Theodore and Mary Atkinson "inhabitants of Boston." Presumably, these are the Theodore and Mary Atkinson who married in 1692. Atkinson states:
That about the 3d month in the year 1678 Thomas Rumsey came to me and tendered his service to me for one year to work with me and told me that he was a Kentish man, and that his father lived near Canterbury, and that he was a yeoman and had an estate of about £400 a year … when he had been about a month with me, he pretended he was one that had been highly bred… that his mother was called the Lady Hale … [he] put a cheat on Mr. Edward Rawson of Mrs. Rebecca Rawson, whom he was married unto by a minister of the gospel on the first day of July 1679 in the presence of near 40 witnesses.
Coffin then quotes from the "other paper":
Accordingly they were married and handsomely furnished, sailed for England and safely arrived. She went on shore in a dishabille, leaving her trunks on board the vessel and went to lodge with a relation of hers. In the morning early he arose, took the keys and told her he would send the trunks on shore that she might be dressed before dinner. He sent the trunks up and she waited impatiently for the keys till one or two o'clock, but he not coming she broke open the trunks and to her inexpressible surprise she found herself stript of every thing… She enquired for Sir Thomas Hale jr., they said he had not been there for some days. She said she was sure he was there the night before. They said Thomas Rumsey had been there with a young Lady, but was gone to his wife in Canterbury. Having learned many curious works, such as painting on glass, she thought herself able to support herself, and on her return to America, she was swallowed up by the earthquake at Port Royal."
Whittier improved the story, adding a pregnancy among other details.
The painting made me curious about the story's veracity, even if Coffin's less embellished form. Does it have a kernel of truth, at least?
The Theodore Atkinson I identified was born in 1669, rather young to be employing someone in 1678 or 1679.
I have not found any clear documentation for a 1679 marriage between Rebecca Rawson and Thomas Rumsey (or Hale).
Another curiosity: a child named Rebecca (daughter of Edward Rawson) was baptized in Boston's church in 1654, but several Rawson genealogies identify this child as having died young. The couple presumably then named another daughter Rebecca two years later. However, there is no record of a second Rebecca's baptism. If Rebecca died young, she could not have sat for the portrait or have married anyone. I need to find out if there is indeed good reason to believe that the subject of the portrait is Rebecca.
Due to the lack of late-seventeenth-century corroboration, the story of Rebecca Rawson's tragic marriage to Thomas Rumsey is almost certainly a hoax, albeit one that mid-nineteenth-century Americans were bound to relish.
If anyone knows more about Rebecca Rawson, please share it as an email or comment!