As she starts her 3rd grade year, my daughter's favorite book is Good Night Stories for Rebel Girls, an illustrated collection of page-long introductions to a hundred inspiring women, from mathematician Ada Lovelace to architect Zaha Hadid. (Then a sequel added a hundred stories more.) Supported by a million-dollar crowdfunding campaign, authors Elena Favilli and Francesca Cavallo explained their objectives in the initial book's preface:
May these brave pioneers inspire you. May their portraits impress upon our daughters the solid belief that beauty manifests itself in all shapes and colors, and at all ages. May each reader know the greatest success is to live a life full of passion, curiosity, and generosity. May we all remember every day that we have the right to be happy and to explore wildely. [sic]
I want to nitpick — and not just the occasional editing/translation slips. Some of the stories read like Wikipedia entries, nutshell summaries of vital information but not all that evocatively written. And, inevitably, an attempt to pick just 100 such women opens the door to second-guessing. Alongside all the athletes and politicians, I'm glad that the authors include several artists and musicians. But I could think of a dozen singers or songwriters I'd rather include than Joan Jett. Beyoncé finally made the cut with book 2, but no Aretha Franklin, Loretta Lynn, or Billie Holliday? (To be fair, readers do meet Melba Liston, a pioneering trombonist who accompanied Holliday on tour.)
Nonetheless, this father is happy that his daughter is so taken with a book that seeks to evoke a "world where gender will not define how big you can dream, how far you can go." (And they mean "world." I'm especially glad that the roster is so international — American women are well-represented, but the minority.) If Lena asks, I'd probably get her volume 2 for her 9th birthday.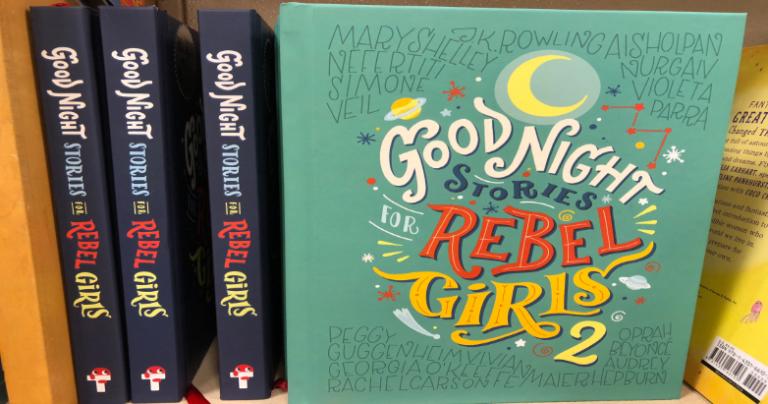 And I don't think I'm the only parent to respond this way. At Amazon, 79% of the 700+ reviews for Good Night Stories for Rebel Girls are 5-star.
But one strongly negative review docked Favilli and Cavallo a star
for only having religious girls that rebel against their religion to do something. I don't mind these stories being in the book and found the stories beautiful and inspiring, but why leave out all of the many women that have been following a religious calling while doing wonderful things? Mother Theresa doesn't get a page? Mother Joseph Pariseau, the FIRST architect (man or woman) of the US Pacific north west that created "eleven hospitals, seven academies, five schools for Native American children, and two orphanages" is passed by for super models? I'm not Catholic, those are just the first religious ladies that come to mind when I think of greatness. There are many many more beyond Christianity if the authors were striving for diversity.
To tell the truth, I think there's a more basic problem: while the introduction to the sequel celebrates that readers include "people of every religion" (plus nationality, color, and age), the authors seem largely disinterested in the role of religion itself.
They do note how Saudi activist Manal al-Sharif lived in "a country where religious rules forbid women from driving," where "religious authorities didn't like" the questions she shared on YouTube, in a video that inspired hundreds of women to drive, "defying religious authorities." But I wish the authors had made much more of the ways in which many of these girls and women had to rebel against authorities empowered by religion and expectations shaped by religion. If many of these heroic figures "were constantly belittled," it was often the religious doing the belittling. If one lesson of the book is that girls should "understand the obstacles that lie in front of them" — and that "these obstacles are not insurmountable" — then we should see much more evidence of the obstacles thrown up by religion.
But it also seems that the authors don't recognize how the same religion could both restrict women and empower them. To limit myself to a few examples from my own faith…
• Whether or not they want to explore the ways that Christian mores have inhibited women's participation in athletic competition, the authors seem oblivious to the importance of Catholicism for Simone Biles, her Baptist upbringing for Wilma Rudolph, and their participation in the Jehovah's Witnesses for Serena and Venus Williams.
• In general, the religious dimension of the African American experience is the most striking by its absence. For example, I don't know which omission is more aggravating in the story of Sojourner Truth: that the authors don't seem to understand that she, as much as Sharif, was rebelling against religious authorities and tradition; or that they don't mention her conversion to Christianity… or even share the religious connotations of her name. ("'Sojourner,'" they explain, "means one who travels.")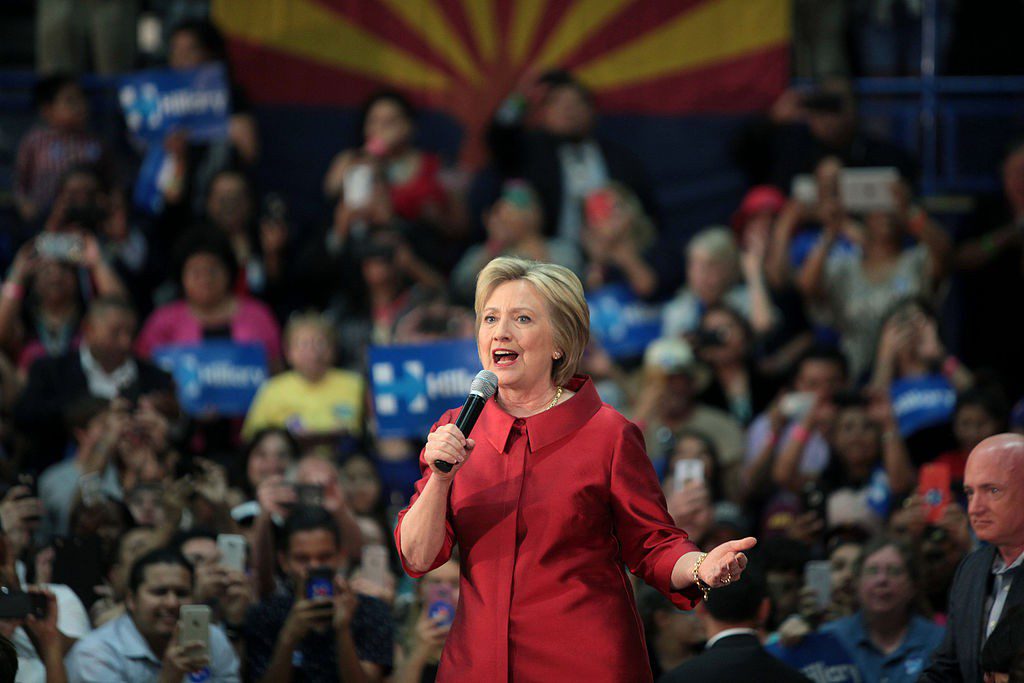 • I wish they had talked to Kristin before writing the Hillary Clinton story; she could have explained how Methodism inspired Clinton "to fight for justice." (For that matter, another branch of that Christian tradition shaped the very different politics of another of the book's apparently irreligious rebels: Margaret Thatcher.)  The story of Germany's current chancellor starts with a seven-year old Angela Merkel listening to her father preach, but there's no hint that Lutheranism might later inspire Merkel's controversial decision to open Germany to Syrian refugees.
• While the authors are certainly right that churches, like universities, were dangerous places to be for anti-Nazi resisters, they don't seem to understand that Christian faith and practice helped Merkel's martyred countrywoman, Sophie Scholl, to know "in her heart that opposing the Nazi Party was the right thing to do" and to not be "afraid of the consequences."
But Favilli and Cavallo do explain, in their sequel, that Corrie ten Boom was part of a family of "devout Christians who believed in opening their house to anyone." By helping to protect Jews during the Holocaust, "Corrie became a symbol of courage, unity, and unwavering dignity for people from all religious backgrounds and walks of life." So perhaps there's hope that a third volume in the series could improve on the first two.
On top of better-told versions of the stories mentioned above, I want my daughter to read about women like those I mentioned in a post last summer: Perpetua, the African martyr who rebelled against both her government and her father to follow Christ…. Hildegard of Bingen, who wrote letters to popes and emperors when she wasn't leading a religious organization, composing music, exploring natural history, or recording her visions of God…. Johanna Eleonora Petersen and Sor Juana: Lena would share their love of learning, and cheer them on as they defended their intellectual curiosity against the suspicions of patriarchal churches… Sarah and Angelina Grimké, whose Quaker convictions both inspired their abolitionism and caused them to chafe at the failure of Christian churches to reject slavery. And many more besides those few.
So if Cavallo and Favilli can't do it, I'd love to see a Christian historian write a bedtime book about and for "rebel Christian girls." Maybe a historian on this Bench…