In 1879 Henrich Gronemann homesteaded 320 acres of rolling prairie in Kansas. He didn't kill or forcibly remove the Kanza, the indigenous tribe that had previously lived on the land, located in the southeast corner of McPherson County. The tribe had been gone for six years already.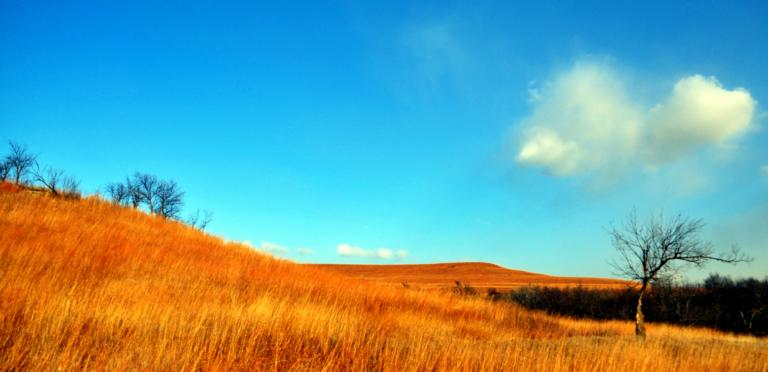 Others had done the dirty work. The Kanza once occupied an enormous swath of land that covered about 40 percent of Kansas and parts of Missouri and Nebraska, but a "peace treaty" with the U.S. reduced their lands from 20 million to two million acres around the modern-day capital city of Topeka. In 1846 that number decreased to 256,000. The Homestead Act, passed in 1862, paved the way for white settlers like Gronemann to occupy these lands. In 1873, the U.S. government forcibly removed the Kanza to Oklahoma.
If Gronemann didn't "remove" the Kanza, his great-great granddaughter Florence Schloneger, a 71-year-old Mennonite minister from North Newton, Kansas, certainly didn't. And yet she felt a sense of obligation, she told the Wichita Eagle last week. So much so that when she and her siblings sold the family farm last year, she donated $10,000 to the Kanza Heritage Society.
In a letter that accompanied her gift, Schloneger wrote, "This gift is a small acknowledgment that what our family homesteaded and owned was not unoccupied land—it is acknowledgment that no land can truly be owned and that the pride in our farm passed down through our family came at a great cost to your people." Schloneger continued, "As my eyes have been opened, I have experienced great sorrow. Not only were your hunting grounds appropriated, but your rich culture and language was nearly lost through assimilation. My hope is that this small gift can help build and restore the strength of Kanza traditions for coming generations. Many blessings."
For Schloneger, the prospect of losing her own family connection to the land was painful. It provoked her to contemplate the far more difficult losses that the Kanza must have felt. In a poem, entitled "1873," she penned the following lines:
A dignitary came from Washington, announced, "Our latest treaty is no more, because we need your land. We've come to swap for tracks you've never seen before. Chief Allegawaho stood up and looked around. "Great Father," he protested, "You must think us turkeys to be chased up streams and down, until we're pushed into the sea and sink."

At dawn, the women trudged to loved one's graves, turned backs against the rising sun and wailed—unthinkable to leave their dead, their braves. Now all their sacred grounds were up for sale. They walked to Oklahoma—forced from home. My Great-Greats bought a farm. Could they have known?
We fancy ourselves as autonomous individuals with inviolable rights. But we are also social beings with communal obligations. The philosopher Alasdair McIntyre writes, "We enter upon a stage which we did not design, and we find ourselves part of an action that was not of our making." Some, like the indigenous peoples of North America, still suffer from injustices of the past. Others, typically those of majority populations, continue to enjoy privileges from the past.
Given these realities, the Kanza response to Schloneger's gift appears exceedingly gracious. "I'm humbled and a little stunned," said Pauline Sharp, a Kanza tribal member and board member of the Kanza Heritage Society. "This is a big deal."
Indeed, it is worth celebrating this payment of reparations. Historians often spend a lot of their time deconstructing history. While this is a good and appropriate form of lament, it can feel refreshing to see the construction of new, more redemptive stories.
Or perhaps Schloneger's gift should simply generate more lament. This was the first time in the history of the state of Kansas—and in the history of the Kanza tribe—that such a donation has ever been offered. It is troubling that such a small gesture seems so remarkable.