This season marks the 45th anniversary of Senator Mark Hatfield's resolution calling for April 30, 1974, to be a National Day of Humiliation, Fasting and Prayer.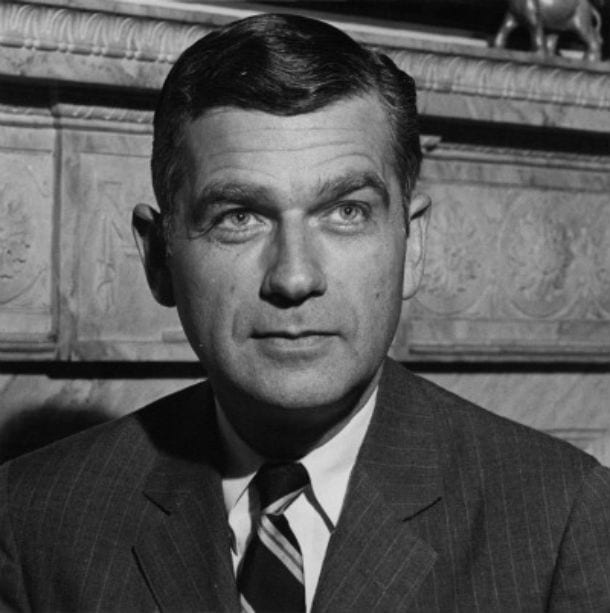 Introduced in Senate chambers, it read, "Whereas we have failed to respond, personally and collectively, with sacrifice and uncompromised commitment to the unmet needs of our fellow man, both at home and abroad; as a people, we have become so absorbed with the selfish pursuits of pleasure and profit that we have blinded ourselves to God's standard of justice and righteousness for this society."
Modeled after Lincoln's "Proclamation of a Day of Humiliation, Fasting, and Prayer" in 1863, Hatfield's proposal called for Americans to "confess our national sins." Significantly, it came just one year after his National Prayer Breakfast attack on President Nixon and the Vietnam War. It clearly represented a continuing theological assault on the president and the nation he led.
For Hatfield, one of the most egregious sins was nationalism itself. "Our involvement in Indochina was mistaken, got out of hand," explained Hatfield in the radical evangelical magazine The Post-American, "and raised questions about our national character." He argued that the war had laid bare American abuses of imperialism for economic gain, infringements on domestic freedoms, and the idolatry of presidential power.
The war also exposed evangelicalism at its worst. It was a tradition, Hatfield said, with a watered-down faith willing to baptize whatever the nation did. To be sure, he explained as the war ground to a stalemate in the early 1970s, civil religion, rooted in a Constantinian legacy that bound Rome and Jerusalem, was not uniquely evangelical or American. But the melding of the profane and sacred in the Roman Empire in the fourth century could be seen now in an American civil religion animated by the repudiation of godless international communism. Evangelicalism, Hatfield said, was not self-reflective. It had succumbed to devotion of a pernicious civil religion, unwilling to assume a prophetic posture in the face of America's sins.
Increasing numbers of evangelicals were becoming more prophetic. The 1970s, marked by Watergate, an economic recession, persistent racial tensions, and an energy crisis, made it easy for an evangelical left to emerge. Moderates too supported the notion of repentance. Thomas A. Carruth, a professor at Asbury Theological Seminary, rented a "wide-area telephone line" to lobby Congress to pass the resolution, and thousands of congregations observed the day of repentance.
To Hatfield's chagrin, this modest religious support did not generate what the bill needed. It languished in the House after passing the Senate, and President Gerald Ford never had a chance to sign it.
The politics of prayer, as historian Ray Haberski points out, is fraught with ironies. One of the biggest was Billy Graham's practice of national repentance. The larger-than-life evangelist took exception to Hatfield's prophetic words at the National Prayer Breakfast. In White House tapes released several years ago, an obsequious Graham tells the President how "terrible" and "embarrassed" he was when Hatfield condemned the war at the Presidential Prayer Breakfast. "To use a platform like that in your presence at a Presidential prayer breakfast," said Graham, "which we leaned over backwards all these years to keep non-political, and to get up and do a thing like that was just inexcusable. And if he has any part in it next year, I don't intend to go."
But in 2012, when there wasn't a conservative president in office, Graham took a very different approach. Under President Obama, the nation now did need to repent, and the Mormon candidate Mitt Romney suddenly looked more attractive. The Billy Graham Evangelistic Association's politics became very clear when it scrubbed language describing Mormonism as a cult, and Graham himself seemed to all but endorse Mitt Romney. As the Guardian reported, "In an MSNBC interview [son Franklin Graham] said he couldn't categorically say Obama was not a Muslim 'because Islam has gotten a free pass' under his presidency. And in an earlier interview, he said he believed thrice-married Newt Gingrich's assurances that he was a Christian, yet questioned Obama's faith even though the president personally told him he is a Christian."
To be sure, Billy Graham's public statements by 2012 probably say more about Franklin's politics than Billy's. But his moral authority and prayers were being deployed, as they were in 1973, for partisan purposes.