I love to study people who don't fit in boxes. These people explode our assumptions about which ideas or which actions go together. They help us think outside our own boxes in productive ways, whether we totally agree with them or not. To a certain extent, everyone I study as a historian doesn't fit in my boxes: people in the past had different assumptions about the world than we do today. But I particularly like to study the people who didn't fit in the boxes of their time or mine. And this is particularly true with respect to gender theology.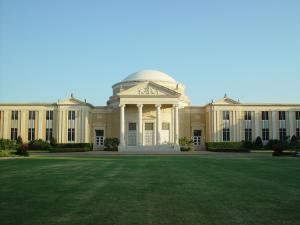 I was thinking about all of this recently while observing the recent kerfuffle over Beth Moore preaching in the Southern Baptist Convention (SBC). Fellow Anxious Bench bloggers Beth Allison Barr and Kristin Kobes Du Mez have produced several excellent posts (here and especially here,) and videos (here, here, and especially here) contextualizing this debate.
What struck me most was Beth Barr's reaction to Beth Moore's clarification that she was still a "soft" complementarian, not an egalitarian. Moore meant that she believes the Bible limits the role of pastor or elder to men, but encourages women to fill all other roles within the church, including preaching. (Moore's Southern Baptist opponents are "hard" complementarians who believe preaching—and all forms of teaching adult men—should be reserved for men.)
Barr, an egalitarian advocate for female pastors, acknowledged that she was disappointed to hear this. Still, she praised Moore for taking her calling as a teacher seriously and thus taking her time to think through any changes in her interpretation of the Scriptures. Barr was disappointed because Moore has nearly a million twitter followers, many times more than any male SBC leader involved in the debate. And far more women even than this look up to Moore as a Bible teacher. So I think Barr is right that if Moore were to embrace the egalitarian position, she would lead a large number of women to do the same. And at some point there would come a tipping point within the SBC: as Barr notes, complementarianism requires women's assent or it just won't work.
But it is simultaneously true that Moore would lose her influence with many complementarian female followers if she were to switch to egalitarianism. She would likely also lose much of her influence with top SBC leadership. For example, Moore seems to have an excellent working relationship with both J.D. Greear, the president of the SBC, and Russell Moore (no relation), the president of the SBC's Ethics and Religious Liberty Commission (ERLC). She has used this relationship to—among other things—help push the SBC to put in place procedures designed to better protect members against sexual abuse.
Serving women is Beth Moore's main passion—bringing them to Jesus, discipling them, advocating for their good. Because of her talents, men began to attend her Bible studies and listen to her talks. But her primary intended audience was women. She would bond with her hearers by talking about experiences common to women and would make application to situations common to women. Moore values women, and she values unique aspects of women's culture. For example, amidst her recent tweets against misogyny or for basic gospel truths, we find several on how to properly season an iron skillet.
In these ways, Moore reminds me of one of my favorite women from history: Mary Lyon. Lyon was an evangelical Christian who lived in New England in the early American republic. Unlike Moore, she never married or had children, but like Moore she had a passion for teaching women Christian truths. And she had a talent and respect for the domestic arts that unified many American women of her era.
Also like Moore, Lyon had an active mind and sought higher education to hone it and enable her to serve others with it. Like Moore, she encountered sexism in the structure of available educational options. No collegiate education for women existed in the early 1800s—and even by the late 1900s when Moore sought theological education, she found Southern Baptist seminaries inhospitable to women. But both women persisted.
Moore got her hands on as many works of theology and biblical scholarship as she could and brought quality Bible teaching to women who would not have found seminary amenable—and to many other women who would never even have considered it.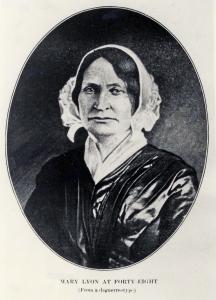 Lyon, too, got the best education available to her, and then proceeded in 1837 to found an even better school: Mount Holyoke, the first permanent single-sex women's higher educational institution. It wasn't quite college level during Lyon's lifetime, but she continued to raise standards and it eventually reached that mark. Her plan was to train women to share the gospel by serving as missionary-minded teachers in their hometowns, in the American West, and abroad. She was wildly successful. Fifty years after the school's founding, a significant majority of its students had served as Christian teachers, 178 of whom were foreign missionaries.
As I have written elsewhere, Lyon was animated by an outlook I call "evangelical pragmatism," the desire to educate as many people as possible, as cheaply as possible, to be better equipped to communicate the Christian message. In service to the main goal of spreading the gospel, Lyon and other adherents to evangelical pragmatism were willing to ignore cultural norms, including gender norms, they believed to be less important.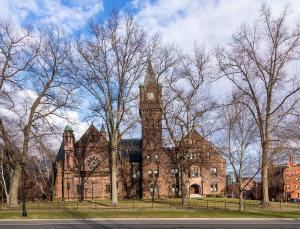 Some of the gender norms Lyon ignored were traveling unaccompanied and speaking freely with strangers during the journey. Lyon did both in order to raise money for Mount Holyoke. When criticized for this behavior, she quoted the biblical Nehemiah's response to his detractors when he was rebuilding the wall of Jerusalem: "I am doing a great work. I cannot come down."
At the same time, Lyon embraced and used women's culture in the service of the gospel. She wanted to make excellent higher education available to as many women as possible, including poor women. So she had Mount Holyoke students do all of the institution's cooking and cleaning. No domestic servants had to be hired, which drove down the cost. This solution could not have been used to make men's higher education more affordable—the men would not have been raised with the requisite skills.
For reasons of either conviction or practicality, Lyon did not push for women pastors. Rather, she took women's accepted sphere at the time—homemaking and teaching children—and enlarged it in the service of the gospel. She took the skills and the sense of calling her students identified with and took pride in, and taught these women how to channel them into spreading the gospel to the entire world. Lyon's students founded schools patterned after their alma mater to provide both education and gospel knowledge to other women and children in the American West and abroad.
Mary Lyon dignified the women's culture of her time by giving women a unique place in world evangelism. Yet in order to do it, she had to push back against at least some of the limiting aspects of that culture.
This is how both Mary Lyon and Beth Moore challenge our boxes, whether we are complementarians or egalitarians in our gender theology. I find that some people are drawn to complementarian theology because they find there a clearer vision of what it means to be female or male, and that sense of identity is important to them. Other people are drawn to egalitarian theology because they are sensitive to the way constricting gender norms can limit the fullness of their identity. The exact solutions of Lyon's and Moore's approaches will not and should not convince everyone. Christians who believe the Bible is a reliable communication of God's will for humans will first of all prioritize understanding what that will is and obeying it, and their conclusions may not match those of these women.
But Mary Lyon and Beth Moore can help us see our blind spots—and so better articulate a gender theology that both values the uniqueness of women's and men's experiences and avoids unduly constricting their ability to serve God and others.