Warning: today's Christmas Eve post includes spoilers from The Two Popes. Don't read below the embedded trailer if you want to be surprised by that film's twists and turns.
"Focusing on historical accuracy while watching Netflix's 'The Two Popes' would be a mistake," warns Vatican correspondent Claire Ciangravé about the new film, starring Jonathan Pryce as Pope Francis and Anthony Hopkins as his predecessor, Pope Benedict XVI. Instead, director Fernando Meirelles and writer Anthony McCarten tell a story "inspired by true events" in order to "[portray] the perceived representatives of two very different and opposing views on the church engaging in fruitful dialogue, then in understanding and finally in forgiveness."
As the film begins, the two men are the leading contenders to succeed Pope John Paul II, each representing a rival faction within the Catholic Church. Benedict is the conservative defender of timeless dogma, Francis the progressive Jesuit hoping to modernize an ossified institution. As they begin a fictionalized conversation set in 2012, the German pope takes the Argentine bishop's simple way of life as an implicit rebuke of the Church's wealth and accuses Francis of being too liberal on divorce and homosexuality. For his part, Francis insists that honoring centuries-old teachings can undercut Christ's still older message of mercy. "If we do not draw a line," Benedict starts to retort. "Or build walls to separate," Francis interrupts. "You talk about walls as if they are a bad thing," replies Benedict.
(I'll stick with the pontifical names to keep things easier. But when the film starts, Benedict is still Joseph Ratzinger, the academic theologian-turned-bishop whom John Paul II tasked with defending traditional doctrine, and until the last scenes, Francis is Jorge Bergoglio, archbishop of Buenos Aires.)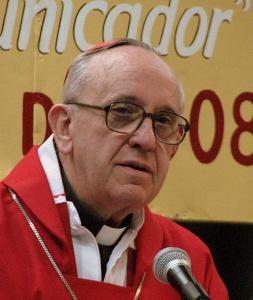 But as the conversation continues, the two priests start to find common ground in their deep faith and vocational struggles. And the filmmakers reveal surprising dimensions to both characters. Though hints are dropped that they are going to expose Benedict's supposed "Nazi" past, The Two Popes spends no time on his conscription into the Hitler Youth. Instead, it's Francis' complicated relationship to tyranny that is put under the microscope, as he confesses what he sees as his own complicity with the military junta that tortured and executed Catholic priests during Argentina' Dirty Wars. Benedict becomes Francis' confessor, giving him pastoral counsel before granting absolution:
We all suffer from spiritual pride. We all do. You must remember that you are not God. 'In God we move and live and have our being' [Acts 17:28]. We live in God, but we are not of it. You are only human… So if you'll allow me, my son, you must believe in the mercy that you preach.
In the turning point of the film, Benedict abruptly tells Francis that he plans to resign the papacy. While you might think that a secular film would delve into Benedict conspiracy theories at this point, Meirelles and McCarten instead cast Benedict as a surprising reformer, convinced of the "necessity for a Bergoglio" who will change the Church for the better.
Again, the conversation is imagined, not historic. But it still serves as a good reminder that — whatever the genuine differences there are in the Catholic Church between progressives and conservatives — neither of the two popes neatly fits conventional ideological binaries as Americans tend to use them. "Truth may be vital, but without love it is unbearable," the film's Francis tells the film's Benedict… quoting the latter pope's actual 2009 encyclical, which argues that love is "an extraordinary force which leads people to opt for courageous and generous engagement in the field of justice and peace."
So as Catholics and Protestants alike prepare tonight to celebrate the Nativity of Jesus, consider the final Christmas homily of Pope Benedict XVI, given at midnight mass in St. Peter's two months before his 2013 resignation. Plumbing remarkable depth from Luke 2:7, it could easily have been spoken over the film's closing montage of Pope Francis advocating for refugees and the homeless:
For a more scholarly take on Luke 2 from the theologian-pope, see the final volume in Ratzinger's trilogy on Jesus of Nazareth

I am also repeatedly struck by the Gospel writer's almost casual remark that there was no room for them at the inn. Inevitably the question arises, what would happen if Mary and Joseph were to knock at my door. Would there be room for them? And then it occurs to us that Saint John takes up this seemingly chance comment about the lack of room at the inn, which drove the Holy Family into the stable; he explores it more deeply and arrives at the heart of the matter when he writes: "he came to his own home, and his own people received him not" (Jn 1:11).

The great moral question of our attitude towards the homeless, towards refugees and migrants, takes on a deeper dimension: do we really have room for God when he seeks to enter under our roof? Do we have time and space for him? Do we not actually turn away God himself? We begin to do so when we have no time for God….

We are so "full" of ourselves that there is no room left for God. And that means there is no room for others either, for children, for the poor, for the stranger. By reflecting on that one simple saying about the lack of room at the inn, we have come to see how much we need to listen to Saint Paul's exhortation: "Be transformed by the renewal of your mind" (Rom 12:2). Paul speaks of renewal, the opening up of our intellect, of the whole way we view the world and ourselves. The conversion that we need must truly reach into the depths of our relationship with reality.

Let us ask the Lord that we may become vigilant for his presence, that we may hear how softly yet insistently he knocks at the door of our being and willing. Let us ask that we may make room for him within ourselves, that we may recognize him also in those through whom he speaks to us: children, the suffering, the abandoned, those who are excluded and the poor of this world.