It's not your average out-of-office message: gone on pilgrimage, won't be checking email.
Recently I wrote about Timothy Egan's new book, A Pilgrimage to Eternity,  before myself walking a piece of the Via Francigena with twenty-some twenty-somethings studying at Gordon-in-Orvieto.  The students from Gordon College and other church-related institutions are mostly Protestant, making sense of the aesthetics and thoughtways of places heavily shaped by Roman Catholicism. The curriculum from time to time includes a pilgrimage, led by Swiss artist Marie-Dominique Miserez, who was teaching a course in tempera painting while I led a history class.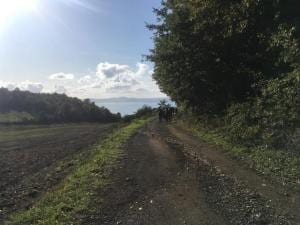 Most of the participants in this pilgrimage hail from a culture where pilgrimage is not much done. Announcing it sounds like an affectation, something requiring an excuse. We gave the students cover: they had to do it for their program. We went for three days, from Orvieto to Bolsena to Montefiascone to Viterbo, before returning by train. We all made it back basically safe and sound, though wet from the last day of rain. As Egan discovers, it can be hard to communicate to another person what the experience of pilgrimage has been, much less to speak for others on its significance for them. With due deference to that difficulty, I can try anyway to note four themes recurrent on our sacred journey through historically significant space:
1 We belong to the church, which means the Body of Christ, which is not only our local and disparate congregations: The walk itself strove to be ecumenical, seeking clearer understanding and goodwill among Christians of different kinds. We were inspired in part by Here I Walk, the account by Andrew Wilson and Sarah Hinlicky Wilson of walking Martin Luther's pilgrimage to Rome on some of the same terrain and more. We hoped, like those writers and like Egan, to make sense of a landscape still shaped by sixteenth-century Reformations but also beyond that experience. One question we asked students to reflect on was how they understood the ideal church.  They discussed this while walking a wooded path that sloped around Lake Bolsena and rose past pastures into some olive groves.
A few words recurred in these conversations: open, welcoming, inclusive, non-judgmental is what the church should be.  Doctrine, demographics, even worship-music preferences did not enter discussion. It is good to be free of ancestral hatreds, but not knowing about them is not the same as not having them, as Egan recognizes too. Encountering the churches we visited, thinking about them in relation to personal religious experience, can bring to surface unconscious anti-Catholicism, unconscious acceptance or queasiness about their own traditions, or assumption that they don't have a tradition but just are following Jesus according to the immediate inspiration of the Holy Spirit.
We met some theological gravity in the walk. In Bolsena in 1262, a Bohemian priest traveling from Rome and doubting the presence of Christ in the eucharist stopped at that cathedral to celebrate Mass. While he was handling the host, it bled onto the corporal cloth. This miracle, reported to Pope Urban IV, inspired the raising of the great duomo in nearby Orvieto and a composition by St. Thomas Aquinas of an office for Corpus Christi. In Viterbo, which calls itself the "City of Popes" in reference to the number who resided here in the middle ages, St. Thomas preached from an outdoor pulpit at the Dominican church of Santa Maria Nuova.  In Viterbo also, in strained days of sixteenth-century Italy, "Renaissance woman" and poet Vittoria Colonna held conversations with Reginald Pole and others, seeking a way to harmonize doctrine and devotion among friends, to bring Reformation to life.
2 You can't ignore the saints:  Closely related to broadened understanding of "church" is awareness of the many other members of the Body of Christ, especially those distinguished by courage, holiness, or service. Protestants might avail these forerunners in the faith more avidly, noting that Catholics venerate and pray with the saints, not worship them. (Sarah Hinlicky Wilson is eloquent on this too.) By this point in the semester, art history and attentiveness have made students pretty familiar with saints, at least the idea of them. As it did for Egan, walking on pilgrimage made saints more immediate to us. The Via goes through Bolsena, whose Cathedral is dedicated to St. Cristina, martyred in the early 4th century, who was put through multiple tortures, fire, wheel, and snakes, being sunk in the lake with a millstone that miraculously wouldn't sink her, then arrows before she finally was slain. In the crypt beneath the Montefiascone cathedral we saw the incorrupt body of seventeenth-century advocate of girls' education, St. Lucy (Lucia Filippini), whom Egan records as having winked at him.  Visitors not already accustomed to veneration might write off these displays. When present in front of them, though, they demand more reckoning. What is admirable about the life of this person? What would I do under similar trials? How would I hope others centuries later remember the way I lived out my faith?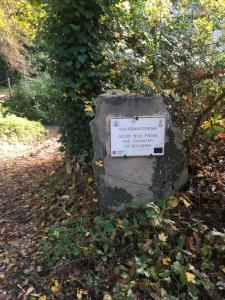 Sisters at the Benedictine monastery of
San Pietro
hosted us in Montefiascone, having housed pilgrims for centuries. They generously welcomed us to their prayers and table and to the life of the house.  One sister, Paola, writes
icons
and narrated for us her biography and her process, receiving each pilgrim in our company as beloved by God.
Thinking about saints made us aware not only of the named ones along this route, but the thousands upon thousands of other people who walked this way, some conspicuously holy, some not so much. This may be the most accessible kind of communion with saints for first-time pilgrims. The flat fact of walking the same road that, you know, has been walked by many others carrying full hearts and intentions sets the way apart. It reminds walkers that the individual pilgrim accompanies more than twenty-something others.
3 Respect the physical world, including your body: It's not a shabby bit of land, this stretch of countryside between Umbria and Lazio.  It was pretty good on the clear days, the sky spread broad over the cypresses and umbrella pines, our walk wending around some new-plowed fields, past meadows grazed by pleasant sheep, through groves of hazelnut trees or olive trees. We walked longer sometimes than some in the group probably wished but also stopped for sketching and journaling here by a lake view, there in a medieval church square. It was not all idyll, though. Feet hurt, cold arrived, and it rained. Carrying your own food makes you hungry in a different way. It is healthy to be vulnerable this way.
Valparaiso university colleague David Weber, writing in the new issue of The Cresset, recounts his experience of a different pilgrimage, taken with students last year on the well-known Camino de Santiago. Weber considers how the physical realities of pilgrimage bear fruit:
Pilgrimage is an ascetic exercise for the purpose of experiencing and enjoying the blessedness of deprivation. Pilgrims are anti-materialists who embrace the distinction between needs and wants….Depriving one's self of things is infinitely easier than dealing with the powerlessness one has over external circumstances. Each day's destination is not determined by how well any one pilgrim slept, feels, or desires to walk. In fact, around the third or fourth day, no one wants to walk, and no one wants to quit walking. Pilgrimage is a paradoxical experience of conflicting desires, demanding the ascetic discipline to choose the long-term desire over short-term ones. With each painful step, the pilgrim exercises the free choice to slowly and painfully progress toward the fulfillment of the truly desired end. Sometime after the third or fourth day, this movement of tortured soles gains momentum, so that pilgrims begin to existentially feel the joy of progress toward the desired rest.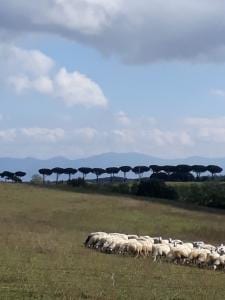 4 Christians really are pilgrims on a journey: Striving to persuade some who may have been unsure about pilgrimage, we used others' accounts to get at our purpose. As Heather Walton and colleagues argue in Christian Pilgrimage, Landscape, and Heritage , pilgrimage is not a metaphor but "the dominant metaphor" in Protestant piety. Sometimes that metaphor echoes the itinerant Christian from John Bunyan's Pilgrim's Progress, who ran out of his house ignoring his family by sticking fingers in his ears and proclaiming everlasting life to himself. Pilgrimage can pull us away from obligations and others. But it also can drive home the transience and contingency that is the condition of human life. It forces us to consider what we are carrying, where we are going, with whom we are walking.  Our three days was a soft way to be reminded of this, when others have traumatic circumstances driving them away from settled life and to no sheltered safety.
Weber puts it this way:
Scripturally, Genesis understands the going-good life as a movement from nothingness to ever-increasing life—an ex nihilo movement. The Fall reversed this movement, so that life now naturally moves an nihilo, or toward annihilation. Theologically, the Creed sees Jesus's resurrection as reversing that reversal, so that it is reasonable to once again see life as a buen camino (a good pilgrimage), a move from nothingness to ever-increasing life. Reasonable, perhaps, but still difficult—especially when one's life is marked by loss.
For me, a most compelling reason to see my life as a pilgrimage is the absence of hopeful ways to make sense of life's an nihilo movement.
The few days on the Via Francigena gave us this hopeful way.