Soccer is five or six spots down my long list of favorite sports, but no sporting moments this year thrilled me more than the 2019 semifinals of the UEFA Champions League. On consecutive nights last May, two clubs from England's Premier League — Tottenham Hotspur and Liverpool — mounted comebacks that weren't just miraculous, but illustrated two different ways we can examine the relationship between religion and the world's most popular sport.
For my money, the greater semifinal miracle came from Tottenham Hotspur. After losing the first leg of its match with Dutch powerhouse Ajax 1-0 and then giving up two first half goals in Amsterdam, it seemed that Spurs were destined to fall short of the Champions League finals once again. But Brazilian winger Lucas Moura sent his club through on the away goal tiebreaker by scoring a second half hat trick.
"I do not believe it," yelled the astonished Spurs announcer after watching soccer's version of a buzzer-beater. But after the match, an emotional Moura told reporters that he had never lost faith:
God is wonderful. I always say that he surprises me. I always believed it was possible [to win]. After the first half, when we were losing 2-0, I believed we could reverse the result. And I was praying to God, and he gave me this amazing game.
Or as Moura — who grew up as a non-observant Catholic but experienced a renewed religious commitment just before transferring to Tottenham — reminded his 4 million Instagram followers, quoting the Angel Gabriel:
American sports fans are accustomed to their favorites sharing Bible verses on social media and naming God in post-game interviews, but Moura plays in a decidedly post-Christian part of the world. Not only does a majority of the British population seldom or never attend worship, but even a quarter of those who identify as Christian say they don't believe in God. Again, I'm not an especially close follower, but my sense is that the few Premiership stars who are publicly religious tend to be South American, African, or Irish — not English.
So it's easy to forget that Tottenham was founded by a Bible teacher who likely would have been as thrilled by Moura's religiosity as his scoring touch.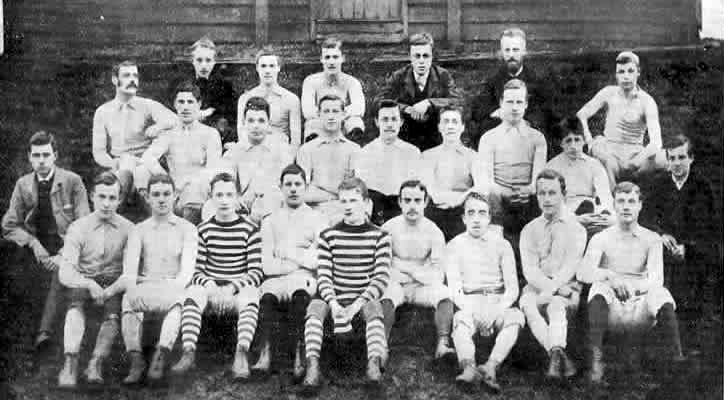 I learned that historical detail while reading Gods, Games, and Globalization (Mercer University Press, 2019), several of whose essays observe how (in the editors' description) "self-identified religious adherents and institutions… have used sports in traditional religious contexts, often to their own ends." In the opening piece, Irish theologian Kevin Hargaden notes that Tottenham and Liverpool are among the fourteen current and former Premiership clubs that originated as Christian ministries.
In 1883, John Ripsher became president and treasurer of the Hotspur Football Club, made up of boys from two local schools. Ripsher not only taught at All Hallows Church, but was the warden of the local chapter of the Young Men's Christian Association (YMCA). The club's history says little more of Ripsher and his motives, but Hargaden frames the Christian origins of such sporting associations as "legacies of a more pervasive Christian commitment to sports as a means of forming virtue and encouraging discipleship." Victorian age YMCA workers like Ripsher sought to cultivate "muscular Christians" who (in Donald E. Hall's summary) "combined physical strength, religious certainty, and the ability to shape and control the world around oneself." It was hard not to think of that theological legacy as Lucas Moura both thanked God and praised Tottenham as a "team of fighters" in his post-match interview.
But the "regime of Christendom that Victorian churches assumed and actively sustained is gone," Hargaden concludes — and celebrates, for British Christians are now "freed to no longer be relevant." He hopes that the faithful will "[redirect] their enthusiasms from the business of Premier League fandom" and use local sports to help repair "their social fabric worn thin through decades of neoliberal policies" — like those that made Premiership owners (and players) so wealthy.
I'm not holding my breath. Let's turn to the second miraculous semifinal…
Liverpool lost its first leg 3-0 on goals by FC Barcelona superstars Lionel Messi and Luis Suárez. But despite losing Egyptian striker Mo Salah to a concussion in a Premiership match between the two European legs, Liverpool scored four unanswered goals at Anfield to win on aggregate. They went on to defeat Tottenham 2-0, claiming their sixth European Cup/Champions League championship.
I thought of those images and sounds from Anfield as I read Rebecca Alpert and Art Remillard's introduction to the Gods, Games, and Globalization collection. While they acknowledged that some historians of religion continue to "[document] how institutional religions have made use of sports through history," they had far more to say about how scholars like David Chidester have sought "traces of transcendence, the sacred, and the ultimate" in sports like soccer:
In other words, sports are not religions in the same way as Christianity, Islam, Judaism, or Buddhism; however, they can do real religious work—binding together communities, elevating heroes, producing sacred objects, and manufacturing mythical stories and memories.
By that definition, what we saw last May in Liverpool sure seemed like "real religious work," even if the current version of the club — though managed by an avowed Christian — looks little like the one that started in a Methodist chapel in 1878. I'd like to think that a more localized, less monetized version of soccer would help spark a post-Christendom renewal of Christianity, but why would the tens of thousands of Liverpool supporters at Anfield and the millions watching on TVs and tablets want to give up the community they already have, with its own heroes and myths and traces of the transcendent?
Such religious communities even produce their own liturgies. Some are more obviously post-Christian, as when fans at Wembley Stadium sing the first and last verses of the Victorian hymn "Abide with Me" before the final of the F.A. Cup. More typical is what you saw at the end of the "Anfield Miracle" clip above, where Liverpool players and fans joined voices after the match to sing a song that is both secular and (to them) holy, the Rodgers & Hammerstein tune "You'll Never Walk Alone."
That same ritual features in the first episode of Amazon's This Is Football documentary, which tells how shared love of Liverpool soccer helped bring together a group of Rwandans after the 1994 genocide. The episode, which closes with a pilgrimage to Anfield, is titled, simply, "Redemption."