Racism wasn't a word I knew as a child. Yet racism churned all around me.
The small Texas town I lived in was almost 40% non-white. But my everyday life of school, church, family, and friends was mostly white.  Yes, I played with black children on the playground, and set next to black teenagers in the band hall. These were aberrant splashes of color on a mostly pale canvas. Rarely did I attend a non-white friend's birthday party. All my close friends were white. All my honors classes, in my 40% non-white high school, were mostly filled with white students (a sneaky way of hanging onto segregation). All the kids in my Sunday School class were white too. Occasionally a black family came to church, and we all shook their hands and welcomed them. But I don't remember many attending for very long. The faces filling our Southern Baptist pews were as white as the face of Warner Sallman's Jesus. The implicit racism of 'separate but equal' filled each day of my week—from school, to friends, to church.
But that was a long time ago. Racism was in my distant past, right? I thought, as an educated women's history professor, I had removed my blinders of white privilege. I thought, as a pastor's wife engaged in social justice and fighting for human equality, I understood the importance of treating all people as made in the image of God. I thought I had moved past my childhood and become an anti-racist.
I was wrong.
A reader pointed out that my first Because it is Time for Christian Patriarchy to End Reading List was filled with only white women. I was annoyed when I read the comment. Good grief, I thought, be patient. I am planning on including black women in my third post. I can't do everything in 1000 words. As I continued to grumble, writing a defensive response to the reader, my discomfort increased. Several hours later I admitted the harsh truth. The reader was right. I was still complicit in racism. By removing black female scholars from their white counterparts, placing them in separate lists, I was perpetuating racism. I was implicitly suggesting that the white scholars should be considered separate, perhaps even better, than the black scholars. The realization staggered me. I had done exactly what I complain about white male scholars doing: relegating women into the 'separate but equal' shaded boxes on the side of the text–separating women from the main narrative, and thereby demeaning their role.
#ReadWomen is a hashtag I have been using for a while, but it is time to #CiteBlackWomen too. Indeed, while I was revising The Making of Biblical Womanhood, I realized how significantly the scholarship of black women improve the history of Christianity. I realized that I don't need to #CiteBlackWomen because they need me–their scholarship doesn't need my white stamp of approval.
I need to #CiteBlackWomen because their work makes the history we tell better.
So, with my confession comes my repentance: I have revised my first reading list. And I have made a commitment, as a scholar, to strive to #CiteBlackWomen. Not because I think they need me, but because I know for sure that my scholarship needs them.
Because it is Time for Christian Patriarchy To End: A Revised Reading List
Evangelicals simply don't know the history of women in the church.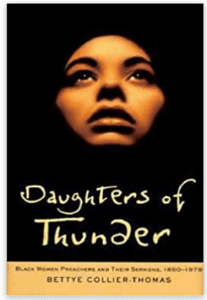 I have tackled this head on in my book, The Making of Biblical Womanhood, but until Spring 2021, let me tell you about a few already-published articles and books that would shift the conversation about women's roles if evangelicals would simply read them. Here are the first five on my revised list (with more to follow in August).
This is just a handful of texts to get you started–just a small taste of the history so many evangelicals lack. I am convinced that evangelicalism would be better if we simply knew our history better. So let me just conclude once again with the preaching words of Rosa Horn. Maybe they will inspire you as much as they do me
"Let me say to the women whom God has called. Go Carry the Word to one and all!….Cry aloud, don't take down, The day will soon be gone. God will bless you on that glorious morn, For all the golden sheaves you've won."
Happy reading! And stay tuned for more recommendations next time.