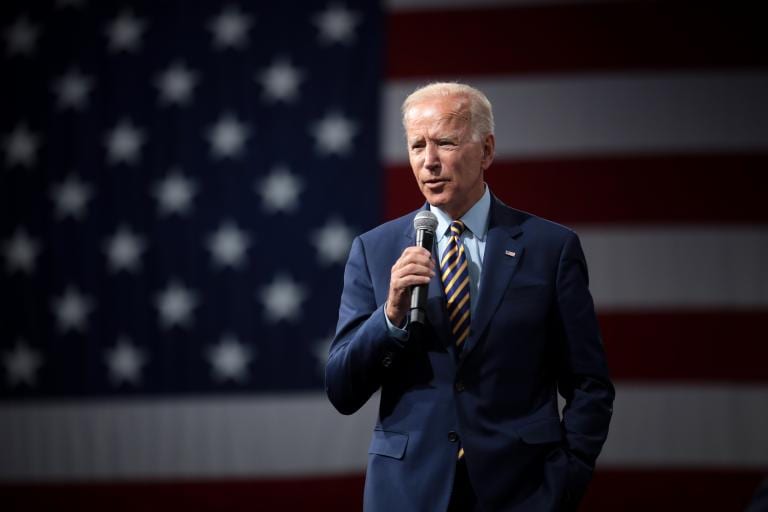 When the pianist plays the opening passages of "On Eagle's Wings," the mood in the church always shifts. As a singer who served as a parish cantor for years, I witnessed the transformative power of this hymn firsthand. If I was singing at a funeral, the dry eyes filled with tears. If I was singing at a wedding, the smiles widened. And if I was singing at a regular Sunday Mass, the congregation stood up straighter and prepared to sing heartily.
The same thing happened on Saturday night, as president-elect Joseph Biden concluded his victory speech. Acknowledging the anguish of a nation ravaged by the Covid-19 pandemic, Biden spoke of grief, comfort, strength, and faith. As an offering of solace, he quoted the chorus of "On Eagle's Wings," which had soothed his soul after the death of his son Beau:
And He will raise you up on eagle's wings,

Bear you on the breath of dawn,

Make you to shine like the sun,

And hold you in the palm of His Hand.
Listening to these words in my living room in Michigan, I experienced the same change I had once witnessed in the parishioners in the pews. I couldn't resist the urge to smile and sing. The rest of Catholic America perked up, too. Almost immediately, social media abounded with delighted commentary, fond memories, and poignant stories of how the song brought comfort and connection to loved ones who had passed away.
The moment revealed the enduring appeal of this cherished Catholic hymn and offered clues to how Biden aims to lead the nation at this moment of transition. "On Eagle's Wings" is a versatile hymn that resonates with people feeling a wide range of emotions universal to the human experience: sorrow, joy, hope, love. But the song is also an expression of a distinctive Catholic identity. For Biden to quote this hymn during his victory speech was an affirmation of the shared experiences and complex emotions of a deeply divided nation. It was also a statement about Biden's aspirations to lead and unite the nation while leaning into his particular identity as a devout Catholic man.
"On Eagle's Wings" is sung in a variety of Christian denominations, but it is first and foremost a Catholic song. Michael Joncas, a Catholic priest and composer of contemporary Catholic liturgical music, wrote the song in the late 1970s after learning that his friend's father had died suddenly of a heart attack. Hoping to comfort his friend, Joncas composed the song on guitar—an example of the influence of folk music on Catholic liturgical music after the Second Vatican Council—and first performed the song at the wake. As he told America magazine many years later, his goal in writing the song was simple: "to create something that would be both prayerful and then comforting." Eventually, Joncas chose to submit the song to North American Liturgy Resources, the publisher of the St. Louis Jesuits, an important source of Catholic worship music during this period.
Four decades later, "On Eagle's Wings" remains well-loved by Catholics, and the hymn has become a marker of Catholic identity in popular culture. The television show It's Always Sunny in Philadelphia, for example, featured a scene in which characters sing "On Eagle's Wings" (unenthusiastically and off-key) while at Mass with their mothers.
The hymn's inspiring lyrics and soaring melody have helped it gain popularity beyond the context of Catholic worship. Several artists have recorded their own versions of the song. Michael Crawford, the actor who first portrayed the Phantom in Phantom of the Opera, recorded a haunting, otherworldly rendition. Daniel Mertzlufft, a composer and music director based in New York City, created "a Disney princess ballad" version enhanced with riffs and a "big belty ending." (His effort was part of a TikTok series about "Catholic songs that still slap.") And the singer-songwriter Lana Del Ray felt moved to share her own cover of the song after hearing Joe Biden's victory speech.
The appeal of "On Eagle's Wings" lies not only in its beauty, but also in its versatility. Although some hymns are appropriate only for specific circumstances, as a cantor, I found that "On Eagle's Wings" worked for almost every situation. I sang it at funerals. I sang it at weddings. I sang it at Mass on a regular Sunday. And sometimes, when I was at home and playing around on the piano or guitar, I simply sang it at home with my family. In those moments, I could guarantee that anybody within listening distance would join me in singing because "On Eagle's Wings" is simply that type of song—a song that people know and love, a song that gives voice to all emotions, a song that meets the spiritual needs of all occasions.
Indeed, "On Eagle's Wings" connected with all of the complex emotions felt by Americans on Saturday night, the culmination of a turbulent election in a year of endless adversity. To begin, the hymn spoke to America's sorrow. When Biden described how the song had been a balm to his grief after the death of his son, he was speaking to a mourning nation that was also suffering profound loss: the loss of 230,000 lives to Covid-19, the loss of livelihoods and financial security, the loss of family celebrations and conditions of normalcy. He offered the song as a source of "solace,"and in quoting this hymn, which is so often sung at funerals, Biden reminded America of the power trusting in God amid heartache and hardship. "It captures the faith that sustains me and which I believe sustains America," he said.
But "On Eagle's Wings," which is often performed at weddings, is also a song of jubilation and hope. The lyrics of the chorus—which describe the promise that God will "[b]ear you on the breath of dawn" and "[m]ake you to shine like the sun"—emphasize triumph and victory. Here, too, the song met the spiritual and emotional needs of Saturday night. Biden, having been projected the winner of the election just that morning, was speaking to an audience celebrating his electoral accomplishment and looking optimistically to the possibilities of new presidential leadership. While Biden somberly acknowledged the pain experienced by many Americans, his message that night was just as much about the joy of new beginnings and the aspiration for Americans to rise again and soar to new heights.
Finally, quoting "On Eagle's Wings" was an opportunity to express pride—specifically, pride in being Catholic. This hymn, a treasured symbol of Catholic identity and community, was a chance for Biden to convey that he will not only be a compassionate president and a hopeful president, but a Catholic president. This point was not insignificant. Biden will be only the second Catholic president in U.S. history, a feat achieved after a bruising campaign during which his political opponent, President Donald Trump, claimed that Biden was "against God." Moreover, Biden's victory came less than two weeks after the U.S. Supreme Court had sworn in Justice Amy Coney Barrett, whose Catholic faith has been the subject of intense public discussion. By referencing "On Eagle's Wings," Biden reminded Americans that he, too, is Catholic. Contrary to media narratives that tend to portray Catholics as conservatives, Biden emphasized that it is possible to be both a proud Catholic and a proud Democrat.
In my years of as a church musician, I have observed that few rituals carry the same power and weight as singing a beloved hymn. These sacred songs—both their lyrics and melodies—offer religious people the chance to articulate an array of emotions that often elude adequate expression. This collective expression of feeling creates a powerful sense of community. Singing hymns together—which is an act of making beauty together, showing praise together, feeling grief and hope together, and simply standing and breathing together—reinforces a shared history, tradition, and identity.
Outside of church, in the sphere of the civil religion, hymns perform many of the same functions. Biden's reference to "On Eagle's Wings" was part of a longer history of political leaders drawing on religious music to comfort and strengthen a nation. Think, for example, of President Barack Obama singing "Amazing Grace" during his eulogy for the parishioners slain at Emanuel African Methodist Episcopal Church in Charleston. Sacred songs help a nation find solace, find hope—and, ultimately, find strength in God and in each other.