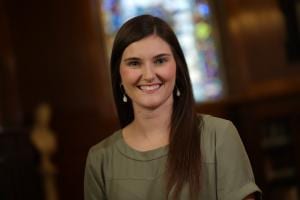 During this pandemic semester, I had the privilege of teaching a graduate seminar on Women and Religion. Since we couldn't do everything I usually do, we did some new things I thought would be beneficial to graduate students entering a more social-media and virtual-oriented job market. We learned how to discuss scholarship and connect with scholars on social media, through our #5320women Twitter discussions on Tuesday afternoons (just search for our hashtag). We practiced giving virtual conference papers and creating academic vlogs. We also practiced writing blog posts that featured our scholarship for a more public audience. Instead of writing traditional book reviews, each of my 10 students submitted a book review a-la-blog. The class voted on which submission they thought best captured the academic essence of an academic book review that was also written in a more engaging, public-facing style. Today I present to you the people's choice winner of our semester work. Anna Wells is a 3rd year PhD student in the Historical Studies division of the Religion Department at Baylor University, working with Carlos Cardoza-Orlandi. Her winning book review features one of my UNC-CH graduate school colleagues (just a few years ago!): Sandy Bardsley's Venomous Tongues: Speech and Gender in Late Medieval England. Congrats, Anna!
During the junior high service one Wednesday night, my youth pastor divided us into two groups. The boys left the room with the male adult volunteers, presumably to listen to a lesson on the dangers of lust, while the girls remained seated at round tables in the main auditorium. Several older women who volunteered with the youth group passed out tubes of toothpaste and paper plates to everyone. We were instructed to squeeze as much of the toothpaste onto the plate as possible. A competitive person, I methodically worked my way from the end of the tube, pushing out every last bit. When we finished, one of the adult leaders challenged us to put the toothpaste back in the tube. After a few of minutes of unsuccessful attempts, she revealed the point of the object lesson. The toothpaste represented our words – once uttered, they could not be taken back, therefore we needed to think carefully about what we said. While the toothpaste lesson emphasized caution in speech, the exercise also underscored another point.
By dividing the students, my youth pastor reinforced the idea that problematic speech was an issue especially for women. Boys struggled with lust; girls struggled with gossip.
This association is not only confined to youth group stereotypes. A quick Google search for men's bible studies on gossip yields almost no results. Several studies address gossip in general, but none were marketed specifically to men. Conversely, the same search for women reveals a host of Bible studies addressing gossip and the need for women to control their tongues. For example, a 2015 study entitled Keep it Shut: What to Say, How to Say It, and When to Say Nothing at All focuses on the myriad of ways women should and should not use their words. According to the study's description "From Bible times to modern times women have struggled with their words." It claims that "Christian women struggle with their mouths. Even though we know that Scripture has much to say about how we are–and are not–to use our words, this is still an immense issue, causing heartache and strain not only in family relationships, but also in friendships, work, and church settings." It seems that from a Christian perspective, something is inherently wrong with women's words.
So how did women's speech gain such a negative connotation? Sandy Bardsley provides an answer in her book Venomous Tongues: Speech and Gender in Late Medieval England. While Bardsley points out the church's longstanding concern for "sins of the tongue," she argues that the association between women and problematic speech "grew more intense and more tangible in its consequences" during the late Middle Ages.[1] Unlike the Bible study quoted above, the relationship between women and words has not been viewed as an eternal struggle. Instead, particular socioeconomic and cultural changes facilitated the rise of this connection, the legacy of which clearly continues today.
Bardsley's work focuses on the creation of scolding as a punishable offense, a crime for which the defendants were 80-95% women. By surveying legal, literary, and artistic sources from the late fourteenth to early sixteenth centuries, she analyzes the development of this discourse which associated speech with evil, social disorder, and, most consistently, women. Bardsley locates the intensified scrutiny surrounding female speech in the decades following the Black Death, when social and economic upheaval fostered a sense of uncertainty and anxiety, especially about the roles and status of women.
The latter half of the fourteenth century witnessed significant legal changes regarding women's speech such as the decline of hue and cries. The hue and cry mechanism allowed anyone, regardless of gender, class, or wealth, to bring a charge against someone else by raising their voice publicly when they witnessed or experienced a crime. Records indicate that women utilized the hue and cry most frequently against men, and their accusations were typically deemed valid by the courts. As the use of hue and cries disappeared from the courts, women lost access to the legal system as victims and were increasingly present in court as defendants on charges of defamation. Women's voices could no longer contribute positively to public discourse.
Representation in literature and art both highlighted and reflected concerns about women's voices among ordinary people. Paintings and carvings in churches incorporated sermon exempla about gossiping women and demons. Mystery plays organized and performed by male guilds created the extra-biblical character of Noah's wife, a nagging and contentious woman who refused to enter the ark without her gossiping friends. Representations of women in popular literature, such as Chaucer's infamous Wife of Bath, promoted the image of females with loose tongues. Taken together, the legal changes and negative representations pertaining to women's voices coalesced in the late fourteenth century to create a new legal category – the female scold.
Bardsley's examination of the earliest records of scolding in England demonstrates that the offense was defined as a female problem and women made up the overwhelming majority of scolding defendants. Which came first, however, remains unclear. The use of scolding charges varied greatly by jurisdiction, but in all cases the scolding occurred in public and used inflammatory speech that disrupted the unity of the community. Statistically, wives were the most common culprits of scolding, which in some instances became a component of their identity. The flexibility in defining scolding contributed to its popularity and longevity, as the last scolding prosecution occurred in the early nineteenth century.
Although it might seem like the association between women and problematic speech has always existed in Christianity, Bardsley's work argues that this connection has a history. Because the gossiping female scold image developed under specific socioeconomic and cultural circumstances in late medieval society, it can also be dismantled to redistribute the "sins of the tongue" to both men and women.
[1] Sandy Bardsley, Venomous Tongues: Speech and Gender in Late Medieval England (Philadelphia: University of Pennsylvania Press, 2006), 1.