We all have a long winter ahead of us, with a renewed surge of COVID likely keeping us home more than usual. And the events of 2020 have given us much to think about, as we continue to wonder what happened and why.
In other words, the coming months seem like the perfect time for a resurgence of reading!
So either for your own edification and pleasure or as gifts to give for Christmas, let me suggest some books that should be right up the alley of anyone who would read a blog about "the relevance of religious history for today."
A Devotional for Christian History Buffs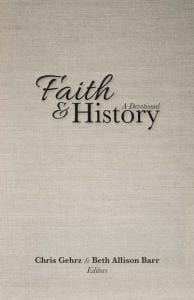 Let me start with the devotional coming out next Monday: Faith and History (Baylor University Press, $14.95), which I edited with Beth. As we mentioned over the summer, this short book features biblical reflections by over 40 Christian historians, including several members of The Anxious Bench. (I wrote more about its back story last week at my own blog.) Coming out at the beginning of Advent, it's an ideal companion for Christians during a season of contemplation and expectation.
Each entry closes with a prayer, study questions, and suggestions for further learning. So if you buy Faith and History, you'll find plenty of other reading material before you're done with it.
But perhaps the best resource for further reading is the list of contributors itself, a cross-section of the many Christian scholars who are called to a life of teaching and writing about history. I won't attempt a comprehensive bibliography from our contributors, but here's a sampling of recent books priced under $30:
Books from the Bench
That list doesn't include recent works from our Faith and History contributors who also write here at The Anxious Bench. Here all the books published this year by my co-bloggers:
And if you really like to get your Christmas shopping done in advance… Next year will bring several more AB books, including Beth's The Making of Biblical Womanhood: How the Subjugation of Woman Became Gospel Truth (Baker, $19.99) and Philip's Climate, Catastrophe, and Faith: How Changes in Climate Drive Religious Upheaval (Oxford, $29.95) in April, Tal's The Faiths of Others: A History of Interreligious Dialogue (Yale, $38.00) in May, and my own Flying Solo: The Spiritual Life of Charles Lindbergh (Eerdmans, $28.00) next August.
My Own Reading List
I just started They Knew They Were Pilgrims last week. Here are a few of the recent and forthcoming books that I'm hoping to read once I'm done with John's book:
Of course, you can find all of these books — probably at lower prices than what the publishers list — on Amazon. But please consider ordering through independent bookstores, at least one of which has closed each week since the pandemic began. Here are a few of our contributors' favorites: