Much as they already write at this blog, I'm astonished how much our contributors continue to publish in more traditional forms. Earlier this year we'd already seen new books from Agnes, Dan, John, and Tal, then last month we got Kristin's Jesus and John Wayne and Philip's Fertility and Faith. After a COVID-related warehouse delay, David's study of evangelicalism and global Christianity hit shelves at the start of July. Still more Anxious Bench books are coming in 2021, including Beth's on "biblical womanhood" (now available for pre-order) and my "spiritual, but not religious" biography of Charles Lindbergh (the manuscript for which is now in the hands of the publisher).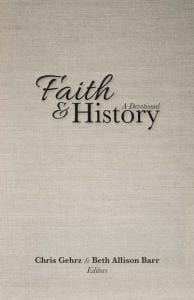 But let me use today's post to specially highlight one forthcoming book that has more Anxious Bench connections than any other. Due out this December from Baylor University Press, Faith and History: A Devotional is not only edited by Beth and me, but…
1. This project originated as a response to Raully Donahue's 2017 guest post lamenting the problems Christian historians face in reaching general Christian audiences. (Which in turn inspired a panel with Beth, Kristin, and me at the 2018 meeting of the Conference on Faith and History.) In our proposal to Baylor Press, Beth and I suggested that a historical devotional might be a way of bridging the Christian scholar-Christian public divide:
Donahue insisted that the problem had nothing to do with the quality of Christian scholars' work: "Serious works of scholarship by faithful professors are arriving at the printers at an impressive rate. My own generation (I'm forty-three now) has produced an impressive cadre of scholars…" But if it's not a problem of supply, we shouldn't assume it's instead one of demand. It would be easy for historians to dismiss the unreached public as disinterested members of a distinctively ahistorical populace. But what historians Roy Rosenzweig and David Thelen found in 1998 still seems true today: "Americans… make the past part of their everyday routines and turn to it as a way of grappling with profound questions about how to live."

After all, this is a people that has made "reenactor" a noun, "retro" an adjective, and "antique" a verb!

No, what we're facing is what Donahue called a "distribution problem" — a disconnect that is not unique to the Church, but is nonetheless keeping the work of Christian historians from reaching fellow believers who are genuinely interested in the past.

For Messiah College professor [and Anxious Bench co-founder] John Fea, the way to convince other people of history's importance was "to push for a deeper, even more engaged, public witness," with historians using a variety of methods to meet different publics through forms of communication other than those most valued by intellectual elites. "[I]f we really want to reach as many people as possible," he blogged, "we need to have a much more expansive view of public culture."

In that spirit, CFH members like us have been blogging, podcasting, and tweeting for several years. Several of us strive to write books with the potential to reach a wider Christian public. But we think that there's another medium that could do even more to help Christian scholars resolve our "distribution problem."

Over the past year, we have gathered a group of about forty CFH members to share their work as historians not via monographs or articles, or even blog posts or tweets, but using a venerable written medium that is commonly used by Christians of all denominations: the devotional.
2. In the end, several Anxious Bench-ers joined three dozen other members of the Conference on Faith and History to contribute to our devotional, each of us reading a passage of Scripture in light of some aspect of our work as historians. Here's the AB set of reflections:
Chris: "The Stewardship of the Past" (Genesis 1-2) and "Sky Tinged Red" (Luke 1)
Andrea: "I am Doing a Great Work and I Cannot Come Down" (Nehemiah 6)
Beth: "Grit and Faith" (Matthew 15) and "If God is for us…" (Romans 8)
Kristin: "Selfishness One Degree Removed" (Luke 14)
Dan: "The Temptation of Power" (Luke 22)
David: "Hearts Strangely Warmed" (John 1)
John: "Thanksgiving" (1 Thessalonians 5)
3. Anxious Bench alumni and guest bloggers are also well-represented. I'm sure I'll miss someone if I try to name them all, but at least a partial list would include:
So if you enjoy what you read at The Anxious Bench, it's a pretty safe bet that you'll want to pick up Faith and History: A Devotional. I'm sure we'll remind you how to get your copy when it comes out during the Christmas shopping season (December 1st, tentatively). But if you like to plan ahead… it's already available for pre-order from Amazon ($14.95) and the publisher ($11.96, if you enter the code "17FALL20.")
And if you're on the fence and need a nudge, consider these endorsements from two people who are likely familiar to Anxious Bench fans:
Gentle and wise, these meditations serve as a trusted guide through key scriptures and their legacies. This volume has brought together brilliant authors to dig deep into texts and pull out hidden gems and spiritual insights which will nourish our souls and minds. If you ever wanted your smartest friend to lead you in spiritual reflection, this is it. (Kate Bowler)

I truly enjoyed these daily devotional readings. Each of these impressively thoughtful historians reflects on an example from their studies that illustrates a biblical principle. This is a particularly fine volume for anyone who appreciates history or is considering why Christians should study history. (George Marsden)