My present book project is easy enough to describe. I am writing a "biography" of a Biblical text, namely Psalm 91, tracing the origins and development of the text, and its impact through history, for both Jews and Christians. Writing such a biography is nothing like a new idea of itself – witness the fine Princeton series of Lives of Great Religious Books – but this particular psalm has a special claim to rank as one of the most significant and influential parts of the Jewish and Christian scriptures. You almost certainly know the text already, but you might like to read it as a refresher.
So, Professor Jenkins, you are writing a book about Psalm 91. Um, why on earth would you want to do that? Aren't here some excellent works on the topic already? Not to mention a really solid essay in the Oxford Handbook of the Psalms, by the excellent scholar Brennan Breed? Why does Psalm 91 matter enough to merit a book-length study? Why take 91 as opposed to any other random scripture, such as (say) Psalm 34, which is another special favorite of mine? Briefly, what do you want your readers to get out of your new book?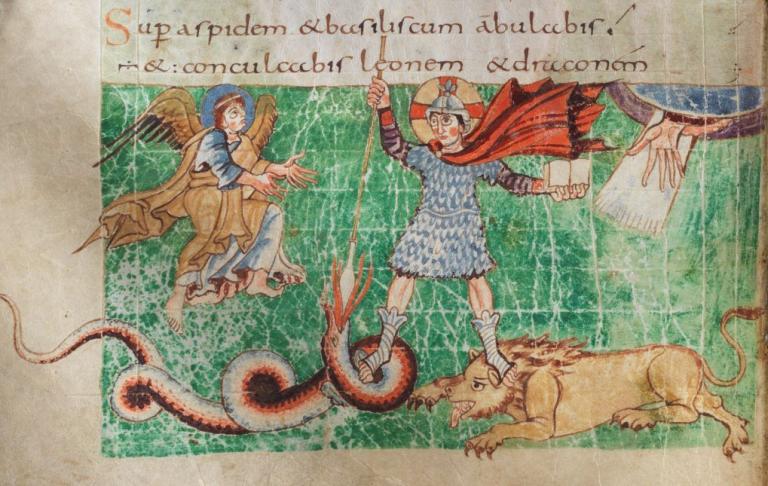 I have quite a few reasons for choosing this project, but the most important is that Psalm 91 is amazingly ubiquitous. Even people with good knowledge of the Bible and of Jewish or Christian history might be amazed to find how phenomenally popular a scripture 91 has been, and still remains today. It is in fact one of the most commonly cited writings from the Hebrew Bible, one of the most actively used and most widely beloved. Its words and images are reflected in liturgy, devotional writings, and (extensively) the visual arts. If you don't understand its references and echoes, you will miss a huge amount of the symbolism in medieval Christian cathedrals and manuscripts. The psalm has played a pivotal role in Christian and Jewish discussions of theology and politics, of medicine and mysticism.
Through that history, the evolving uses of 91 allow us to map developing ideas about religion and the supernatural, and the shifting boundaries between religion and superstition. Depending on the context of the reader in any given age, Psalm 91 is prophylactic; it is triumphalist; it is messianic; it is millenarian and apocalyptic; it is therapeutic. It can be read as a lesson in exalted monotheistic theology, but it was and is used for purposes that are overtly magical and superstitious. Even citing its title or opening words can constitute a powerful form of spiritual protection, a statement that can be made of very few other Biblical texts.
A biography of 91 is a history of Jewish and Christian ideas of demons, evil forces, and the whole demonic realm. It is at the same time an inescapable part of the history of religious attitudes to plague and pestilence, and the hope that people could escape those menaces through faith and prayer.
Psalm 91 has also been a fundamental part of Christian political theory and iconography, especially those powerful words in verse 13 about trampling venomous creatures. For a thousand years, that metaphor shaped the self-image of kings and emperors, and how they defined their worldly role.
Still today, to a degree matched by few other Biblical texts, it occupies a prominent place in popular culture within North America, and globally. Just look on Google Images. We find the psalm's text in whole or in part on jewelry (rings and pendants), yard signs, bumper stickers, wall decals, car decals, T-shirts, baby clothing, stickers, mousepads, and tattoos. Theoretically, a believer could live a whole Psalm 91 lifestyle, not to mention pursuing a lively collecting hobby.
So yes, I definitely do have ample material for a substantial book. In an ideal world, such a book would also be accompanied by a sumptuous coffee table volume depicting the visuals – the sculptures and manuscripts, the mosaics and jewelry, and (yes) the tattoos and bumper stickers. And that does not take account of the soundtrack album, with all the musical treatments over the past couple of millennia, right up through Jerry Garcia to the adaptation in On Eagle's Wings.
All in all, I am in for a busy couple of years.