What exactly does the University of Iowa have against student religious groups?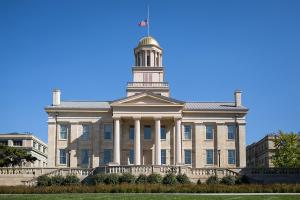 It's hard to know. One might guess that the university objects to these organizations' opposition to same-sex marriage and related issues. But it's also possible that university officials simply dislike "conservative" religious groups in general and evangelical groups in particular. At the very least, they've done their level best to strip such groups of their standing at the university.
The origin story: In 2017, the university deregistered Business Leaders in Christ because it barred a gay member from a leadership position. The group in question required prospective leaders to affirm the belief that the Bible prohibits same-sex sexual relationships.
Business Leaders in Christ sued the university, asserting that the university allowed many other groups to practice discrimination on gender, race, and ideology. For instance, sororities and fraternities discriminate on the basis of sex. Many other groups discriminate on the basis of race, ethnicity, and belief. In all likelihood, the university singled out BLinC because it discriminated in a way that the university finds objectionable, whereas the university either supports or tolerates other forms of disrimination despite the fact its own Human Rights Policy prohibits all such forms of discrimination. BLinC won its case on that basis.
The sequel: The university responded to its legal defeat by announcing a "student organization cleanup." On the face of it, the university pledged to abide by the court decision and to keep its policy while enforcing it fairly. In practice, it continued to selectively enforce its policy, which it vitiated by creating an exemption for fraternities and sororities. Apparently, the university vigorously applied its non-discrimination standard to religious organizations, then left other organizations alone.
InterVarsity was among the organizations deregistered after the university's first defeat in court. To be fair, this time around the university did not only target evangelical organizations. It also deregistered some Muslim, Sikh, and Latter-day Saint organizations.
InterVarsity sued. In October 2019, a federal judge hammered the university for its continued selective enforcement of its non-discrimination policy. Instead of adhering to its own policy, the university had doubled down on its targeting of religious groups. The court went so far as to hold that any university officials involved in its misbehavior could be held personally liable for funds IVCF had expended trying to stay on campus.
That time around, the university agreed to abide by the substance of the court's decision. It conceded that student organizations could require members and leaders to agree to and support organization beliefs.
The denouement: The case wasn't over yet. The university appealed, and in July 2021 it lost again. Badly. A federal appeals court held that "we are hard-pressed to find a clearer example of viewpoint discrimination … Of course, the University has a compelling interest in preventing discrimination. But it served that compelling interest by picking and choosing what kind of discrimination was okay." The appeals court also denied qualified immunity for the university officials who had harrassed IVCF and other groups.
What to make of these developments? As I have argued in this space many times, universities should resolutely and unapologetically support the free exercise of religion on campus. Any university that pays lip service to diversity should bend over backwards to make space for evangelical, Latter-day Saint, Muslim, Sikh, Jewish, and other groups. One cannot have meaningful diversity at a major American university without a robust marketplace of religious organizations on campus.
Is this absolute? Absolutely not. I don't think a judge would side with a organization that claimed that white supremacy or the segregation of races was among its cherished religious beliefs, nor should it. Regardless of the policies and precedents, the specifics of cases usually matter.
One impetus for many of these court cases is the fact that some evangelical and other religious organizations espouse positions on LGBTQ+ issues at odds with the values of contemporary academia. It may be that in a decade or two, these positions will be so far beyond the pale that universities will be legally empowered to oppose them. But that's not the current reality. Groups with conservative positions on these issues have been faring terribly in the court of public opinion, and many have learned to finesse them in their campus policies. Still, many significant religious traditions haven't and won't change their beliefs, and it's absurd for universities to oppose an entire cluster of evangelical, Catholic, Latter-day Saint, Jewish, and Muslim ministries. At the present moment, one cannot mandate progressive orthodoxy on these issues and uphold religious liberty at the same time.
If universities want to adopt all-comers policies, in which all student organizations and leadership positions within them are open to all students, then they have to apply those policies to all organizations on campus. No fraternities. No sororities. No organizations on the basis of sex or race or ethnicity.
Will the University of Iowa stop harassing InterVarsity and other religious groups? The university doesn't have a trustworthy track record, but the threat that individual officials might have to compensate such groups for damages might well put an end to this sort of behavior on that campus. Hopefully officials at other public institutions will take notice. They might not like evangelical student ministries, but they probably don't want to bankrupt themselves trying to get rid of them.