While off-year elections like today's are normally the domain of school boards, sheriff's offices, and municipal referenda, Virginians choose their governors the year after they vote for president. So let me break the political fast I've kept for almost all of 2021 in order to say some words about a gubernatorial election that is not only important to the inhabitants of my second home state, but an early test of how American democracy is doing in the wake of the Trump presidency.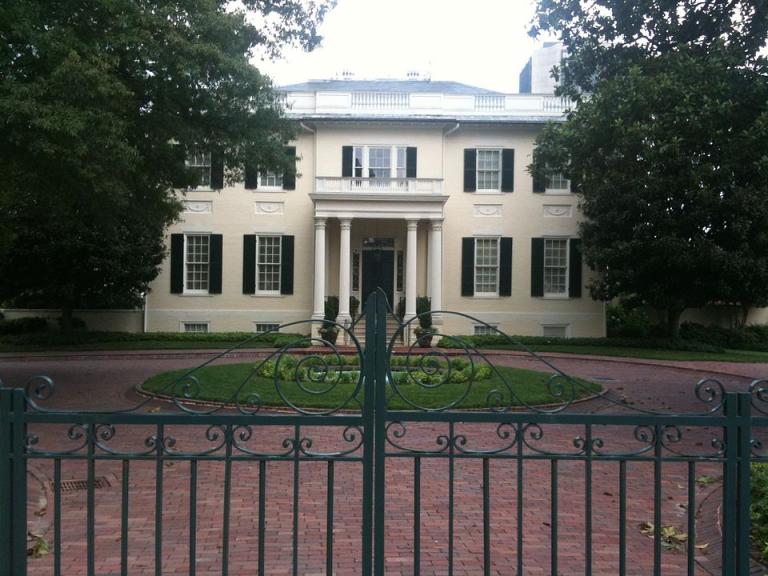 In many ways, my political memory goes back to a governor's race in Virginia. As a rather earnest teenager who started his final year of high school in 1992, I was both thrilled to participate in democracy a year after the collapse of the Soviet Union… and devastated to realize that I was a year too young to vote for president. But because I chose to go to college in Virginia, I had the opportunity to vote in 1993.
I went from living under a Republican governor in Minnesota (Arne Carlson) to a Virginia governor's race won by a Republican (George Allen, son of the NFL coach). But the contexts were vastly different. Arne Carlson was a pro-choice moderate who had succeeded a pro-life Democrat. An abortion opponent, George Allen had the backing of the Christian Coalition, based near the Virginia Beach headquarters of its founder, televangelist and former Republican presidential candidate Pat Robertson. Politics had been off-limits in the Midwestern evangelical church of my upbringing, but Christian Coalition voter guides were readily available in Southern Baptist churches like the one my parents joined. (Coincidentally, they moved to the other side of the state a few months after I started at William and Mary.)
But there were limits to the power of the Religious Right in an increasingly purple southern state. George Allen was sent to Richmond in 1993, but religious liberty attorney Michael Farris lost the lieutenant governor's race that same year. Farris' rival in the Republican primary had warned that his brand of social conservatism would alienate independent voters, and Senator John Warner, a centrist Republican, refused to endorse Farris. He did the same thing a year later, and Iran-Contra figure Oliver North — another Christian Coalition darling and Jesus and John Wayne supporting character — lost the race for U.S. Senate.
Since then, Virginia has continued to elect both Republicans and Democrats to state office. In 2016, Donald Trump won the state's Republican presidential primary over religious conservatives Marco Rubio and Ted Cruz, but lost Virginia to Hillary Clinton and her running mate, Virginia senator (and former governor) Tim Kaine. He did even worse there in 2020, losing by ten points to Joe Biden.
Even Donald Trump didn't have the hubris to blame a double-digit loss on voter fraud. But when some Republican attorneys-general supported Trump's desperate efforts to prevent Joe Biden from taking office, it was none other than Michael Farris who offered legal advice. Like many Religious Right veterans, he had initially opposed Trump, calling the business mogul's candidacy "the antithesis of everything we set out to achieve." But Trump had won Farris' backing with his judicial appointments, as the New York Times noted in an article noting that Farris was joined in his efforts to challenge Biden's election by Mark Martin, the law school dean at Regent University (founded by Pat Robertson).
"Our Country stands at an important crossroads," Farris began his brief. "Either the Constitution matters and must be followed, even when some officials consider it inconvenient or out of date, or it is simply a piece of parchment on display at the National Archives."
He was right, but for exactly the wrong reason. Those defending the Constitution since November 2020 have been the Democrats and Republicans who have accepted the will of American voters, rejected the fraudulent claims repeated again and again by Trump and his allies, and condemned the January 6th attempt to prevent the peaceful transfer of presidential power.
Today, then, begins the next test for American voters: will we learn from 2020 how fragile our system is? In each election between now and 2024, will we make clear to candidates that democracy matters more than partisanship?
Six weeks before last year's presidential election, I argued that Trump voters (like Biden voters) "have to vote knowing that their candidate can lose power." If you believe in democracy, I continued, you can't "vote in good faith for a candidate seeking to suppress and ignore the votes of their fellow citizens." And if Trump's disdain for democratic norms wasn't already obvious to people in late September 2020 ("Give me a break, Chris," scoffed one conservative friend on Facebook), it couldn't be any plainer in early November 2021, on this side of a cynical grab for power that spawned a violent attack on the U.S. Capitol, baseless lawsuits, insane conspiracy theories, witch hunts aimed at election officials, and renewed attempts to make it needlessly harder, not easier, for Americans to vote.
Which is why no Virginian, for example, should cast a vote today for Republican gubernatorial candidate Glenn Youngkin without first asking themselves why he waited until the final debate to deem the 2020 election "certifiably fair." Or why, if he truly believes that, he had earlier called for an "election integrity task force," and then for an audit of voting machines in Virginia. (There's already been a state audit of the 2020 vote.) Or why he refuses to say whether he would have joined the 147 Republican legislators who voted against certification of the results on January 6th.
I'm asked, Why are you as a Republican not for Youngkin?

I worked for and supported many Republicans. I'm mostly proud to have done so. But if being a good Republican today means supporting Trump or acquiescing in and enabling Trumpist authoritarianism, I say: No. Country first.

— Bill Kristol (@BillKristol) October 31, 2021
Youngkin, wrote the Washington Post's editorial board, has
indulged and encouraged Republicans who have swallowed former president Donald Trump's lie that last year's presidential election was stolen and that American elections are not to be trusted…. We might disagree with Mr. Youngkin on Medicaid expansion… without arguing that his stance is disqualifying. But at a moment when democracy itself is under assault, Mr. Youngkin chose to dignify a fundamental fiction that is subverting our system, rather than stand up squarely for the truth. In so doing, he proved himself unfit for office.
On health care and other important issues, there are genuine policy differences on the ballot today. I understand why religious conservatives will look at the voter's guide published by the Faith & Freedom Coalition (headed by former Christian Coalition leader Ralph Reed) and incline to think that it's an easy choice between Youngkin and his liberal opponent.
But I hope they also bear in mind what I wrote here in June 2018:
Having no emperor or king, I'd suggest that American Christians instead need to honor democracy. In a system that gives authority to the people, we "submit to every human authority because of the Lord" (1 Pet 2:13) not by approving whatever our leaders do and say, but by honoring the institutions, procedures, offices, and underlying values of our democratic system.

How do we do that? Most often, we prepare ourselves for citizenship: studying our nation's history, following current events, and listening to the concerns of our neighbors. We participate in and support the institutions of civil society. And we honor democracy by defending the right of the press to freely ask hard questions of our leaders and the right of dissenters to protest those leaders' words and deeds.

Then once or twice a year, we vote — even in those non-presidential elections — that Americans tend to neglect. (Maybe especially in them. I'd argue that we honor democracy by paying attention to local and state issues that are not the responsibility of the president or other federal officials, not letting the incessant noise of national politics deafen us to important questions closer to home.) And we honor democracy by honoring voting; we should oppose partisan gerrymandering and reject attempts to justify voter suppression with unsubstantiated claims of widespread fraud.
I'm not here to tell Christians to vote for Democrats. But as citizens of this country, I think we are obligated to vote for democrats.