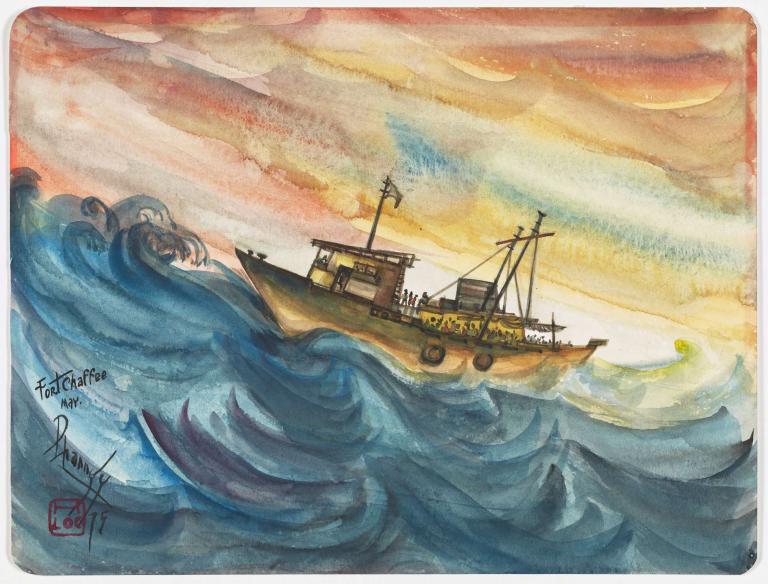 The United States has made real progress in aiding the approximately 80,000 Afghans evacuated from Kabul in late summer. To date, around 90% of the evacuees have left the military bases where they were initially housed, and with the help of energetic efforts by government, voluntary agencies, civic organizations, and religious groups, Afghan families are being resettled in communities across the country.
But the story is far from over. In fact, it's only just begun. For many refugees, making a new home and rebuilding a life in the United States is a process that unfolds not over the span of months, but over years, and sometimes even decades. It requires not only time, but also meaningful support from both government and private agencies. It can become even more complicated in the context of the complex politics and hostilities surrounding refugee and immigration issues.
If the history of refugee resettlement offers any indication, religious organizations can play a valuable role in helping Afghan and other refugees adjust to life and feel truly welcome in the United States. In my forthcoming book, Follow the New Way: American Refugee Policy and Hmong Religious Change (forthcoming, Harvard University Press), I explore the significance of religious organizations in the American refugee resettlement system. Focusing on efforts to aid Southeast Asian refugees in Minnesota in the 1970s and 1980s, I show that faith-based voluntary agencies and local congregations  can often do much more than provide refugees with winter jackets, housewares, and a few months of rent. Especially when they commit to supporting refugees in the long term, religious organizations can often step in to help when government fails to meet refugees' basic needs. Even more, they can  serve as valuable advocates and allies when refugees face racist and xenophobic opposition from the local community. As Americans strive to aid Afghans in the current moment, it's worth remembering the full range of ways that religious groups have supported refugees in the past.  Will religious groups do the same today?
As Stephen Porter and Geoffrey Cameron have shown, religious organizations have been essential to the public-private refugee resettlement system in the United States since the 1930s. Both federal and state governments have long depended on voluntary agencies–the majority of which are religiously affiliated–to implement its various refugee programs. At the local level, congregations have also served as "sponsors" for refugees and have provided labor, funds, and material resources that expand the capacity of voluntary agencies and government.
The most significant and well documented way that religious organizations have supported refugee resettlement is through financial and material contributions. A 1975 report, presented in Congressional hearings, detailed the effort by Bethlehem Lutheran Church in Minneapolis to sponsor a Vietnamese refugee family. It found that resettlement cost the congregation approximately $5,601–a sum that far exceeded the federal government's per capita grant of $500 per refugee. Even in the twenty-first century, religious institutions bear an outsized portion of the cost of refugee resettlement. A 2008 study by Lutheran Immigration and Refugee Service, one of the nation's leading voluntary agencies, found that the federal government covered only 39 percent of the cost of resettlement, leaving voluntary agencies and their partnering congregations to bear responsibility for the remainder.
Less appreciated are the other non-financial forms of assistance that religious institutions have provided, especially at the local level. First, religious charities and congregations have often supported refugees through more long-term programs that facilitate their integration into American society. English language instruction is one notable example of this form of support. For many refugees, learning English is one of the biggest challenges of resettling in the United States. (In the 1984 Hmong Resettlement Study, prepared by the University of Minnesota's Center for Urban and Regional Affairs, Hmong household heads in the Twin Cities identified the need to learn English as their most significant problem.) However, in the 1980s, when large numbers of refugees were arriving in the United States, demand for English language instruction was heavy, and newly arrived refugees sometimes faced a wait for an available spot in an English class. To fill the need, local congregations often stepped in to help. In the Twin Cities, for instance, several churches offered English classes and tutoring programs for  refugees. Congregations and faith-based charities also initiated a wide array of other programs to assist refugees in their adjustment, such as support groups for elders and classes to teach practical skills such as machine sewing.
In addition, religious institutions and individuals have offered strong support for refugees in the face of racist anti-refugee sentiment. The reality is that in the United States, refugee resettlement has often been unpopular. Public opinion polls after the Vietnam War, for example, showed consistently low support for resettling Southeast Asian refugees. One national Gallup poll conducted in May 1975, just one month after the fall of Saigon, found that only 36 percent of Americans surveyed favored the resettlement of Southeast Asian refugees, while 54 percent of Americans surveyed opposed it. This opposition took real and vicious form. When Southeast Asian refugees were resettled in the 1970s and 1980s, they faced widespread harassment, intimidation, and even violence. In Montana, vandals destroyed the community garden that Hmong refugees had tended. Along the Gulf Coast, the Ku Klux Klan threatened Vietnamese fishermen and burned their fishing boats. And in Pennsylvania, Hmong refugees experienced so much violence and harassment that hundreds of families left Philadelphia en masse. In 1986, the U.S. Civil Rights Commission included some of these incidents in a report that  confirmed that violence, vandalism, and harassment against Asian Americans, including Southeast Asian refugees, was a national problem.
But Southeast Asian refugees often found valuable allies in religious groups. International religious figures such as Pope John Paul II called on nations to treat refugees with generosity and appealed for increased aid and compassion. In the United States, Protestant, Catholic, and Jewish leaders met with President Jimmy Carter and members of Congress to advocate for higher refugee admissions and more financial assistance for programs serving displaced people at home and abroad.
Some of the most interesting and overlooked advocacy happened at the local level, where religious leaders spoke out against the racist and xenophobic opposition targeting refugees. For example, in the early 1980s, a group of Hmong refugees in Minnesota expressed interest in working in agriculture. Church World Service, a voluntary agency affiliated with the National Council of Churches, organized an effort to establish the Hiawatha Valley Farm Cooperative in Hugo, Minnesota, to help Hmong refugees could learn farming skills. The farm cooperative sparked intense local opposition, and at a series of public events, residents openly expressed their determination to keep Hmong refugees out of their town. In an interview with the St. Paul Dispatch, one local man said that he feared Hmong refugees as potential criminals. "Who's going to handle a rape case or a murder case up there?" he asked. Others told the Minneapolis Star Tribune that they believed that the refugee program was an attempt by Communists "to use them (Hmong) to gain power and control in our country, and specifically in our area." And sometimes opponents of the farm project gave no specific reason at all—only that they did not like Hmong people. One Winona farmer explained to the St. Paul Dispatch that "The question is not whether we want them; the question is just very simple—we don't want them. And if that's going to get me to the gates of hell, I'll go, because I'm going to be with a lot of nice, good people."
But local clergy offered the most vocal and vehement defense of Hmong refugees. It was, in fact, a local Episcopal priest named Joseph Minnis who owned the farm and planned to sell portions of it to support the farm project. Speaking before a town board meeting, Minnis referenced Biblical teachings in his call for the community to welcome the Hmong. "Let me ask, what does our Lord's great commandments mean?" he told the crowd. "Love thy neighbor as thyself. Does it only mean that we have to consider those that look like us, speak like us and live like we do?"
To be sure, in the past, religious groups were quite often at the center of opposition to refugees. One of the local groups opposed to the Hiawatha Valley Farming Cooperative  identified itself as part of the "AntiChrist Information Center of the International Christian Ministries." And similarly, Christian groups are often at the center of opposition to refugee resettlement efforts today.
But remembering the full range of ways that religious groups have been a support to refugees is useful for people of faith who want to do their part to welcome Afghan evacuees in the United States. People can donate funds and material goods to local resettlement efforts, and many have done so already. But their contribution can't stop there, and their support is going to be needed in the years to come. Supporting programs such as English language instruction is one way to help. But just as important is the need for religious groups to continue to advocate for refugees and to speak out against the racism and xenophobia that often makes it difficult for refugees to feel at home in America. As the 80,000 Afghan refugees leave the military bases and begin life anew in cities and towns across the country, many religious communities have been welcoming them warmly. But will they continue to stand by them and support them in the years to come?
It's a concern that's not unwarranted. Joanne Karvonen of St. Anthony Park Lutheran Church in St. Paul (a congregation that resettled thirty-five refugee families from fifteen countries over a span of three decades) acknowledged that many churches chose not to continue with sponsorship work after first getting involved after the fall of Saigon. In a 2009 reflection she wrote for the journal Word and World, she noted that Lutheran congregational sponsorship was popular in the 1970s and 1980s, a time "when refugee resettlement was novel and even somewhat glamorous." However, she observed that "as the years went by and it became apparent that the number of refugees was growing rather than decreasing, the prospect of working with refugees forever was daunting and discouraging." Church sponsorship declined, and by the early twenty-first century, Karvonen saw that only a handful of congregations continued to resettle new refugee families. Part of this decline owed to "the intensity of work" in helping new refugees after they arrive.
Importantly, the cost was not simply in time or money. Refugee resettlement work is emotionally exhausting. Catherine Besteman, in her study of Somali Bantu refugees in Maine, found that the community members who were deeply involved in helping refugees were "engaged in the sort of affective work that attempts to buffer the blows of racism, xenophobia, and neoliberal demands for economic independence, self-sufficiency, autonomy, and self-help," all while being expected to show "compassion, mutuality, and love for an inclusive vision of community." The emotional and spiritual responsibility of resettlement can be heavy to bear. 
The reality is that refugees need support, and today's political climate, in certain ways, is more hostile to immigrants and refugees than ever. Are people of faith willing and able to commit to this work–not just now, but in the long run?